Interviews with Lu Xun Literature Prize winners
KANG BIN
|
2022-03-03
|
Hits:
Chinese Social Sciences Today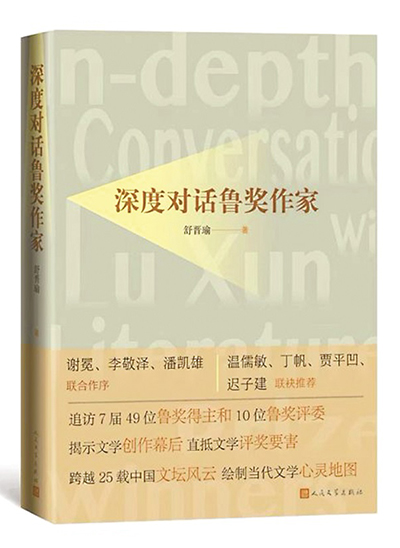 In-Depth Conversation with Lu Xun Literature Prize Winners
---
In-Depth Conversation with Lu Xun Literature Prize Winners, by Shu Jinyu, famous journalist from China Reading Weekly, discusses her interviews with 49 winners, and 10 judges, of the Lu Xun Literature Prize, including writers Shao Yanxiang, Shi Tiesheng, Feng Jicai, Han Shaogong, Liu Heng, Yu Qiuyu, and Chi Li, among others. The book not only outlines core issues in the writing process of these award-winning writers, but also presents the spiritual heights of famous contemporary writers and the literary ideals of the interviewer.
Are there any periodic changes in their writing career? The basic consensus reached among writers is that by dint of persistent exploration, introspection, and experience summary, they become mature step-by-step on the creative pathway. Tie Ning acknowledged that it was not until The Gate of Roses that she was able to "touch the deeper level of rich, complex human nature, and even the ugly side of women." Sun Huifen admitted that she no longer writes to pour out her sentiments, and no longer insists upon being a great writer or a good writer.
These writers also reflected upon frivolous youth. Chen Sihe confessed that he had misread and misinterpreted Mo Yan and Jia Pingwa's novels. Meng Fanhua looked squarely at his previous moralization criticism of Jia Pingwa's The Abandoned Castle, and agreed that appropriate criticism is the most valuable.
What is their status quo? Despite the frequently created excellent works, writers are more willing to mention the anxiety in the process of seeking innovation and breakthrough than to merely boast of the prize. Xu Xiaobin complained that "writing is too devoted, too consumed, unlike some novelists who can write more easily." Wang Yuewen, a writer of officialdom fiction, suffered from his works being not profound enough, learned enough, or philosophical enough. Always proud Lei Pingyang acknowledged that he "often feels unconfident and discouraged in the process of reading." Zhao Mei wished to reduce those "frustrating moments when writing just makes you want to give up."
Do they have any difficulties? Li Mingsheng stressed the difficulty of seeking truth within sensitive issues; Li Jiefei noted the academic torture of being necessarily self-restrained when "dealing with content of his aversion and hatred;" Han Shaogong pointed at the serious overdraft of writing resources.
Unexpectedly, with these important yet still understandable issues, the most difficult moment for them to let go of was when they were misunderstood by the literary circle, or readers. Chen Shixu felt frustrated by critics' dissent with many of his award-winning short stories. Zhu Zengquan, "the general poet," was aware of the public's prejudice against "writings by officials." Yu Qiuyu was disappointed that his Cultural Perplexity in Agonized Travel has never won any of the numerous prose prizes across the country.
Kang Bin is a professor from the School of Chinese Language and Literature at Southwest Minzu University.
Edited by YANG LANLAN