Philosophy of life in Li Bai's poems
ZHANG PEI
|
2022-02-24
|
Hits:
Chinese Social Sciences Today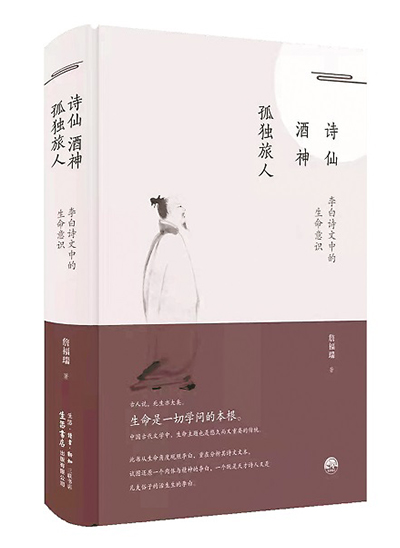 The Life Consciousness in Li Bai's Poems
---
The Life Consciousness in Li Bai's Poems, written by Zhan Furui, a professor from the School of Chinese Language and Literature at Beijing Foreign Studies University, proceeds from Li Bai's (701–762) philosophy and view of life to thread the important works of the poet's lifetime. Through careful textual reading, it restores a physical and spiritual Li Bai, a lively writer who was both a genius poet and an ordinary person.
With the value of life throughout the "biography of Li Bai's poems," the book is arranged with a rigorous and special structure, which follows the trajectory of "previous life, present life, and the future," instead of the popular way that highlights the core concept in the opening chapter.
The book consists of eight chapters. Setting the heyday of the Tang Dynasty (618–907) as the "present life," the first section (Chapter I, II) explores the "life philosophy before the Tang Dynasty" and "life consciousness in the poems of the Wei, Jin, and Southern and Northern Dynasties (220–589)." Based on Li Bai's poems, the second part (Chapter III, IV, V) focuses on his understanding and practice of the essence of life. The last part (Chapter VI, VII, VIII) describes the poet's life journey, spiritual experience, and life attitudes, naturally extending to the enlightenment inspiring today's people.
Compared with other research results on Li Bai, the biggest feature of this book is that it directly responds to noteworthy contradictions embodied in Li Bai. In addition to inevitable thoughts on life and death and time, Li Bai's introspection becomes heavier and more complex than others. He was eager to build a career and realize his aspirations, but at the same time believed in never postponing joy; he was willing to gain wealth and fame, but also showed contempt for nobility and status; his poetic style was romantic and unstrained, but inside contained deep realistic concerns; he enjoyed his outstanding talent, yet simultaneously felt secluded and lonely.
Any of these conflicts is a research focus on Tang poetry, Li Bai, and the acceptance of classics, gathering a varied range of opinions. Apart from the core clue of "life consciousness" which runs throughout these contradictions, Zhan pinpoints "happiness" that stands at the intersection of contradictions.
In Zhan's view, "the happiness of life advocated by Li Bai has both spiritual and sensory levels." Li Bai's pursuit of sensual pleasure stemmed from his fear of being deceived by fleeting time, so he never hid his preference for momentary pleasure in hazy days. The author comments that Li Bai adopted "fantastic and radical behaviors" to resist with vitality against external frustrations, therefore conveying "decadence in a profound manner" and extreme tenacity, "much in line with the essence of human life."
Zhang Pei is an associate professor at the Beijing Institute of Graphic Communication.