Silk Road Book Project requires better cultural connection
XU BEIBEI
|
2020-09-23
|
Hits:
(Chinese Social Sciences Today)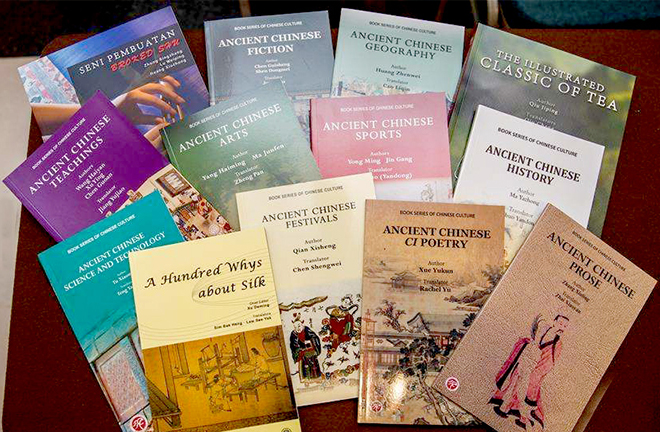 Supported by the Silk Road Book Publishing Project, some Chinese books have been translated into English and Malay and have been introduced to Malaysia. Photo: Zhu Wei/XINHUA
---
The Silk Road Book Publishing Project is a major translation project implemented by the former State Administration of Press, Publication, Radio, Film and Television (today's National Press and Publication Administration) under the "Belt and Road" (B&R) initiative. It was officially approved by the Publicity Department of the Central Committee of the Chinese Communist Party on Dec 5, 2014.
The project aims to accelerate the publication of Chinese top-quality books and Chinese-language teaching materials among the countries along B&R route, and to make Chinese stories heard within these countries. In this process, we need to give full consideration to a series of practical problems faced by intercultural communication. While the project brings opportunities, it also faces challenges.
The countries along B&R route are mostly developing countries with limited book markets and low levels of consumption. Since they are different language-speaking countries, the job of translation would face many difficulties, and it is not easy to seek cooperation among international publishing houses and mobilize these countries to bring in, translate and publish Chinese books.
Moreover, the cooperation and exchanges between China and these countries now mostly focus on politics, economy, trade and other aspects, and the cultural exchanges are not frequent enough. With little knowledge of the cultural traditions, customs and religious beliefs of some of these countries, China has not established stable, close and long-term cooperative relations with local translators and publishing agencies, so there are still some difficulties in seeking suitable translators, publishing agencies and copyright agents.
For many countries along the B&R route, especially for many countries in Central, West Asia and Central and Eastern Europe, the local languages, cultural customs, laws, people's education and knowledge acceptance habits need further study. Due to varying levels of economic and social development, different countries have a range of knowledge transmission structures and channels.
In addition, the intellectual property development in countries along the B&R route is uneven. Great differences exist in legal systems among these countries. Take Southeast Asia as an example. The Philippines and Singapore have inherited the tradition of common law. Case law plays an important role in the intellectual property protection system. Meanwhile, Vietnam, Cambodia, Thailand and other countries have formed legal systems mainly based on statute law. In addition, most countries in Southeast Asia have a relatively short history of intellectual property system legislation and establishment, and some countries' legal policy systems concerning intellectual property are still in their infancy, which means there are still potential legal risks to the export of books in these countries.
Furthermore, the government should improve the relationship between the government and markets, and between the government and non-governmental publishing agencies. It should delegate some of the power to professionals as to selecting book materials, picking translators, editing and publishing. The government should also play a coordinative role in cooperation between media agencies and communication between translators.
The government should provide financial subsidies to support publishing houses that have taken the initiative and voluntarily engaged in book translation and export businesses. In addition, the government should avoid focusing only on translation, while ignoring the publicity, promotion and implementation of translation projects in countries along the B&R route.
Under the framework of B&R initiative, the cultivation of minor-language translators has become urgent. This kind of cultivation should avoid traditional pathways. For example, it is advisable to attract overseas students, visiting scholars and investors from countries along the B&R route to take the initiative and learn the Chinese language to reserve translation talents through multiple channels. In addition, attention should be paid to volunteer service. Excellent student volunteers can be selected from Chinese colleges and universities to offer short-term Chinese teaching services in countries along B&R route. The cultivation of minor-language translators should also be strengthened through the Confucius Institutes and cultural offices of overseas institutions as well as cooperation with universities and middle schools in countries along B&R.
Xu Beibei is from the Zhongbei College at Nanjing Normal University.
Edited by BAI LE