Telehealth advancements bolster China-Africa ties
HU MEI
|
2020-09-17
|
Hits:
(Chinese Social Sciences Today)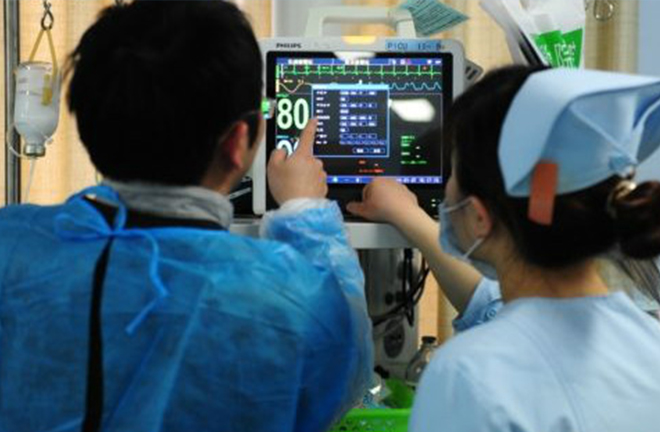 Through telehealth platform, the medical information of patients can be uploaded for doctors to diagnose. Photo: XINHUA
---
With the rapid development of Information Communication Technology (ICT) in Africa, smart telehealth platforms, or remote healthcare platforms, are restructuring the medical landscape in Africa with irresistible trends. The popularization of digital technology grants access to international resources and spreads benefits across the continent. Through online sharing, China's advances in medical technology have begun to circulate throughout Africa.
Africa adopted telemedicine a little later than the rest of the world, but with China's help, they have adapted to digital medical platforms with a firm and rapid pace. As early as in 2014, China initiated transnational remote telehealth platforms, and began to establish academic communication platforms for medical personnel. Three years later, China began opening remote clinics in Africa. In 2017, Henan Province of China, after careful planning and preparation, conducted virtual diagnosis and treatment in Ethiopia and Zambia, which was China's first attempt of remote surgery in Africa.
When Ethiopian doctors encounter difficult cases to diagnose, they can upload the diagnostic report to the telehealth platform. The medical professionals at Henan Provincial People's Hospital will carry out diagnosis. For Ethiopia, which is poor in diagnostic resources, the remote diagnostic analysis hugely boosts its medical sector.
Since then, Africans have begun enjoying high-quality medical resources and high-tech services from China without going abroad. Chinese doctors have set up remote medical treatment platforms in So Tomé and Príncipe, Ghana and other African nations. A number of new remote telehealth clinics are being planned and constructed. China-Africa telehealth has moved from vision into reality.
China is an increasingly important actor and promoter of Africa's medical development. Telehealth services are expected to become an emerging mode of medical cooperation between China and Africa, and an indispensable way to supplement medical resources in Africa.
Through the sharing of technologies in digital platforms, China-Africa telehealth cooperation has promoted the advance of medical technology in Africa. Africa's medical system is gradually beginning to integrate with the world through telehealth platforms, healthcare systems in African countries are improving exponentially.
Healthcare modes in China have gradually changed from dispatching medical personnel to domestic participation. Chinese medical teams have been sending medical technicians to Africa for 56 years. African healthcare skills have been improved using this traditional form of medical assistance, which incrementally adds medical technicians to teams. With the help of digital platforms, Chinese medical workers have embarked on a new process for offering assistance—without going to Africa to serve African patients, they can devote themselves to medical assistance in Africa and get involved in Africa's health sector.
Presently, the development of smart telehealth between China and Africa is increasing, with promising prospects for future development. However, this collaboration still faces the following obstacles.
First, the lack of comprehensive and long-term planning has increased uncertainty regarding collaborative efforts. Telehealth cooperation is characterized by high-end technical projects with both strategic and cutting-edge features. The various remote virtual clinics established so far are only the embryonic form, which just marks the initial stage of this collaboration. Both relevant departments in China and the health institutions in Africa do not have a macro outline for these cooperative programs.
New initiatives are usually highly fragile in their infancy. The vast majority of African countries do not possess enough technical skills and medical resources to develop telehealth. The telehealth clinics require medical experts and equipment, but Africa faces the critical problem of a medical expertise bottleneck, which renders it unable to flexibly deal with malfunctions onsite and problems that might arise in the treatment process.
The telehealth clinics are not evenly distributed, which is not conducive to the centralized allocation and effective supply of scarce resources. Despite support from provincial hospitals in China, telehealth clinics have the following defects. One is that they conduct similar medical jobs but they are loosely separated from each other during the work. As such, they are failing to share resources. The other is that many of the centers are established in capital cities of African nations, which means that the medical resources are hard to distribute to wider areas due to low transport and resource sharing capacity.
Hu Mei is from the College of Humanities from Zhejiang Normal University.