Social media behavior varies across different age groups
HUANG HANYUN
|
2017-06-15
|
Hits:
(Chinese Social Sciences Today)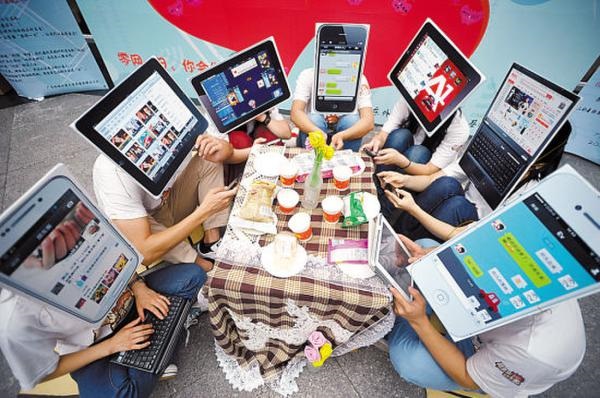 There's no official medical recognition of social networking addiction as a disease or disorder. Still, the cluster of behaviors associated with heavy or excessive use of social media has become the subject of much discussion and research.
---
Social media is used by people of all ages and has become an indispensable part of modern life. It is likely that social media addiction will be a reality in the near future. These days, it is common to see people checking WeChat "Moments," the equivalent of the Facebook news feed, during social gatherings. In classes and lectures, as speakers enthusiastically talk onstage, audience members are often busy chatting on digital devices in the crowd.

Sherry Turkle, a professor of the social studies of science and technology program at the Massachusetts Institute of Technology, wrote in Alone Together that people fall prey to the illusion of companionship in social networking and this relentless connection leads to a deep solitude. People no longer give each other full attention and stay in a "connected but alone" relationship.

In this light, the author conducted a survey of China's urban residents from different age groups and found that each group shows distinctive behaviors when it comes to social media use in their daily lives. While teenagers, college students are addicted, the middle-aged group remains rational and conservative and senior citizens have also started to dabble social media.
Teenagers, college students
Parents and educators have long been concerned about teenagers getting hooked on the internet and video games. In the past, most addiction studies at home and abroad focused on internet addiction, in particular online gaming addiction, whereas little attention was given to social media addiction.

With the rapid proliferation of mobile devices, social media has not only become a must-have tool of interpersonal communication but also created a new trend of internet addiction after online gaming.

In a survey of more than 1,500 middle school students in five cities—Beijing, Shanghai, Guangzhou, Shenzhen and Xiamen—we found that social media addiction is by no means a fiction among teenagers.

The survey found that 90 percent of the respondents are daily users of social media while the most common application used by middle school students is QQ by Chinese internet giant Tencent.

Judging by the criteria American psychologist and internet addiction expert Kimberley Young set forth, 15.6 percent of respondents can be identified as social media addicts. The high school students who indulge in social media tend to be more narcissistic, love to post selfies and yearn for attention from peers. They feel more bored in their leisure time and are adept at using social media to build their self-image.

Teenagers are usually motivated to use social networking by seven factors: keeping track with friends, social exchange, peer attention, free expression, information, trying out new identities and escape. Social exchange refers to commenting, posting likes as well as sending "red envelopes" and virtual birthday gifts on WeChat and other virtual space.

Thus, these seven kinds of emotional demands can be summed up as social, information and entertainment satisfaction. Data analysis showed that entertainment satisfaction is most likely to induce addiction, especially when teens use social media as a way to escape the stresses of daily schoolwork. In contrast, information acquisition is less likely to get teens hooked.

Further studies revealed that teens with social media addiction have the following main symptoms: lack of self-control, short temper and reluctance to engage in daily activities. Parents and educators could identify "problematic" teens with such symptoms and intervene at an early stage.

Social media addiction also takes a toll on student's grades and social capital. In the survey, we found that though parents and schools try to reduce teenagers' dependence on digital devices, there are still quite a number using QQ to pass on test answers and assignments or to chat with each other secretly before bedtime.

College students use WeChat and Weibo more often and they use social media frequently, but for short intervals, and their social media use tends to be fragmented. College students addicted to social media have the compulsory need to browse moments and update new microblogs frequently. The desire to constantly update information on the mobile phone is defined in psychology as a "fear of missing out."

This is both a fear of missing important activities and information as well as a fear of being left out by friends. If they are unable to share information within the group, they could potentially become outsiders. More importantly, it is a fear of being crowded out and failing to receive peer attention.

This concern reinforces the desire of social media users to keep in touch with others. In fact, the fear of missing out on things is a fast-paced life product in the new media era characterized by rapid information updates and easy access. WeChat and Weibo allow users to keep track of others, encouraging frequent checking behavior.

At the same time, this obsessive-compulsive need to check social media is associated with procrastination. Our research has shown that college students with a strong tendency to procrastinate are more likely to indulge in social media.
Middle-aged users
In the past, QQ and Weibo failed to gain popularity among middle-aged users. However, WeChat is a different story. What makes it outstanding is that middle-aged group with great consumption power likes it as much as teenagers and college students?

To delve into the issue, we conducted questionnaires and interviews and identified their distinct social media behavior.

Our research found that compared to other social media apps, WeChat appears to be more user friendly because it has comprehensive functions and is relatively private, which is why this group prefers this app. Some middle-aged users jumped on the bandwagon when colleagues and friends began to use it, while others use it to stay in touch with their children who have left home.

In addition, some also reported that they want to maintain a "fashionable" image by using this popular app so others will think they are keeping pace with the times and willing to try new technology. There is a stereotype that the older one gets, the harder it is to keep up with new gadgets.

Women tend to use WeChat more frequently and value it more as a way to maintain relationships and entertain themselves, whereas men are more innovative and put greater emphasis on information acquisition.

On the whole, middle-aged users are rational and conservative on WeChat. On the one hand, they want to win affirmation and strive to build a positive image by self-promotion and engaging in popular WeChat activities.

For example, sharing is not only a sub-culture among teenagers, but also a habit among middle-aged users who love to share photos of food, travels and calligraphy. They are eager to get positive comments by showing their rich and meaningful lives.

Interestingly, some interviewees even said that they use emojis to prove their sense of humor and fashionable image. Middle-aged users are also keen on posting comments, likes, sending red envelopes, and sharing life tips on social media.

On the other hand, this group is careful about their privacy. They are also good at hiding their shortcomings and avoiding confrontation on social networking. For example, unlike teens who use selfies as avatars, middle-aged users usually adopt scenic photos. They seldom share their locations and almost never tie their credit card with WeChat payment. Sometimes, they worry their slow typing will annoy others, so they prefer to send audio messages. And they subconsciously avoid posting or forwarding inspirational articles or health tips that younger users despise.

It is evident that middle-aged users are more cautious in comparison to casual and carefree younger users.
Older adults
Social media use of older adults is also worthy of attention. Recently, a report jointly released by the Institute of Sociology under the Chinese Academy of Social Sciences and Tencent Center for Internet and Society put older adults into three categories, namely those do not use the internet, those who do but do not use social media, and those who use social media, and analyzed their differences in life opportunity, online consumption and sense of happiness. It concluded that a reconstructing of life opportunity is occurring in older adults' daily lives.
Going forward, it will be an interesting subject to study the different user habits of middle-aged and older adults on social networking.
Huang Hanyun is from the School of Journalism and Communication at Xiamen University.