Mobile internet reshapes public opinion dissemination
XU XIANGDONG
|
2017-06-09
|
Hits:
(Chinese Social Sciences Today)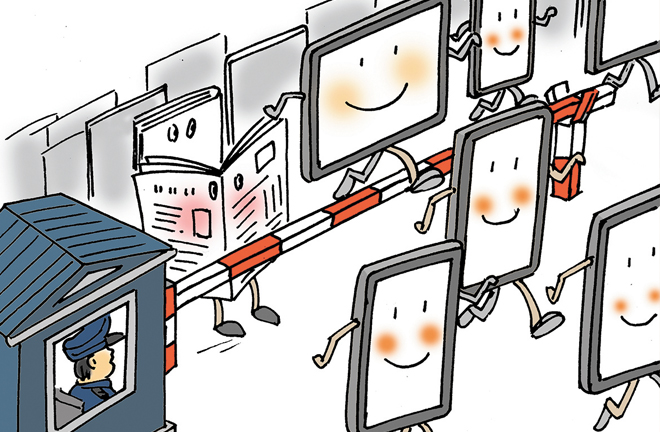 Social media's breakneck speed allows little time for fact-checking or editorial supervision, which means it can easily spread rumors and hoaxes. Thus, all relevant parties should work to get rid of damaging or untruthful information and help to create a healthy positive online environment.
---
Now that we have entered an era of information fragmentation, people have become accustomed to surfing the internet in every spare moment of their lives. The number of Chinese internet users reached 731 million at the end of 2016, including 695 million mobile internet users, accounting for 95.1 percent of the total, according to data from the China Internet Network Information Center. It can be said that mobile internet has become a new channel of information dissemination, a new platform for public service, and a new area of innovation and development.
New trends
As the rapidly growing internet becomes the main channel through which people acquire information and communicate with each other, the battlefield of public opinion also shows news trends.

To start with, dynamic dissemination of information has become the norm. With the progress of mobile technology, almost all PC functions can be realized on mobile terminals in a more flexible and convenient way. Users can send and receive a variety of information anywhere at any time.

According to the 2016 WeChat impact report, 61 percent of users open WeChat more than 10 times per day, and 94 percent of users use the app every day.

The high level of interaction and sharing creates a positive experience for users, thus enhancing their loyalty and imperceptibly fostering a habit of acquiring information through mobile network terminals. Once news breaks about an event, users can join the discussion instantaneously without the constraints of time and space.

Next, internet public opinion has the potential to go viral instantly. From the perspective of communication studies, the dissemination of public opinion needs to go through several key phases involving information receivers and transmitters. The convenience and availability of smartphones has prompted the growth of social media applications like WeChat.

In December 2016, the world's monthly active users of WeChat reached 889 million, among which more than half have 100 or more friends. Most people have the inclination to share information with acquaintances, and such prioritized communication behavior based on trust and emotional bonds makes WeChat users not only the recipients of information but also active forwarders, so that the speed and effect of information dissemination is magnified and multiplied.

What's more, it is easy to generate group polarization in internet public opinion. The advantages of mobile internet, such as interaction, experience and sharing, attract more people to use it as the preferred channel for acquiring information and exchanging ideas.

When users come into contact with others who have similar opinions, they gain a sense of group identity and are inclined to relate to the information group members publish. As the number of people holding the same view grows, their voice is better heard, creating a strong and simplified social mood.

On the surface, this social sentiment represents the opinion of the majority, but it is also vulnerable to manipulation, so this group tends to contribute to the formation of distorted and extremist public opinion.
New challenges
In reality, China's public opinion ecology has undergone tremendous changes in the internet era.

For one, the authority of the government and mainstream media is challenged. On the one hand, more and more internet companies invest in information production, dissemination, channel development and product development on mobile phones. Toutiao, a Chinese news-reading app, was reported to have more than 47 million active users in May 2016, surpassing many mainstream media and websites.

On the other hand, a large number of online users have begun to use Weibo, WeChat and other mobile apps to participate in information publishing and investigation. In some cases, mainstream media is dragged into the news cycle and only starts to engage in the discussion after an incident goes viral online, largely undermining their role in properly guiding public opinion.

Also, information fragmentation has made public opinion monitoring more difficult. Mobile phones are portable, available online around the clock and filled with apps, facilitating the spread of information and ideas, so that more people take part in the public opinion expression. This not only diversifies the sources and topics but also reveals differentiated ideas. When this phenomenon is coupled with unpredictable individual behaviors on social networks, it complicates monitoring and early warning of public opinion.

Lastly, irrational speech and negative information are poisoning the internet. Due to lack of supervision and review, social media often fail to properly guide and scrutinize massive online data, thus creating a false prosperity of information and ideas. To make things worse, some social media are driven by interest and resort to over-marketing, inducing sharing, taking articles out of context, exaggeration and distortion to attract readers and increase traffic, breeding rumors and illegal information.
New platforms
The emergence of new communication platforms, such as webcasts and micro videos makes it crucial to form rational and positive internet public opinion.

At present, webcasting is a big hit in China. Everyone with a mobile phone that has a camera can share with viewers what they see and do in real time. Any webcast user has the opportunity to give a live report of a news event. By the end of 2016, webcast users reached 344 million, accounting for 47.1 percent of the total internet users, among which mobile internet users accounted for the vast majority.

Due to easy access, high interaction and its resemblance to reality television, webcasting has gained instant popularity. However, given its overnight fame, the platform creates quite a bit of chaos and it shows a tendency toward vulgarity, disorder and extremism.

As a result, it is necessary to strengthen the supervision and guidance of the webcasting industry and improve self-regulation in order to purify the internet environment and enter an era of green webcasting.

In addition, micro-videos that integrate texts, sound and images are also typical communication tools in the mobile internet era. They could be as short as 30 seconds or not longer than 20 minutes. They allow live coverage of news event and are also widely viewed.

On March 18, 2017, CCTV released a micro-video depicting Chinese President Xi Jinping's life and work in Shaanxi, Hebei, and Fujian provinces. The "Stay True to the Mission" video generated 400 million views within 24 hours. Through small details, the video succeeded in expressing deep sentiments, helping the audience relate to the theme "stay true to the mission."

In the mobile internet era, emojis are also important tools through which people express themselves. Most emojis use celebrities and cartoon figures as the prototype, and with some texts, they sometimes are able to speak louder than words.

Today, emojis are not only important language symbols but also creative cultural products that carry great social communication functions. For example, in commemoration of the 80th anniversary of China's Long March victory, a package of "red army children" emojis drew wide attention online. It uses an image of a brave child in the red army in primary school textbooks as the prototype, and borrows from classic story scenes to express everyday language, revisiting the Long March memory and creating emotional resonance. The package was rapidly disseminated in Weibo, WeChat and other social media platforms. By the end of March this year, it had accumulated some 900,000 downloads and was posted more 7 million times.

Similarly, after Xi sent his greetings for 2017 New Year, a package of "learning the phrases" emojis was presented on the internet. Emojis containing phrases, such as "roll up our sleeves and work with added energy," "if you want to work with iron, you must be tough yourself," and "unswervingly crack down on both tigers and flies," accompanied with relevant images, were immediately popular among Chinese internet users, creating a good atmosphere of public opinion.
New goal
The mobile internet is reshaping the landscape of traditional information dissemination. As Chinese President Xi Jinping pointed out, it is an important task for socialist cultural construction to develop proactive, healthy and positive mainstream public opinion.

In this light, we need to understand the patterns of mobile internet communication, grasp the new characteristics, ride with new trends, improve research capacity and establish a long-term mechanism for internet public opinion management and guidance.
Xu Xiangdong is from the School of Journalism at Renmin University of China.