Internet governance: Opportunities and challenges
By Zhang Zhi'an, Wu Tao
|
2015-02-09
|
Hits:
(Chinese Social Sciences Today)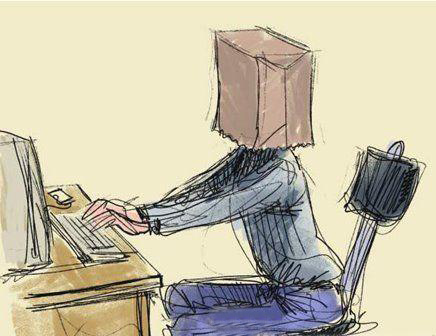 Anonymity emboldens some Web users to engage in illegal activities, severely undermining social harmony and stability.
Popularization of the Internet, especially mobile Internet, has made massive "real-time online" activities possible. The bourgeoning Internet industry is fueling adjustments to economic structure, and public opinion on the Internet is exerting huge impacts on social mentality and imposing high requirements on political reforms. All these signal that the Internet is accelerating transformation of the Chinese society, revolutionizing the country's governance mode while also producing various problems.

Part of state governance
Over the past two decades, the rapid penetration of Internet technology and ever-changing Internet applications have not only brought an enormous Internet industry into being, but also put huge stress on society.

Firstly, as a "medium," the Internet can channel the spread of government messages and information that was controlled effectively in the past.

Secondly, as a "technology," particularly in communication of social media, it will empower some people to conduct social mobilization and take offline actions through online contact.

Thirdly, as a "forum," it provides an unprecedented platform for the public to air their views and supervise the government. Online opinion generated and spread around the clock exerts considerable pressure on state governance.

As the Internet provides a panoramic view of society through cyberspace, Internet governance naturally becomes an important component of state governance.

The US, for example, has taken its first-mover advantage to formulate an overall strategic state plan for the cyberspace and foster a relatively mature Internet governance system, as manifested by its strong capacities in institutional design, multi-actor participation and inter-organizational coordination. The three capacities reflect the respect the US has paid to core spirits of Internet governance, such as freedom and openness, in the process of state governance.

The Chinese academic community is also devoting efforts to Internet governance. In October 2014, the Center for Internet and State Governance Research was established at Sun Yat-sen University in Guangzhou, Guangdong Province.

Concurrently, participants at the First Internet and State Governance Think Tank Forum unanimously agreed that Internet governance can provide rich resources and impetus for state governance. State governance entails openness, equality, dialogue and consultation, which closely align with the inherent spirits of Internet governance. Therefore, Internet governance is homogeneous to state governance.

Tapping opportunities
Obviously, the Internet as a technological instrument can bring opportunities to state governance and transition of government functions.

Firstly, in the Internet age, it is easier for the public to take part in public decision-making, therefore making government decisions more reasonable, transparent and participative.

Owing to its technical advantages, the Internet can open up new modes of information dissemination, broaden dissemination range and reduce costs. Thanks to the Internet, more people can be involved in information dissemination and obtain greater rights to know, express and supervise.

If the government can change the traditional thinking pattern in regulation, build accurate, effective public opinion analysis and judgment systems, and pay full respect to public opinion during the processes of public policy making and social governance, government decision-making will be rendered more open and rational.

Secondly, the Internet can improve the efficiency of government information disclosure. Construction of government websites, opening of administrative social media accounts on Weibo and WeChat, and investment of manpower and material resources for maintenance and interaction purposes can diversify and widen platforms for disclosure of government information.

Thirdly, governments at all levels should make full use of the Internet for online governance and social surveillance. Problems like inefficient administration of some local governments have posed hurdles to the modernization of China's state governance. Fortunately, the Internet can help solve them more effectively by supporting supervision of the general public. For example, e-government is conducive to enhancing administrative efficiency and reporting graft via the Internet can rein in corruption.

All in all, the Internet can not only technologically enable members of the public to participate in state governance as never before, but also practically upgrade state governance level and efficiency.

Challenges on horizon
It is undeniable that Internet governance poses a series of challenges to state governance. As an organic part of state governance, the quality of Internet governance has a significant bearing on national security, economic development and social identity.

Firstly, cyber security matters a great deal to state security. State dominance and multilateral coordination are therefore necessary to strengthening Internet security. On its way to becoming a great Internet power, China is also subject to huge risks of being attacked. The spread of viruses, information interception and hacker attacks are severely jeopardizing state security. Therefore, countries around the world have reached a consensus on ensuring cyber security.

However, government forces are far from enough to fully guarantee network security and build an Internet power. Efforts should be made to establish information sharing mechanisms in conjunction with other private and public departments and organizations, cooperate closely with actors in the cyberspace, such as enterprises, research institutions and social organizations, to develop mechanisms and systems featuring close communication, highly-effective coordination and open cooperation.

Secondly, the Internet can power economic growth, so it is undoubtedly urgent for the government to hammer out a market-led, service-oriented scientific governance system that can further healthy development of the Internet economy.

In January 2014, the market values of the three Internet giants, Tencent, Alibaba and Baidu, reached $119.7 billion, $100 billion and $60.5 billion respectively. Along with the rise of these Internet magnates, the entire Internet economy is booming with China leading the globe. Nonetheless, in terms of Internet governance, China is not yet ready to lead the world.

In fact, the Chinese Internet industry has long been growing unrestrainedly with the absence of effective management by exclusive government bodies. During the development of the Internet economy, there has been a longstanding problem that the development of the Internet industry far outpaces the release of government policies. China's thriving Internet economy is largely due to market forces.

Based on modern governance theories, China's Internet industry can rely on the market to build a service-oriented government. It is a must to take private organizations and Internet institutions as governance subjects and drive the Internet sector to develop healthily by means of industrial self-regulation and contract.

Finally, the Internet has threatened social identity, so priority should be given to deepening social trust and bridging social differences. While the Internet offers citizens space and opportunities to express themselves and participate in public affairs, it also lowers social identity and affects social rationality.

A spate of rumors spread online can repeatedly stir public anxiety, undermining mutual trust among civil groups. Online opinions are divergent, with both reasonable public appeal and biased, offensive remarks. The mismatch between the online and official opinion fields often makes it difficult for the government and the public to communicate. Worse still, attacks have spread from online to offline. As a tool of communication, the Internet's capacity for mobilization threatens to impact daily life and the personal safety of some citizens.

In conclusion, the Internet is changing the politics, economy and society of countries as it creates a brand-new social environment. The government should adjust itself to the fresh governance context to shift the focus from efficiency to justice and equity, from passive response to active coping, and from good government to good governance.

Zhang Zhi'an is the director of the Center for Internet and State Governance Research at Sun Yat-sen University; Wu Tao is a doctoral student specializing in public administration at Sun Yat-sen University.