Compilation of Chinese literary history in early 20th century
CHEN ZONGCHUN
|
2022-04-21
|
Hits:
Chinese Social Sciences Today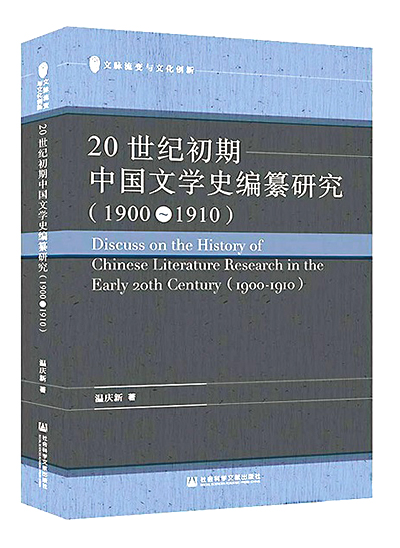 Discussion on the History of Chinese Literature Research in the Early 20th Century (1900–1910)
---
Written by Wen Qingxin, an associate research fellow from the College of Humanities at Yangzhou University, Discussion on the History of Chinese Literature Research in the Early 20th Century (1900–1910) takes Huang Ren's The History of Chinese Literature, Lin Chuanjia's The History of Chinese Literature, and Lai Yuxun's Manuscripts on The History of Chinese Literature as research objects.
In the book, Wen reproduces the social background, knowledge selection, and compilation intention of early compilations of Chinese literary history in the early 20th century. Wen points out that although the compilation of Chinese literary history of this period had diverse styles and length, and complex ideas and values, it all accepted the frame of foreign literary history, and was widely influenced by the reform of the modern education system, the background of "China-West communication," and the historical needs of enlightenment through education.
Most of them were textbooks and handouts compiled by universities, middle schools, and even missionary schools at the time. When compiling the history of Chinese literature with a framework of literary history, they did not focus on the discussion and practice of the internal laws of Chinese literary history, but tried to respond effectively to the historical background, social value, and knowledge structure of early 20th-century China.
Huang Ren, Lin Chuanjia, and Lai Yuxun all chose advocating for "restoring moral ethics" because of their identification with traditional "inherent learning," which coincides with the spiritual appeals universally held by then influentials such as Zhang Zhidong and Zhang Taiyan that China-West academic exchange should be oriented towards the return of Confucian classics. Influenced by this spiritual appeal, personal literacy, and knowledge structure, compilers of literary history in this period took traditional learning as the dominant method to deal with the China-West exchange trend, spiritually in conformity with the reform of the modern educational system.
The biggest challenge facing these compilers lies in the lack of similar works and compilation paradigms for reference. Compilers can grasp the general trend of the evolution of Chinese literature with the help of traditional knowledge. However, effectively starting to write about the evolution of Chinese literature and the process of seeking an evaluation system and method for reference, depends on the compilers' personality and thus varies. For instance, Huang Ren's work fused "writer representatives" of a biographical style, textual research and data compilation of bibliographical significance, and "selected works" of an anthology sense. Using the form of special topics, Lin Chuanjia integrated "various subjects related to literature" with the history of literature, forming a unique personal style through "attaching the compiler's humble opinion."
Chen Zongchun is from the College of Social Sciences at Yangzhou University.