Tourism boosts urban-rural spatial integration
YE YAJIAN
|
2022-04-15
|
Hits:
Chinese Social Sciences Today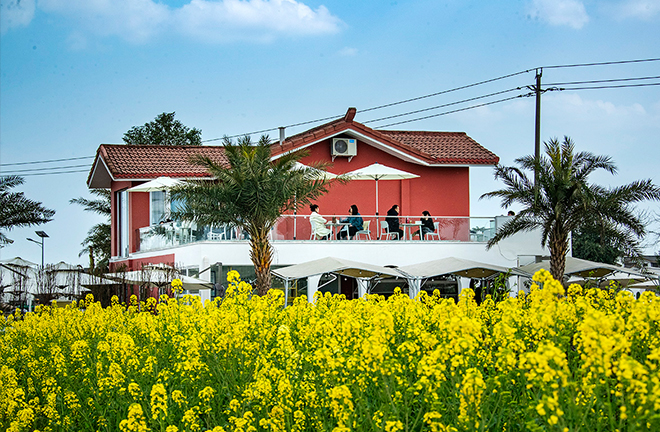 The Wuxing Village, in the vicinity of Chengdu City, attracts tourists from urban areas Photo: Liu Guoxing/CNS
---
With the improvement of China's urbanization, two completely different habitation systems—urban and rural areas—which have been quite different in the past, are becoming spatially integrated. Particularly in such economically developed areas as the Yangtze River Delta and the Pearl River Delta, urban-rural spatial integration has become a reality. In fact, more than 30 years ago, these areas were distributed into areas that Canadian geographer T.G. McGee called the Desakota area (half-city and half-township land with mixed usage between core cities), and now the spatial boundary between urban and rural areas has become further blurred and even eliminated. China's urbanization process has gone beyond a scope which even the Desakota model can interpret.
Manifestation of the integration
Urban-rural spatial integration is most directly manifested on material levels—we can still distinguish between cities and villages visually, but the hard infrastructure in both areas has become entirely compatible. For example, transport construction (such as the pavement quality) in the two areas has been equalized, and the physical experience of driving on a road no longer signals whether you are in the city or the countryside. Architectural styles and building standards are similar, and rural architecture has the same quality and sense of design as urban architecture. Rural buildings are no longer randomly scattered, but display unified planning and a purposeful layout, and there are corresponding support facilities for townships.
Urban-rural spatial integration is also manifested on social action levels. Public services such as water and electricity, roads and lighting, internet access, garbage disposal, and sewage treatment, cover all rural areas and can be institutionalized. Urban and rural populations can flow in binary directions, particularly so that the urban population can conduct normalized economic activities in rural areas. Consumption habits and even styles of work and rest are similar in both areas. With the combined effects of these social actions, urban and rural spaces are not only externally consistent, but also operate in similar rhythms.
Tourism forsters spatial integration
Multiple factors can contribute to integration, but in distinct ways. For example, the suburbanization of the industrial sector can bring some facilities and pertinent services to rural areas, but unfortunately this is often confined to factories which can hardly realize complete spatial integration. At the same time, some large-scale facility construction projects have made remarkable progress: expressways, high-speed railways, and airports are accessible in many rural areas. This is very beneficial for rural people to migrate to cities for work and for exporting agricultural products, but, if this rural infrastructure is not well-developed, it is more likely to aggravate the outflow of rural resources, which has a limited role in fostering local development.
Compared with the indirect factors listed above, tourism is one of the few noteworthy factors that directly impacts urban-rural spatial integration. Despite its great influence, it is easy to ignore, because in many people's eyes, tourism is just about leisure and consumption.
Travelling is a social activity with a long history. Long-distance foraging, hunting, and exchange in primitive times, and business, overseas study, as well as leaving for assignment in faraway places are all closely related with travelling. Tourism derives from travelling. As a type of travelling purely for leisure, it had long been exclusive to a few wealthy people who also have an abundance of free time. Under changes brought by the industrial era, tourism began to enter the lives of the general public. In 1841, Thomas Cook, the British innovator who proposed tour conducting, organized a one-day rail excursion for pleasure, which was considered to have invented modern tourism. Since then, travel agencies, scenic spots, tourist routes, and other elements of tourism have come into being, and global tourism has developed into an industry with annual output of trillions of dollars.
Today, rural tourism is the main product of the tourism industry. As urban sprawl continues the process of urbanization, the value of rural tourism also further improves, and tourist attractions become the pivot points that connect urban and rural spaces and that boost the integration between the two. From the moment that tourists enter scenic spots, they enter a network of services: vehicle parking, route guidance, landscape appreciation, rest and catering, hygiene and cleaning, souvenir selling, and other services, which ensures a pleasant, orderly, and safe experience for visitors. Tourism actually brings the urban service sector to villages on a large scale, which improves the proportion of villages' tertiary industry, and alters their industrial structure.
Cultural significance of tourism
In addition to the scenery's qualities—being beautiful, unique, and magnificent, rural tourism consumption targets also include historical, symbolic, and cultural meanings of scenic spots, as well as social activities within them, including festivals, ceremonies, and folk customs.
The city represents a developed material basis and efficient work, while tourism endows the village with the cultural significance of leisurely time, nourishing life and health, physical, and mental relaxation, and a return to the traditional pastoral life. It embodies the simplest human hope—to touch natural beauty and receive physical and mental pleasure. This significance reveals one of the most important motivations for urban consumers as they travel to rural areas, and it integrates three elements, materials, social actions, and cultural significance, which makes urban-rural spatial integration real.
Ye Yajian is a lecturer from the School of Public Management at South China Agricultural University.
Edited by BAI LE