High-speed rail drives regional economy
ZHANG KEYUN
|
2022-03-31
|
Hits:
Chinese Social Sciences Today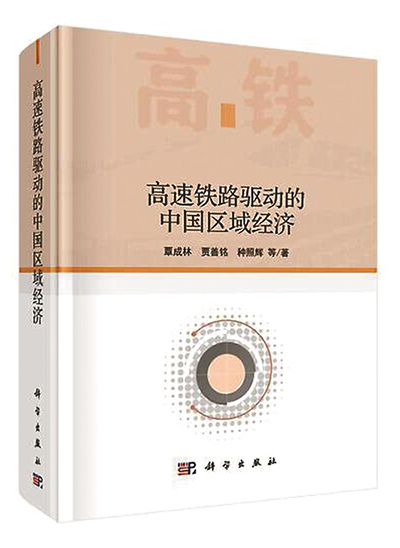 China's Regional Economy Driven by High-Speed Rail
---
China's Regional Economy Driven by High-Speed Rail, co-written by Qin Chenglin, a professor from the School of Economics at Jinan University, among others, focuses on the economic attributes and development modes of high-speed rail (HSR) from the perspective of regional economics, using spatial econometrics, statistics, complex network, and social network analysis methods.
It analyzes the influence and influence mechanism of HSR on China's regional economic growth, regional economic integration, regional economic agglomeration and economic belts, regional economic pattern change, and regional economic factors agglomeration.
The book reveals the mechanism and differences of how HSR has affected regional economic growth, as well as the mechanism and various possibilities of HSR influencing regional economic growth convergence. Reducing transportation costs and expanding market areas are the main mechanisms of transportation development impacting regional economic growth. For regions along transport lines, the effect of reducing transportation costs does not vary, but the effect of expanding the market area is closely related to the initial factor endowment conditions of each region. That is to say, their impact on the economic growth of different regions is necessarily different.
The book reveals the mechanisms through which HSR influences regional economic integration and how intercity rail transit influences urban agglomeration integration. HSR increases the traffic-passenger flow of regions along lines by reducing the travel time and cost. Meanwhile, HSR lowers the production and transaction costs for enterprises, changes location advantages of regions along lines, and enhances the spatial organization ability. By developing regional transportation networks, it accelerates the flow of production factors, optimizes the labor market, and augments the migration space of enterprises and industries, thus intensifying the interaction and interdependence among regions.
It has been proven that HSR is a new factor affecting the balance of China's regional economic pattern, which impacts the urbanization pattern and the spatial pattern of producer services. First of all, HSR can cause differential changes in the accessibility of central regions, regions along routes, and regions beyond the routes, which can promote or inhibit their economic growth and lead to changes in the balance of China's regional economic pattern. Additionally, the extensive and profound influence HSR generates on China's urbanization pattern is: the urban population gathering to cities along HSR lines, the urban gradation, scale, and structure in an olive-shaped distribution, and strengthening the role of urban clusters as the major urban population gathering areas.
Zhang Keyun is a professor from the School of Applied Economics at Renmin University of China.