Webinar explores legal studies in digital era
ZHANG QINGLI
|
2022-03-24
|
Hits:
Chinese Social Sciences Today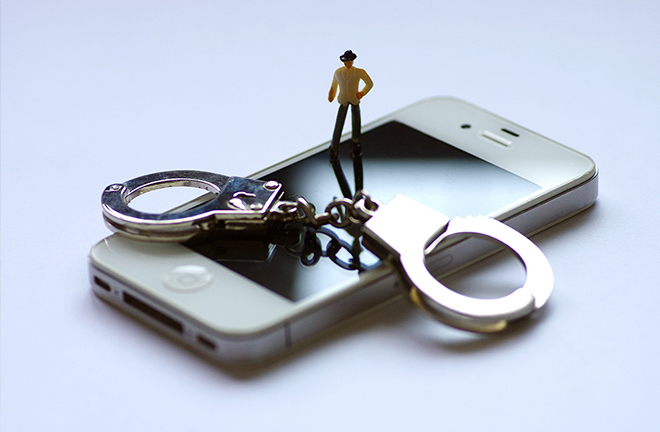 New phenomena arising in the digital era call for modern law to upgrade. Photo: CFP
---
JI'NAN—The first High-End Forum on Data Law was held to discuss the innovation of legal theory in the digital era, via video links, by the School of Law at Shandong University, on March 10.
Entering the digital society era, people's production mode and lifestyles, values, and behavioral rules have undergone profound transformations, calling for updates to the modern legal system. In order to create a sound digital ecosystem, China has released such laws and regulations as the Data Security Law and the Personal Information Protection Law. To facilitate the orderly development of digitization, the plan of national informatization during the 14th Five-Year Plan period (2021–25) was issued by the Central Cyberspace Affairs Commission of the CPC Central Committee in December 2021, which proposed the establishment and improvement of a standardized and orderly governance system for digital development.
For the first time in China, AI assistive technology was used in a Shanghai court in 2019. The "206 system," an AI assistive technology for court trials, integrates a range of artificial intelligence technologies, including optical character recognition, natural language processing, intelligent speech recognition, judicial entity recognition, entity relationship analysis, and automatic extraction of judicial elements. The 206 system improves trial efficiency, while strengthening the accuracy of case trials. In Zhejiang Province, a major reform called the "Zhejiang whole-region digital court" has been comprehensively rolled out.
The exploration and innovation of the practice of the digital rule of law in China has inspired legal theorists, who have witnessed the emergence of such research fields as data law, digital law, future law, and computational law. "Although these terms have different focuses, they are all research regarding legal challenges brought by technological development, especially digital network technology," said Hou Xuebin, a professor from the School of Law at Jilin University.
In recent years, labor disputes on online platforms have become a new legal issue in the digital society. In this regard, Ma Changshan, director of the Institute of Digital Rule of Law at East China University of Political Science and Law, said that with new problems in the digital era, physical logic is no longer suitable for explaining the phenomena and behaviors of an information society. Also, these problems should not be confined within the framework of traditional dogmatics of law or social science of law. Entering the digital era, modern law, based on the physical age and Roman law, can no longer ontologically meet the requirements of the digital age, necessarily entailing transformation and upgrading.
Entering the digital age, what innovation should modern law make? Hou posited that legal research around digital technology has changed from introductory and broad to in-depth interpretation and field specificity, with differentiating and deepening research topics. Benefiting from the accumulation of practice and research, scholars have gradually shifted from constructiveness to reflection, constantly breaking through original theoretical paradigms, and moving generally from single to interdisciplinary research.
In Ma's opinion, if digital technology is only taken as the method, innovation tactic, and optimization path to expand modern legal science, this is essentially just an expansion of function, scope, and knowledge methodology, yet it lacks profound understanding of how the information revolution has facilitated legal science reform. Compared with methodological innovation, some scholars, in the sense of an epistemological revolution, regard digital law as a paradigm shift from induction and deduction to digital analysis, from knowledge rationality to computational rationality, and from human cognition to machine cognition. In addition to methodological and epistemological paths, Ma put forward the theoretical conception of digital law in the ontological sense.
The emerging digital society has disparate operating rules from physical society, forming new social relations and logic, Ma continued. In digital society, information is the center of mobilizing all resources, and digital behavior is different from purely biological behavior. The order of digital society is algorithmic order, and social governance is no longer multi-level governance, but node governance.
According to Ma, the digital revolution of modern law targets the new phenomena and new problems arising in the digital society, and stands for the theoretical interpretation and expression of digital production and life relations, behavior rules, and social order. All legal phenomena involving digital society fall into the adjustment scope of digital law.
Having said that, do legal studies in the digital age mean the complete "abandonment" of modern law? Zhou Changjun, dean of the School of Law at Shandong University, suggested linking up and intersecting the traditional academic context and new digital legal research. In addition, legal research under the digital vision should avoid path-dependence on traditional theory, break through mental inertia, enter the logical context of digital society, and examine rule of law and legal science oriented to practical problems.
Ma said that legal concepts, principles, and rules of digital law need expanding reinterpretations of the modern legal system on the one hand. On the other hand, it needs to construct new theories according to the rules of digital behavior. Beyond this, explorations are necessary for the principles of personal relations, property relations, and social relations unique to digital space.