China's new development paradigm accelerates
ZHANG YIXIN and RUAN YILEI
|
2022-03-03
|
Hits:
Chinese Social Sciences Today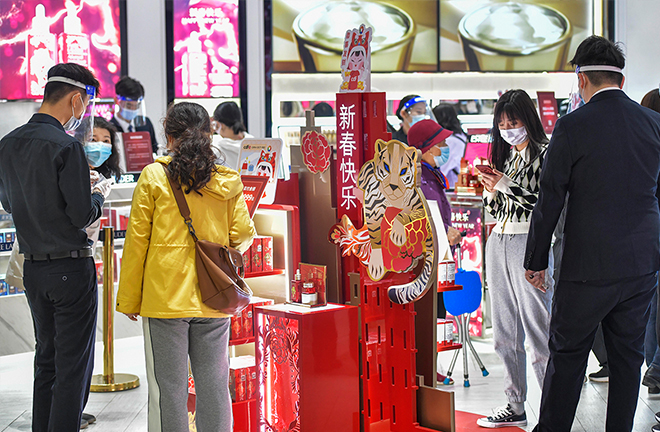 Customers shop at a duty free store in Haikou, Hainan Province, on Feb. 3. Photo: Luo Yunfei/CNS/CFP
---
China is pushing a new development paradigm of "dual circulation," which smooths domestic circulation and lets domestic and international circulations reinforce each other.
Looking back on China's practice over the past two years, Sheng Bin, dean of the School of Economics at Nankai University, noticed four major features of the new development paradigm. Policies have combined expansion of domestic demand with adherence to supply-side structural reforms. China has also improved its domestic supply system's adaptability to demand, witnessing a higher level of dynamic balance. In addition, the country has emphasized domestic circulation under high-level open conditions—rather than closed conditions. Moreover, domestic circulation's leading role has been strengthened, with efforts to improve domestic circulation's levels and efficiency with the help of international circulation. As such, domestic and international circulations have reinforced each other.
The 14th Five-Year Plan (2021–25) can be regarded as a systematic top-level design to accelerate the new development pattern in the future, said Cai Yuezhou, a research fellow from the Institute of Quantitative and Technological Economics at the Chinese Academy of Social Sciences (CASS). The circular on the development of a digital economy during the 14th Five-Year Plan period, issued by the General Office of the State Council in January, can facilitate the new development paradigm by making comprehensive deployments in terms of digital infrastructure, the digital transformation of enterprises, and the digital transformation of key industries. With the in-depth advancement of digital development, there is a more solid technical guarantee for smooth economic circulation.
In Cai's view, building a pilot free trade zone and a free trade port with Chinese characteristics on Hainan Island, signing the Regional Comprehensive Economic Partnership, and applying to join the Comprehensive and Progressive Agreement for Trans-Pacific Partnership, are all measures that contribute to building an international circulation.
Macroeconomic stability is an important prerequisite for accelerating the construction of the new development pattern. Chen Yanbin, a professor from the School of Economics at Renmin University of China, noted that since the second half of 2021, China's economy has faced some downward pressure, affected by multiple factors such as the continued spread of the pandemic, increased uncertainty in the international economic situation, and sharp price rises in international bulk commodities.
He Dexu, director of the National Academy of Economic Strategy at CASS, said that we must be highly vigilant against many factors that lead to "instability," such as profound changes in the international and domestic markets, the policy environment, and fallout from the COVID-19 pandemic. In addition, it is necessary to focus on "progress" under the premise of "stability," coordinating pandemic prevention and control and economic and social development, and coordinating development and security.
"Our country's economic development is facing the triple pressure of demand contraction, supply shock, and weakening expectations," Cai said. It is necessary to remain vigilant against black swan events and prevent grey rhino risks.
From the perspective of speeding up the construction of the new development paradigm, "prioritizing stability" requires the smooth flow of economic circulation, especially our domestic circulation, Cai continued. To this end, it is necessary to ensure the security of the industrial chain and supply chain to avoid breakage of key nodes that will cause a major impact on economic operations.
In 2022, macroeconomic policies should further improve in quality and efficiency, strengthen the organic combination of counter-cyclical adjustment and cross-cyclical adjustment, and focus on stabilizing the macroeconomic market, Chen suggested. It is especially important to solve the problem of "demand contraction," where current consumption and investment demand is relatively weak.
To increase residents' consumption, Chen suggested narrowing the income gap and property gap among residents, and expanding the middle-income group through primary distribution and redistribution. It is vital to establish a long-term mechanism for stable and healthy development of the real estate market and reduce inhibitory effects of household debt on consumption.
Chen also suggested improving the social security system to fundamentally relieve residents' worries about education, medical care, pensions, and housing, to reduce residents' precautionary savings, thus releasing their consumption needs.
"The key to improving effective investment is to promote the rapid growth of productive investment through market-oriented mechanisms, and not to repeat the old path of relying on real estate and infrastructure to drive investment," Chen said.
To smooth international circulation, Cai suggested further expanding opening up and cooperation, leveraging China's super-large-scale market and industrial supporting advantages in the manufacturing sector, and strengthening economic and trade cooperation with developed economies.