China's peripheral diplomacy makes new progress
ZHOU FANGYIN
|
2022-01-06
|
Hits:
(Chinese Social Sciences Today)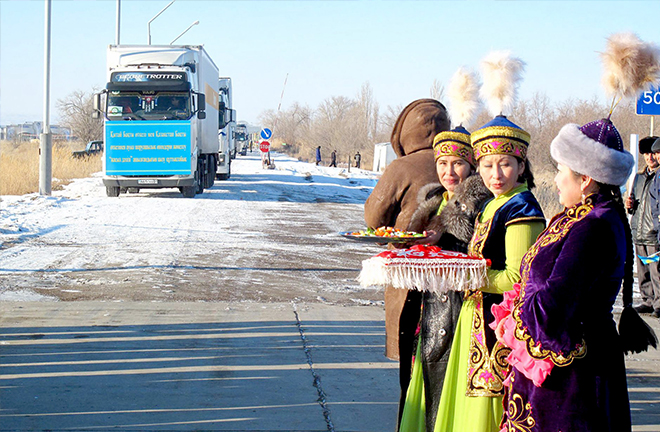 The "green channel" for quick customs clearance of agricultural products was opened between China and Kazakhstan in the Bakhty Border, which is the first such channel between China and neighboring countries. Photo: Yan Wenlu/CNSphoto
---
As a country with one of the highest number of neighbors in the world, China has always attached great importance to developing relations with its neighboring countries. After the Cold War ended, new changes took place among international powers. In this context, China began paying greater attention to peripheral diplomacy, and has increased peripheral diplomacy more than ever following the 18th National Congress of the Communist Party of China (CPC).
Stable relations with momentum
Above all, economic and trade cooperation between China and neighboring countries is rising against the backdrop of the pandemic. In 2010, the China-ASEAN Free Trade Area (FTA) was officially launched. In 2015, a protocol was signed to upgrade the China-ASEAN FTA. In 2019, the protocol entered into force for all members. In 2020, despite the raging pandemic and the sharp decline in global trade, ASEAN surpassed the EU to become China's largest trading partner for the first time. Economic and trade cooperation between the two sides bucked the trend and the trade volume grew by 6.7% year-on-year. Without considering international organizations, the neighboring countries of Japan, South Korea, Vietnam, and Malaysia became China's second, third, seventh, and ninth largest trading partners in 2020, respectively. Russia ranked 11th, and its trade volume with China also exceeded $100 billion.
In the context of the pandemic, there were closer ties between China and its neighboring countries in trade, investment, and industrial chains. As an important part of the global value chain, the Asia-Pacific value chain is the regional system with the largest number of participating countries, the largest volume of trade, and the most complex division of labor. As the Regional Comprehensive Economic Partnership (RCEP) entered into force starting from 2022, economic ties between China and its neighboring countries will be further consolidated, with more interwoven convergence of interests.
In addition, the importance of neighboring countries and regions in China's new development paradigm featuring dual circulation, in which domestic and overseas markets reinforce each other, will be further highlighted.
The persistence of frictions caused by multiple hot-spot issues has been a challenge to China's peripheral environment. This phenomenon is a result of both complicated historical factors and the influence of the transformation which regional orders are currently experiencing. These problems cannot be rooted out within a short period of time, but with the joint efforts of China and its neighbors, they have been effectively managed on the whole. Despite disturbances from many external factors, China's relations with its neighboring countries have remained stable with good momentum.
Adversity is the test of friendship
The outbreak of COVID-19 and its spread is the most serious public health crisis that has plagued the globe since World War II. In spite of this, China and its neighboring countries have provided strong support to each other in terms of international cooperation on pandemic prevention and control, which further bolstered relations between all sides. Immediately after the outbreak of the pandemic, Russia provided relief supplies and sent a medical team to China. Pakistan also offered a helping hand, and donated supplies which were stocked in its hospitals, to China.
Subsequently, China quickly provided strong assistance in diverse forms to Russia, Pakistan, and other neighboring countries, and sent anti-virus medical teams to Cambodia, Laos, Myanmar, the Philippines, Kazakhstan, Uzbekistan, Kyrgyzstan, Tajikistan, and other neighboring countries. Adversity is the test of friendship. Through the joint fight against COVID-19, China's friendly relations with its neighboring countries have been further strengthened and the spiritual bond between them has become even closer.
Zhou Fangyin is dean and professor from the School of International Relations at Guangdong University of Foreign Studies.