China committed to independent foreign policy of peace
REN JINGJING
|
2021-04-01
|
Hits:
(Chinese Social Sciences Today)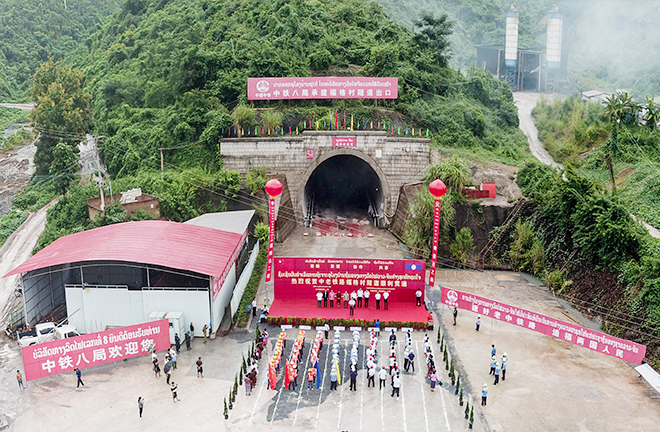 The construction of Tunnel in Fog Village, Laos accomplished on September, 2020 as part of China-Laos Railway. Photo: Pan Longzhu/CNSphoto
---
The world today is now facing great changes unseen in a century. As the international system and orders adjust in a profound way, strategic games between major countries have aggravated in many respects; science and technology progresses with each passing day and human civilization faces new opportunities for development, which also bring new challenges and uncertainties. Since 2020, the COVID-19 pandemic has triggered a global crisis. Coupled with the great changes the world now faces, humans are addressing brand-new severe challenges and the world is entering a period of turbulent reform.
At this critical juncture, the community of shared future for mankind has won widespread recognition from the international community. China is striving to blaze new trails of major-country diplomacy with Chinese characteristics, which has yielded a series of fruitful results.
Leading countries' political relations have always been the decisive factor influencing world peace and development. To establish balanced, stable, mutually respectful bilateral relations with leading countries is both an important part of, and guarantee for the community of shared future for mankind. China advocates for establishing a partnership model that features dialogue rather than conflict between countries. International leaders should respect each other's core interests and primary concerns, manage disputes and differences to form a new type of diplomatic relationship. In the context of the international system's transformation, and as countries seek reform in internal politics and foreign policies, relations between international leaders have reached a new phase of adjustment.
Neighboring relations are the cornerstone of China's foothold in the international community, which carries great weight in terms of China's national security, social stability, and economic development. China highly values friendship with its neighbors. Since the 18th National Congress of the Communist Party of China (CPC), China has abided by the diplomatic concepts of amity, sincerity, mutual benefit, and inclusiveness and the policy of forging friendship and partnership with its neighbors. With a more active posture, it constantly advances new progress in regional cooperation. Through "Belt and Road" initiative, Lancang-Mekong cooperation, Regional Comprehensive Economic Partnership (RCEP) and other institutional platforms, exchanges and connectivity have been realized with them drawing complementary advantages from each other.
Developing countries have always held a fundamental role in China's diplomacy. For a long time, China has acted according to the principles of upholding justice, sincerity, real results, affinity, and good faith, and has worked to strengthen solidarity and cooperation with other developing countries. In recent years, China implemented follow-up actions to crystallize plans made at the Beijing Summit of the Forum on China-Africa Cooperation, the China-Arab States Cooperation Forum, and the China-CELAC Forum. It also increased efforts in foreign aid, shared experiences of national governance, and declared a war against poverty. By January 2, 2021, the Chinese government had initiated the most large-scaled global humanitarian action in the history of the People's Republic of China—a large quantity of anti-pandemic aid has been offered to more than 150 countries and 10 international organizations, with 36 medical expert teams dispatched to 34 countries, most of which were developing countries. China has demonstrated to the world that it is a responsible global leader with its actual actions.
Multilateralism is an effective way to maintain peace and boost development. However, the rules and principles of the global governance system today are mainly formulated by developed countries, while the majority of developing countries relegated to positions with little or no power. The goal of reforming and enhancing the global governance system is thus to improve developing countries' status.
At present, many global problems stem from developed countries' irresponsible acts in history. Yet the discord has been passed onto developing countries, which have to shoulder the detrimental results. Therefore, reforming the current global governance system is imperative. China is actively committed to such reform to improve developing countries' discourse power in global governance and help them resolve practical problems encountered in the development process. By steadfastly maintaining international systems with the UN as the core, China actively participates in multilateral system building through the G20 Group, BRICS, and the Shanghai Cooperation Organization (SCO), becoming a key force that maintains multilateralism, international justice, and fairness.
The "Belt and Road" (B&R) initiative has become an important platform on which China promotes the building of a community of shared future for mankind. For seven years, the initiative's concept has been crystallized into action and it has become one of the most popular international public goods. The China–Pakistan Economic Corridor, industrial park zone cooperation, China-Laos Railway, China-Europe Railway Express, Piraeus Port project, Hambantota Port project, in short, a large number of flagship projects in key areas have been comprehensively advanced, and a mutually beneficial cooperative network that covers continents across the globe and connects oceans has been initially formed. By the end of January, 2021, China signed 205 documents about B&R cooperation with 140 countries and 31 international organizations. In times when the pandemic brought heavy blows to global economy, international cooperation on B&R did not pause but displayed vitality instead.
Currently, the advancement of building a community of shared future for mankind has become the overarching goal of China's foreign policy in the new era and the core agenda of major-country diplomacy with Chinese characteristics. In the new historical course, China will unswervingly remain committed to an independent foreign policy of peace, and uphold its fundamental foreign policy goal of preserving world peace and promoting common development to forge a new type of international relations featuring mutual respect, fairness, justice, and mutually beneficial cooperation.
Ren Jingjing is associate research fellow from the Institute of Contemporary China Studies at the Chinese Academy of Social Sciences.
Edited by BAI LE