Translation and transmission of Chinese epics should target readers
HUANG XIN
|
2021-01-06
|
Hits:
(Chinese Social Sciences Today)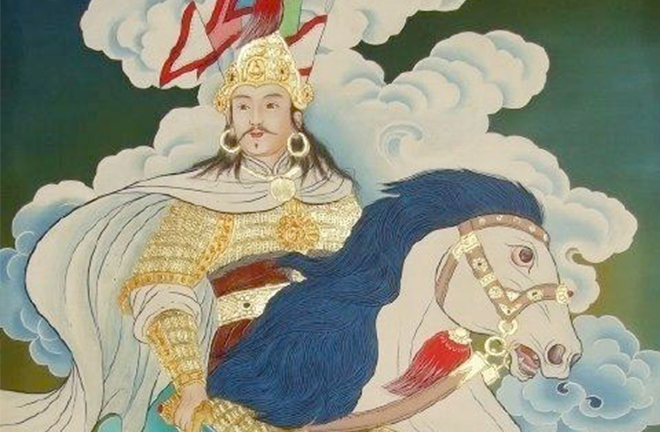 King Gesar, a heroic image created by the Tibetans based on ancient legends Photo: FILE
---
Rich and profound in cultural connotation, Chinese epics typically demonstrate Chinese cultural diversity. Translating epics is of great significance for inheriting and carrying forward the traditional culture of the Chinese nation and safeguarding the security of national cultural resources.
Whether Chinese epics can be transmitted far and whether it can resonate with readers depends to a large extent on translators' abilities. The particularity of epic translation requires that translators have a higher competency than those who engage in ordinary literary translation. Apart from translation, epic translation generally involves other complex procedures such as collection and collation of epic documents. While they conduct field investigation, translators' identities will affect the completeness and accuracy of historical materials provided for epics. Their insufficient knowledge about cultures and languages of ethnic minorities may also lead to a misunderstanding of epics, thus affecting the quality of epic translation and transmission.
Regarding translation and language conversion, Chinese epic translation falls into two categories: direct translation and indirect translation. Direct translation of epics is usually conducted in a similar way as ethnographic translation, for example, an oral epic is directly converted from one of the ethnic minority languages into a foreign language; indirect translation delivers the text into the target language with the help of intermediate language (usually Chinese). Examples of indirect translation of Chinese epics include the English version of Ashima translated by the British translator Gladys Yang and the English version of King Gesar that takes the Chinese transcreation by Tibetologist Jampel Gyatso as the source text. As Chinese culture is "going global" today, indirect translation is crucial for oral epics, which mostly have no clearly determined authors and there are few standardized source texts. Therefore, traditional translation which believes "the target text's correspondence with the source text is paramount" can no longer satisfy the translation needs of oral epics.
Therefore, it is necessary to have a new understanding of the translation principle—"faithfulness and equivalence." In translating epics, this principle does not have to be strictly followed. According to different goals, the translated epic works can be divided into three types—works respectively for stage drama, academic research, and common knowledge. In translating works for stage drama, the translator must focus on the art of oral literature, the context in which oral literature is performed, as well as both the verbal and non-verbal content presented by the drama's singer (or performers). In translating works for academic research, the history and culture of ethnic minorities is the key, which is usually demonstrated by means of annotation, explanatory notes, and comments. In translating works for common knowledge, the readers' cognitive ability and acceptance should be considered, and domesticating translation can be adopted as the main approach. In terms of epic translation for non-academic purposes, faithfulness and equivalence not in strict sense and even "inspirational translation" should be accepted and understood. This is expedient for the epic translation and transmission as well as the protection and inheritance of epic culture.
In addition, abridged translation, transcreation and famous works retranslation should be allowed. Epic translation is also a contractual act. Upon entering the sales market, epic works will have commodity attributes, and the focus of attention will change from academic issues of "faithfulness and equivalence" to the market issues which are directed by customers' demand. For the translation of some epics, the above three translation methods are not only functional for filling in the content blanks, which is of historical significance, but also are effective in transmitting works, which may reap twice the results with half the efforts. The Epic of Baeuqloxgdoh (Comparative Edition in Zhuang Language, Chinese and English) is a good example of filling in the content blanks.
In order to minimize the reader's burden in understanding, epic translation should consider the text's acceptance among the target-language readers, and adopt necessary translation strategies (including even different linguistic forms or stylistics) to avoid misunderstanding and cultural conflict. For example, the translation work by French Sinologist Alexandra David-Néel The Superhuman Life of Gesar of Ling uses the format of novel. The translation work Warrior Song of King Gesar by American scholar Douglas Panick, a research associate at the Museum of Modern Art, uses condensed translation that combines a prose style with rhymes, which is creative and convenient for readers who have no knowledge of Tibetan and Mongolian studies.
The translation and transmission of Chinese epics is a cause with extensive influence, requiring persistent efforts. However, research in this field especially the theoretical research is far behind. To improve it, the following points are noteworthy.
First, translators should absorb and draw experience from epic translation and research in foreign countries and strengthen international cooperation for Chinese epic research. By taking account of the three epic traditions, which include being global, regional, and local, we should strive to provide new models for the study of world epic translation and research.
Second, a multi-disciplinary approach can be adopted by combining epic study, anthropology, history, sociology, and ethnology to study the transmission of epic translation works, and the channels and effects of transmission as well as the complex relationships between different versions of translation and specific times, or social cultures.
Finally, we should continue carrying out translation which is based on ethnographic research, and add supplemental textual information such as singing materials, singing rituals, and recordings of pronunciations for ethnic minority languages in translation texts.
Huang Xin is from the School of Foreign Language at Southwest Jiaotong University.
Edited by BAI LE