High-development gives impetus to service trade
Liu Hongmei
|
2020-12-24
|
Hits:
(Chinese Social Sciences Today)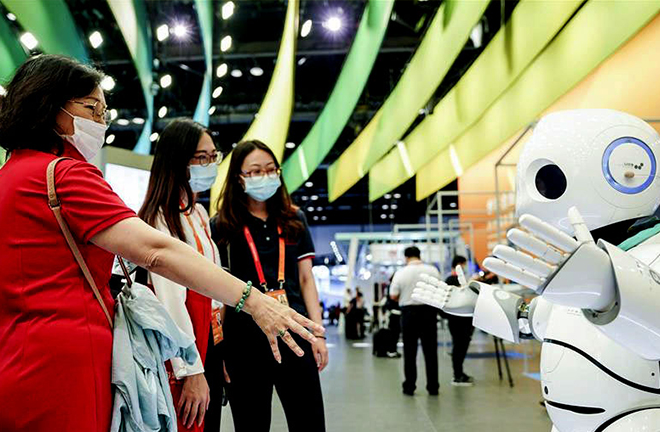 An intelligent robot interacts with the audience at the China International Fair for Trade in Services held in September, 2020. Photo: Peng Ziyang/XINHUA
---
China is a large country when discussing service trade. At the end of 2019, China's service trade volume had been second in the world for six consecutive years, and the average annual growth rate was much higher than the world average, as was the overall growth rate of China's foreign trade. However, the proportion of Chinese service trade in foreign trade is far lower than the world average. In 2019, the service industry contributed more than a half of the Chinese GDP, but the competitiveness of modern service industry still needs further enhancement and the innovative potentials of service enterprises remain untapped. There is also big gap between these enterprises' operational and management abilities and those of developed countries.
Service trade is a comprehensive business form within a framework where the domestic and international circulations are complementary and mutually supportive of each other. Service trade now faces profound changes regarding both the internal and external environments. For example, the development of the service trade sector is characterized by low energy consumption, low pollution, and high added value; the digitization of service industry and growing need of service in digital industry; the expansion of middle-income groups in China and their augmented demand for high-quality services; and the gradual disappearance of quantitative demographic dividends in China, which particularly necessitates the transition of service trade to cater to qualitative demographic dividends. Therefore, we should focus on the following four aspects when promoting the high-quality development of service trade.
The first is about high-level opening up. In order to achieve a balance between the import and export of service trade, we need to grasp current opportunities of global supply chain remodeling and lower the threshold for market access under the guidance of opening up. For modern service industry (which has higher added value), external competition mechanisms can be adopted to guide the flow of foreign investment into emerging knowledge-intensive industries. It is also necessary to improve the competitiveness of services for export, regarding production and living such as transportation, finance, intellectual property, and tourism, to gradually reduce the trade deficit.
The second focus area should be about high-level innovation. It is necessary to further standardize pertinent domestic rules and regulations, and formulate norms of service trade in line with international standards. Moreover, the convenient flow of such elements as data information, personnel, and technology should be encouraged to prevent market monopolies and blockades. Targets should also be set on high-end value chains, front-end industrial chains and complete supply chains. Directed at new technology and high-level demands, we should strive to make gradual breakthroughs regarding technological bottlenecks.
The third aspect needing attention is high-level cooperation. On one hand, we can particularly target countries along the route of "Belt and Road" (B&R) initiative and optimize cooperation mechanisms with important trading partners. It is also advisable to actively deepen cooperation with Association of Southeast Asian Nations (ASEAN) and East Asia and speed up the implementation of free trade agreements such as Regional Comprehensive Economic Partnership (RCEP). Cooperation on service trade with Europe, Russia, and other regions and countries can also be strengthened. On the other hand, high-level international platforms can be utilized to actively extend partnerships and elevate China's service trade into a higher level. Expositions and platforms such as China International Fair for Trade in Services (CIFTIS) and China International Import Expo (CIIE) are good examples which can be used to foster the reach of diversified partnership among governments, international organizations, and enterprises.
The last is about the importance of digital infrastructure and talent. Since 5G bandwidth will bring faster speed, lower latency, and shorter processing time, the internet of things, mobile communication and ABCD (AI, Blockchain, Cloud, Big or Small Data) technologies can be more widely used in service trade. In addition, the talent factor is paramount. China has a good talent base, while lacking sufficient senior talent in the emerging service industry. Large talent gaps remain in the fields of information technology, the internet of things and ABCD technologies. To resolve these problems, more senior talent should be brought in, and the optimal allocation of educational resources should be strengthened to impart new momentum to service trade and its innovative abilities.
Liu Hongmei is an associate professor from the School of Economics and Trade at Hubei University of Economics.
Edited by BAI LE