Global maritime governance needs China's participation
Wang Qi, Cui Ye
|
2020-10-28
|
Hits:
(Chinese Social Sciences Today)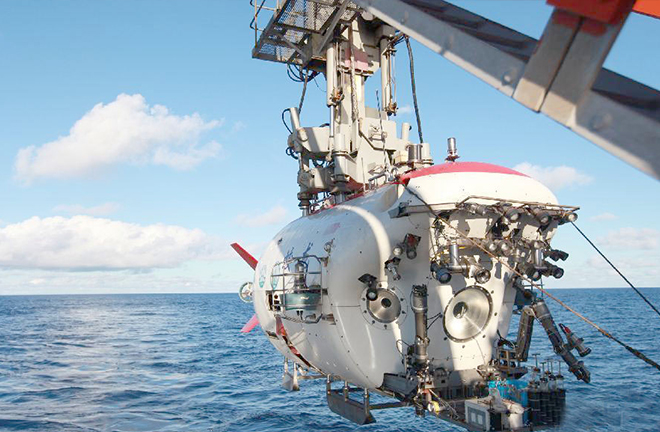 This is the Jiaolong Manned Submersible invented by China, which is used for exploring seabed resources and capturing sea creatures. Photo: Yu Xiaojie/XINHUA
---
To accelerate the pace of becoming a maritime power and realize the Chinese Dream of rejuvenation, it is important for China to participate in global maritime governance. As China gradually approaches to the center of the global arena, it has the willingness, responsibility, and ability to play a constructive role in global maritime governance. In this regard, what role should China play when participating in governance? What concept should guide China? In what way can China's participation be deepened? To answer these questions, we need to build a holistic framework based on analysis of the situation guided by both concepts and action.
Concept is the forerunner to action. It plays an important role in setting the tone, and prescribes the policy orientation and goals for all countries.
This is also true for China. The country's participation in global maritime governance is inseparable from the guidance of advancing ideas. Since the 18th National Congress of the Communist Party of China (CPC), the CPC Central Committee has consecutively put forward new ideas, new concepts and new strategies on maritime governance, such as the "21st-Century Maritime Silk Road," "Maritime Ecological Civilization," "Blue Partnership," "Maritime Community with a Shared Future" and so on. These concepts with Chinese characteristics guide actions, and China's participation in global maritime governance is a public product offered by China to the international community. All this can have great and far-reaching global significance.
As a theoretical framework composed of many concrete ideas, these concepts with Chinese characteristics are internally connected with scientific and rigorous logic. Among them, the construction of a "Maritime Community with Shared Future" represents the ideal vision of global maritime governance that is advocated by China. "21st-Century Maritime Silk Road" and "Blue Partnership" denote two major ways for China to manifest its ideas on global ocean governance. Respectively, they emphasize the strengthening of maritime cooperation with the international community in key sectors of economy and politics, to foster new international maritime orders that are open, inclusive, fair, just, and mutually beneficial. The construction of a "maritime ecological civilization" is what is required for the sustainable and healthy development of the ocean around the globe. Echoing the United Nations' 2030 Agenda for Sustainable Development, the construction of a "maritime ecological civilization" is an essential prerequisite to realize the sustainable development of global ocean networks. These concepts with Chinese characteristics, either at macro or micro levels, and either being holistic or partial, are interrelated and complementary with each other.
Unlike other areas of global governance, the content of global maritime governance is more diverse and complex. Hotspot issues include the environment, climate, security, energy, economy and health. This strong correlation requires China to take all factors into account, considering global oceans as a whole. Therefore, a clear, detailed, systematic, and comprehensive strategic plan is needed. China should adhere to the mentality that combines ocean and land, domestic and international, development and protection, present and future, national interests and human interests.
Action is the ultimate foothold. After formulating a strategic plan, it is necessary to think about how to effectively implement it and transform strategic targets into practical effects. To sum up, China's action should cover both domestic and international dimensions.
As for the domestic dimension, the modernization of national maritime governance systems serves as a premise and motive which supports China's participation in global maritime governance. First, it is necessary to improve the maritime legal system, formulate or revise (in a timely manner) a number of urgently needed laws and regulations concerning the ocean and foreign affairs. The legislative process of the Basic Law on the Ocean, the Antarctic Pole Law and the Maritime Police Law should be faster. Second, it is advisable to strengthen the innovation of maritime science and technology, eliminate the scientific and technological bottlenecks that restrict the development of maritime economy and ecological protection. Third, it is necessary to train a talent group who are specialized in ocean management and professional in law, foreign languages, negotiation and common knowledge.
As for the international dimension, the current global maritime governance system can be reformed and improved. Furthermore, China should participate more in polar governance, deep-sea resource exploration, maritime microplastic prevention and control, maritime biological conservation, and other cutting-edged international issues. In addition, China will vigorously promote the construction of the "21st-Century Maritime Silk Road" to provide more maritime public goods to the international community, improving the well-being of all mankind.
Wang Qi and Cui Ye are repectively from the Institute of Maritime Development and Law School at Ocean University of China.
Edited by REN GUANHONG