Security central to Pan-Asia cooperation
By Yang Cheng
|
2014-08-25
|
Hits:
(Chinese Social Sciences Today)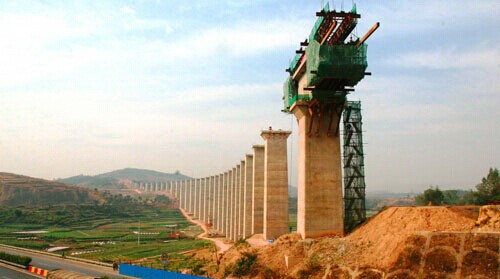 The construction of the Pan-Asia railway started in 2005, further speeding up Asian integration.
The Fourth Conference on Interac­tion and Confidence-Building Meas­ures in Asia, or CICA, the largest so far, was held in Shanghai from May 20 to 21.
The highlights of the first major diplomatic event to take place in Chi­na in 2014 included the introduction of key concepts to the international community, such as "Asia's new se­curity outlook" and "a new security cooperation architecture in Asia" as well as the bolstering of bilateral re­lations between China and neighbor­ing powers, with the China-Russia strategic partnership of coordination at the core.
The agendas set by China as it took the reins of the chairmanship of the CICA show that the ancient Chinese nation has begun to pro­mote its modern interpretation of peace and cooperation to the outside world. China has committed itself to building the marginalized CICA into a multilateral and multifunctional international organization in the region and exploring potential ap­proaches to establishing a new secu­rity cooperation framework in Asia.
In the ongoing gradual develop­ment of the CICA, however, many roadblocks still lie ahead. Moreover, the complexity of Asian affairs has made it difficult to establish a Pan-Asian security and cooperation mechanism. How the CICA will develop in 10 to 20 years or even longer depends on its institutional design and capability to set agendas as well as the trend of regional situa­tions.
Asia: heterogeneity exceeds homogeneity
Asia, relative to other continents, was defined quite late. Unlike cen­tralized Europe, where homoge­neity exceeds heterogeneity, Asia is remarkably complicated and fragmented.
There are considerable differ­ences among Asian nations, such as the economic level, religious be­liefs, mode of civilization, climatic conditions and racial customs. Further exacerbating matters, contradictions and frictions arise as Asia undergoes sub-regional in­tegration. The continent has seen the frequent occurrence of crisis, conflicts and even regional wars in the post-Cold War era. From the East and the South China Sea to Central and South Asia, each sub-region of Asia has hot issues of its own.
Traditional and nontraditional security problems become inter­woven, leading to endless new threats and challenges. As a matter of fact, the diversity of Asian na­tions has nearly made it a dream beyond reach to establish a Pan-Asian security mechanism. Even the United States, a hegemonic power, failed in establishing an international security mechanism like NATO in East Asia, further prompting skepticism about the future development of the CICA. The CICA, though on its way to becoming a full-fledged Pan-Asian cooperation platform, was sad­dled with disadvantages from the beginning. For one, there are so many conflicts among member states that organizers of previous summits, the council of foreign ministers and other high-end forums all have made it a top pri­ority to exclude divergences from meeting agendas.
Also, major powers outside the region continue to exert influence. For instance, security alliances led by the United States will guide the evolution of Asian security issues for years to come, but this does not preclude the CICA from grow­ing into a Pan-Asian organization for security and cooperation.
Possibilities and approaches
There have difficulties for Asia countries to realize a Pan-Asia security framework as discussed above. However, there have prom­ising possibilities too.
First, the CICA was modeled on the Organization for Security and Cooperation in Europe (OSCE), the development of which indicated that the East and the West were capable of establishing a commu­nication mechanism even amidst the polarization of the Cold War.
As a mechanism also aimed at preventing member states from losing trust, the CICA is capable of duplicating the success of the OSCE and fostering more coopera­tive efforts. Second, as one of the three most globalized core areas, Asia has fabricated a composite network for economic coopera­tion. In the field of security, small networks have sprung up, such as sub-regional cooperative mecha­nisms like the ASEAN, SCO and SAACR.
These networks, combined with confidence-building measures, have laid a solid foundation for the weaving of a pan-Asian coopera­tive network on a larger scale. En­hanced dialogues and cooperation among the more mature organiza­tions, such as ASEAN and SCO, has also increased the possibility.
Third, Asian security issues are increasingly crossing sub-regional borders. In particular, nontradi­tional security issues, such as ter­rorism, organized crime, nuclear nonproliferation, financial risks and natural disasters, are taking on Pan-Asian and even global characteristics. It is doubtful that one power or a regional organiza­tion led by great powers could eradicate these threats and chal­lenges in the way a new Pan-Asian mechanism could. This means the dream of Pan-Asian coopera­tion that the CICA champions is a precise reflection of the evolution of Asian security and cooperation issues in the future.
At present, it is essential to learn the lesson that creating a multi­functional regional cooperative mechanism can be problematic. What is most important is to focus on the single function of the CICA: safeguarding regional security.
Asian nations should make it a core aim to prevent mem­ber states from losing trust while relying on the back­bone of increased mutual trust to boost economic cooperation. Moreover, they should make full use of the existing sub-regional cooperative mechanisms in an integrated way so that they can accumulate trust in cooperation and expand cooperation on the basis of enhanced trust, pushing forward the development of the CICA.
Asia's new security outlook
Asia's new security outlook advocated by China defines security as comprehensive, cooperative, sustainable and common to all coun­tries. Having inherited and replaced the old version, the outlook embod­ies China's latest philosophy on Asian security with the purpose of offering new approaches to security dilemmas facing the region.
It has become a focus for the international community around the Shanghai Summit. In his speech during the summit, President Xi Jinping put forward the idea of sustainable security, further enriching its connota­tion. Unlike the United States and other Western countries, which attempt to tackle regional security issues by spreading the democratic system, China prior­itizes development and promotes security through development.
However, President Xi's insist­ence that "Asian affairs should be handled by Asian people, Asian issues settled by Asian people and Asian security safeguarded by Asian people" is misinter­preted by the outside world as an attempt to supplant the United States as the hegemon in Asian affairs.
At the same time, many turn a blind eye to China's proposition that Asian countries should be dedicated to collaborating among themselves and with other coun­tries, regions and international organizations.
This manufactured view of a Chinese equivalent to the U.S. Monroe Doctrine shows that the outside world is not psychologi­cally well prepared for China's increasing presence in Asian af­fairs. It also demonstrates mixed feelings with regard to China's role as a champion of peace, se­curity, stability, development and prosperity in the region.
In recent years, there have been repeated calls for China to act responsibly as a rising power, and many nations fear becoming marginalized in the competition or falling victim to a power shift between China and the United States when China describes its own vision of cooperation.
Of course, it is not enough to merely put forward Asia's new security outlook. The new out­look must be put into practice through cooperation rather than remaining an abstract concept.
For instance, the "One Belt and One Road" policy initiated by China should serve as a medium for the CICA to implement the new outlook. A new landscape is unfolding. Appearing in the new world order are two pictures in­side and outside of China.

Inside, oceans are being opened eastward and southward and the nationwide integration extends from the east to the west while outside, integration crossing oceans and continents continues to go west, with Rus­sia and Central Asia functioning as the pivot. Multinational coop­eration within the CICA has thus become an essential component of Eurasian integration from the Eu­ropean Union to East Asia, binding China and other member states together. Furthermore, member states of the CICA need not choose sides between China and Western countries like the United States, allowing them to play right roles in accordance with the inclusive outlook. Only in this way can the CICA embrace a promising future.
Yang Cheng is vice-director of the Center for Russian Studies at East China Normal University.
The Chinese version appeared in Chinese Social Sciences Today, No. 606, June 11, 2014.
The Chinese link is:
http://www.csstoday.net/xueshuzixun/guoneixinwen/89978.html
Translated by Ren Jingyun