Terraced houses: unique Hakka architecture
Liu Jianzhong
|
2014-04-24
|
Hits:
Chinese Social Sciences Today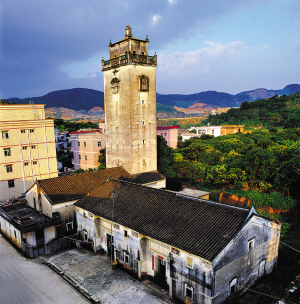 One of the Hakka architectural remains in Fenggang
Since ancient times, the area around present day Fenggang County in Dongguan City, Guangdong province has been a prominent settlement of the Hakka people, one of China's most populous eth­nic minorities. Originally descended from Han Chinese, there are around one hundred million Hakka people living in 81 countries and regions around the world. Fenggang has been a well-known launch point for the Chinese diaspora. Because Dongguan is on the coast, historically its residents have had much more opportunities to cross the ocean than people from inland regions.
A prominent feature of Fenggang is the Hakka architectural remains. In Fenggang County, more than 120 watchtowers built in the late Qing Dynasty and early Republican period remained intact and unperturbed. They are even taller and larger than the famous Kaiping watchtowers, also in Guangdong.
These towers were built mostly by Chinese who immigrated to other countries. The builders often integrated foreign architectural styles with traditional Chinese styles, creating a splendid ar­chitectural hybrid. The towers embody both de­fensive and aesthetic value, have good fengshui, include connected passages for ventilation and lightness, and are designed for convenience of living and storage.
In total, there are three key Hakka architectural styles: enclosed houses, watchtowers and ter­raced houses. The architectural traditions of the Hakka in Fenggang are distinct even from other Hakkas subgroups. All watchtowers and ter­raced houses in the village are linked together, so residential structures are integrated with de­fensive structures. Experts regard the historical value of Hakka architecture in Fenggang as being on par with the historical value of Pearl Lane (Zhuji Xiang ), a well-known hometown of many overseas Chinese from the Pearl River Delta, and consider the terraced houses in Fenggang as one of the most unique sites in the Lingnan region.
Liu Jianzhong is from Dongguan Party School.
The Chinese version appeared in Chinese Social Sciences Today, No. 584, April 16, 2014
Translated by Zhang Mengying
Revised by Charles Horne