China's outbound investments to benefit B&R countries
HE DEXU, CHENG GUI
|
2018-07-05
|
Hits:
(Chinese Social Sciences Today)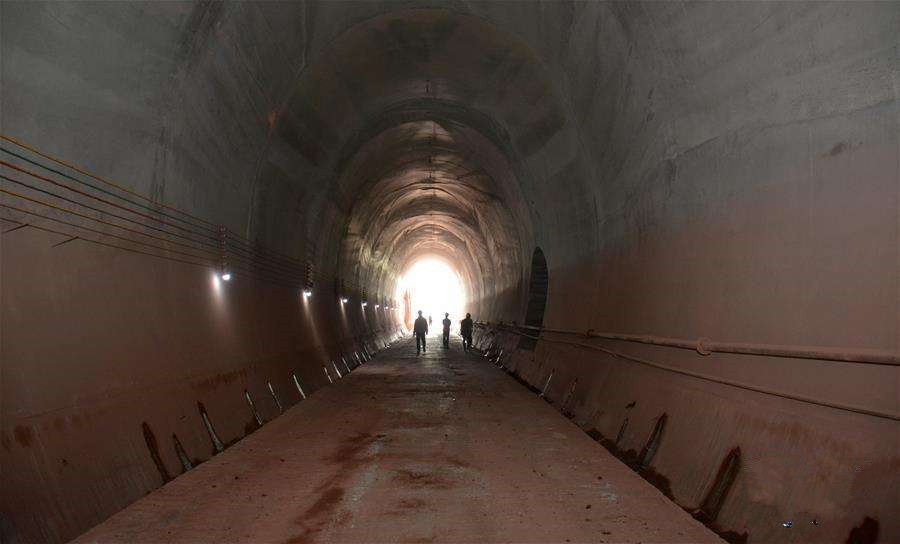 The above-pictured first tunnel of the China-Laos Railway was open to traffic in December 2017.
---
In his report to the 19th CPC National Congress, General Secretary of the CPC Central Committee Xi Jinping vowed that China would "not close its door to the world." Xi stressed the primacy of the "Belt and Road" ("B&R") initiative, adding that equal importance must be attached to "bringing in" and "going out" in order to open China further through links over land and sea in all directions.

Increasing outbound investments is a proactive form of cooperation in policy, infrastructure, trade, finance and people-to-people connectivity within the framework of the Belt and Road. It is also a crucial means to deepen regional economic and trade cooperation, accelerate industrial transformation and upgrading, and improve people's quality of life.

Necessary move
Countries along the Belt and Road vary in terms of resource endowments, development level and industrial structure, which presents good opportunities for China to expand overseas investments and strengthen regional cooperation.

After four decades of reform and opening up, China has accumulated massive foreign exchange reserves, achieved a high savings rate and laid a solid industrial foundation, fostering strong competitiveness in the international market.

Nonetheless, multiple factors underscore the urgency for China to invest more heavily overseas while leveraging markets and resources at home and abroad. The country is dealing with rising labor costs, excess capacity and structural imbalances in some domestic industries, and other growing pains of economic transition. At the same time, it faces tariffs from its top trading partner due to the hardline protectionism of US President Donald Trump.

For these reasons China must secure the high end of the global industrial and value chains while promoting domestic supply-side structural reform through cooperation in industrial research and development.

Many B&R countries have underdeveloped infrastructure, unsound industrial structure and inadequate investment capital. They are in dire need of external capital, scarce products, industrial technology and managerial experiences to translate the potential of large resource endowments into real economic advantages as well as advance regional economic restructuring and upgrading.

This is highly complementary to China's enormous foreign exchange reserves, sound industrial structure, mature engineering technology and rich managerial experiences. Hence increasing Chinese investments in countries along the Belt and Road is not only conducive to international production capacity cooperation, but will also facilitate collaboration in regional road interconnectivity, energy and resource exploration, exploitation and processing cooperation, and promote resource complementation and industrial integration among B&R countries.

Benefiting all
In recent years, China has continued to open up further and lift control over corporate overseas investments, encouraging enterprises to invest in B&R countries.

In 2017, Chinese non-financial direct investment in B&R countries totaled $14.4 billion, accounting for 12 percent of the total outbound investments of the same period. Moreover, 62 mergers and acquisition cases were carried out, with an investment volume of $8.8 billion, up 32.5 percent year-on-year. New foreign contracted projects amounted to $144.3 billion, with the turnover reaching $85.5 billion, growing 12.6 percent year-on-year.

As the scale of outward investments continues to grow, so does the scope. China is investing in an increasingly diverse range of fields, including mining, manufacturing, rental and commercial services, wholesale and retail industries.

Although Chinese investors tend to focus on the extraction of energy resources overseas, a growing share of outbound investments is being dedicated to technology, branding and marketing. In August 2017, the State Council issued guidelines to further guide and regulate outbound investments, restricting investments in real estate, hotel, film, entertainment and sports clubs while encouraging activities favorable to B&R construction and infrastructure interconnectivity in a bid to mitigate risks and advance international production capacity cooperation.
Obviously China's outbound investments are not solely for its own sake. It will benefit multiple parties.

Infrastructure construction along the Belt and Road will bring into being a comprehensive transportation system that includes railways, highways, airports and pipelines, improving conditions in the countries involved while spurring the free flow of production factors throughout the region.

Currently, the Mombasa-Nairobi railway has started operation in Kenya, paving the way for the East Africa railway network. The first tunnel of the China-Laos Railway is also open to traffic while the China-Thailand railway, the Budapest-Belgrade railway and the Karachi expressway are under construction.

Meanwhile, China has deepened industrial cooperation with B&R countries with projects like the Long Jiang Industrial Park in Vietnam, the Thai-Chinese Industrial Zone in the Thai city of Rayong, the Suez Economic Zone in Egypt, the China-Indonesia JuLong Agricultural Industry Cooperation Zone and the China-Belarus Industrial Park. The industrial parks and cooperation zones can promote vertical product complementation, upstream-downstream interaction on the industrial chain and joint technological research and development, accelerating regional economic growth.

By the end of 2017, Chinese enterprises had built 75 economic and trade cooperation zones in 24 countries. A total of 3,412 enterprises have entered the zones, ranging from processing and manufacturing, resource utilization, agricultural industry and business logistics to technological research and development.

Moreover China's outbound investments have increased local revenues and created numerous jobs. In 2017, the taxes and duties paid to host countries of the cooperation zones added up to $2.2 billion, with 209,000 jobs created.

Challenges
Despite the huge economic complementarity between China and B&R countries, disparities in terms of development levels, political systems and regional cultures have posed inestimable risks to Chinese investments overseas.

Political risks include geopolitical maneuvering and political turbulence in host countries. Since certain countries along the Belt and Road are focused on in geopolitical contests between major countries, some major countries have adopted various measures to block Chinese capital in order to safeguard their geopolitical interests, which complicates things for Chinese investors.

Market risks exist because of unsound legal institutions and market system of some B&R countries as well as unreasonable corporate management of Chinese enterprises. Some companies are unfamiliar with foreign business culture and the local legal environment, so that they have to bear risks from business operation, market financing and exchange rate depreciation. In addition, they also have undefined investment goals, insufficient experience in internationalization and management, and low senses of social responsibilities.

Cultural diversity and conflict also present risks that cannot be ignored. Countries along the Belt and Road feature a variety of ethnic groups as well as diverse religious beliefs like Buddhism, Islam, Christian and Hinduism, making cooperation more difficult. Furthermore, the infiltration of national separatism, religious extremism and global terrorism as well as frequent armed conflicts have resulted in the lack of security guarantee.

Breaking new ground
At present, China should, based on the aim of mutually beneficial development, break new ground in outbound investment cooperation by the following means.

First, efforts can be made to enhance government coordination and people-to-people interaction to create a favorable business environment. Such international cooperative organizations and platforms as the Belt and Road, China-ASEAN "10+1," China-Arab States Cooperation Forum, and Forum on China-Africa Cooperation can be leveraged to realize government policy consultation and people-to-people interaction and deepen political mutual trust, economic integration and cultural exchanges.

Countries involved can work together to formulate regional cooperation and coordination mechanisms and investment protection agreements, and reinforce bilateral and multilateral cooperation in regulation, clearance, quarantine and certification to set stage for trade and investment facilitation, while encouraging new businesses like e-commerce.

It is crucial to gather information of outbound investments to make corporate decisions more accurate and reasonable. An information network system based on government services, dominated by agencies and involving large enterprises can be built to timely gather information about national characteristics, social security, industrial development of B&R countries and project risks, establishing a content-rich, precise B&R cross-border investment database to provide necessary information support for Chinese enterprises in overseas investments.

Besides Chinese enterprises can exploit their comparative advantages in engineering construction, equipment manufacturing and capital strength, start from railway, highway, aviation, pipelines and networks, and utilize such platforms as the Asian Infrastructure Investment Bank (AIIB), New Development Bank and Silk Road Fund to export their superior capacity and technology to B&R countries. This way, regional interconnectivity, industrial transfer and equipment manufacturing export can be realized, and market demands and job opportunities created.

Fourth it is essential to provide financial support for Chinese enterprises to go global. The AIIB, Silk Road Fund and SCO Interbank Consortium can offer syndicated loans and allow credit transfer to back up Chinese enterprises financially. Policy banks, commercial banks and other financial intermediaries should constantly innovate financial products and services, and improve services like credit and loan, guarantee, lease, consulting and early warning.

Chinese enterprises should also strengthen independent innovation and boost their core competitiveness in outbound investments. Only when they achieve an advantage in product, technology and management can enterprises survive market competition, though investments in countries along Belt and Road are subject to many non-market factors.

Chinese enterprises should beef up efforts in product research and development, technological innovation, market control and process optimization while performing social responsibilities like environmental protection to make the Belt and Road a highland for outward investments and realize high-quality, profitable and sustainable development.


He Dexu is a research fellow from the National Academy of Economic Strategy at the Chinese Academy of Social Sciences and Cheng Gui is an associate professor from the School of Finance at Lanzhou University of Finance and Economics.
(edited by CHEN MIRONG)