WANG CUNGANG: Neighborhood diplomacy follows pattern of Chinese character '介'
|
2014-10-20
|
Hits:
(Chinese Social Sciences Today)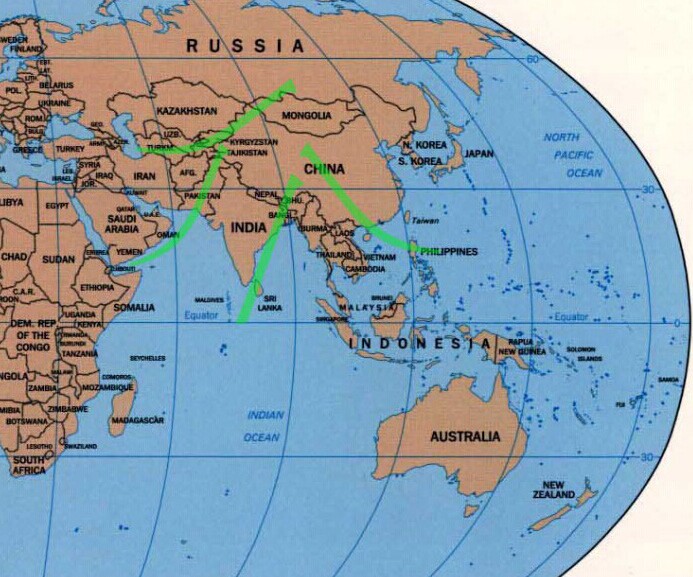 designed by Ren Jingyun, CSST
A rough sketch of "介"-shaped diplomatic arrangement (not representative of the actual length and width)
At the 18th CPC National Congress of China, the new generation of the central leadership proactively ad­justed the country's foreign policy with a special emphasis on neigh­borhood diplomacy.
At the Peripheral Diplomacy Work Conference, the first of its kind since New China was founded in 1949, President Xi Jinping called for "comprehensively developing relations with countries on the pe­riphery" while setting the strategic goals and basic principles for Chi­na's neighborhood diplomacy in the next five to ten years and specifying working outlines for resolving ma­jor issues reorienting diplomacy to the periphery. Thus, a new horizon of China's neighbor­hood diplomacy has taken shape.
Layout of '介'
The new diplo­matic arrangement, if put on a map, bears a resemblance to the Chinese character "介"(jie), which looks like a crude drawing of a house with a roof of two strokes sloping left and right at the top and two vertical strokes beneath. The Silk Road Economic Belt is represented by the upper left stroke, the 21st century Maritime Silk Road on the up­per right, and the China-Pakistan Economic Corridor and the Bangladesh-China-India-Myanmar Economic Corridor form­ing the left and right vertical strokes at the bottom.
Within the "介"-shaped frame­work, the Silk Road Economic Belt extends out westward but the belt's length and width are still the subjects of debate and a consensus has yet to be reached among the Chinese and international aca­demia. Xing Guangcheng, director of Chinese Borderland History and Geography Research Center of the Chinese Academy of Social Sciences, said the belt starts from China, passing through Russia and Central Asia, to link Europe and extend to North Africa, which composed a massive transportation network and a convenient trade zone.
The upper rightward stroke on the diplomatic roadmap stands for the 21st century Maritime Silk Road, and there is no authoritative definition regarding its length and width, either. However, generally speaking, it refers to the nautical passageway connecting the ports of China to Southeast Asia, South Asia, the Gulf area, and all the way to South African countries in the west.
In the "介" shape, the two vertical lines represent the China-Pakistan Economic Corridor and the Bangla­desh-China-India-Myanmar Eco­nomic Corridor, which cover all the main countries in the subcontinent and possibly radiate other countries in the region. To some extent, these two corridors overlap with the "One Belt and One Road" schema.
Five characteristics
In general, the new arrangement for China's neighborhood diplomacy shows five characteristics.
First, it has a grand design and great potential. Roughly, the ar­rangement will cover more than 30 countries inhabited by more than 3.5 billion people. It focuses on China, but its scope is not limited. It starts from a point, then forms a line and fi­nally a surface. It stands on Asia and reaches to Europe. There is no exist­ing regional cooperation mechanism that could equal the potential of this platform.
Second, it is centered on economic diplomacy. Among the four diplo­matic routes, three have the word "economic" in the names, while one clearly hints at the same connota­tion, so it is not hard to tell the new arrangement is centered on the economy, which coincides with Chi­na's overall diplomatic agenda. Since the reform and opening-up in 1978, one of the cornerstones of Chinese diplomacy is support for economic development.
Economic diplomacy has a unique status in China's overall diplomacy and in the wake of the 18th CPC National Congress, the importance of China's economic diplomacy is being further stressed as well as taking on richer forms. The new "介"-shaped periphery diplomacy anchored on economic diplomacy will better serve China's longstanding strategic objectives and pose significant meanings to maintaining the country's sustain­able development.
Third, the strategy displays China's diplomatic values—mutual toler­ance and win-win cooperation. A ris­ing China needs its own diplomatic values and must adhere to them in practice to win recognition and respect from the international com­munity. Mutual tolerance and win-win cooperation are parts of China's diplomatic values summarized by the 18th CPC National Congress re­port, which are also in line with the notions of "benefit" and "tolerance" President Xi stressed at the Periph­eral Diplomacy Work Conference.
State Councilor of China Yang Jiechi recently pointed out that "One Belt and One Road" is an open and cooperative proposal aiming to neither build exclusive blocs nor interfere with current multilateral frameworks. The rise and fall of Asian history was closely linked to the fate of the old Silk Road, while the great rejuvenation of Asia and the renewal of the modern Silk Road walk side by side. A joint effort of the Asian family to build "One Belt and One Road" will cre­ate common development and common benefit.
Fourth, the new roadmap coor­dinates domestic development and opening-up policy. China's Western Development Strategy has been in place for years, but its impact has been limited due to various rea­sons, in particular a lack of strong external coordination. Meanwhile, though achieving remarkable re­sults after years of rapid growth, East China also faces the dual chal­lenges of diminishing marginal ef­fects from its previous development mode as well as difficulties transi­tioning to a new one. The new "介"-shaped diplomatic arrangement has significant strategic meanings given that it will tie China's west and east, especially southeastern provinces, with numerous and resourceful pe­ripheral countries.
In fact, local governments have been actively seeking to keep up with the peripheral diplomacy ar­rangement in their own ways. For example, Urumqi is planning Asia-Europe economic cooperation pilot zones, which, once approved, will see great breakthroughs in the field of non-oil trade between China and Central Asian countries. Fuzhou municipal government, China Development Bank and the China-Africa Development Fund jointly set up a fund of 10 billion yuan to build ports along the coast of Southeast Asia and the Indian Ocean, aiming to further enhance cooperation with those countries.
The Yunnan provincial govern­ment made plans to "accelerate the construction of a bridgehead for the opening-up toward the South­west (in Asia)". Gansu and Shaanxi provinces, respectively, put forth proposals to construct Golden Belt and A New Starting Point. Ningxia decided to build "four platforms" including the China-Arab Air Silk Road, the Sino-Arab Internet Econ­omy Pilot Area, the China-Arab Financial Cooperation Pilot Zone and the China-Arab Expo Strate­gic Platform. As a result, the new opening-up arrangement of China has gradually been set up, which in return will stimulate global eco­nomic recovery.
Fifth, the new arrangement adopts a "more productive" diplomatic strategy. Since the 1990s, China has been upholding and abiding by the strategic approach of "keep­ing a low profile and making a difference" in diplomacy. Though this strategic approach is highly controversial, it is an indisputable fact that it has achieved significant actual effects.
However, as globalization and complex regional situations evolve, China's relations with the world have undergone historic changes owing to its rising comprehensive national power and international influence. It is within this context that China has adjusted its stra­tegic approach, but it still causes a ripple. A full range of evidence shows that currently China is still upholding the principle of "keep­ing a low profile" in diplomacy, but it is putting more emphasis on being more "productive, engaged and active" on the basis of being dis­creet and modest. China's new "介"-shaped neighborhood diplomacy is the latest and best manifestation of its "more productive" diplomatic strategy.
China's new "介"-shaped neigh­borhood diplomacy arrangement is most important strategic adjust­ment since 1949. It is inspirational, targeted and focused, with rich content and distinctive features. It can be expected that the full imple­mentation of this new arrangement will have a far-reaching impact on overall trends in Chinese diplomacy, affecting regional and even global patterns.
Wang Cungang is from the International Relations and Global Issues Institute at Tianjin Normal University.
The Chinese version appeared in Chinese Social Sciences Today, No. 644, September 10, 2014.
Translated by Yang Xue