Developmental aid can help children in difficulty
WANG LIFANG
|
2023-03-30
|
Hits:
Chinese Social Sciences Today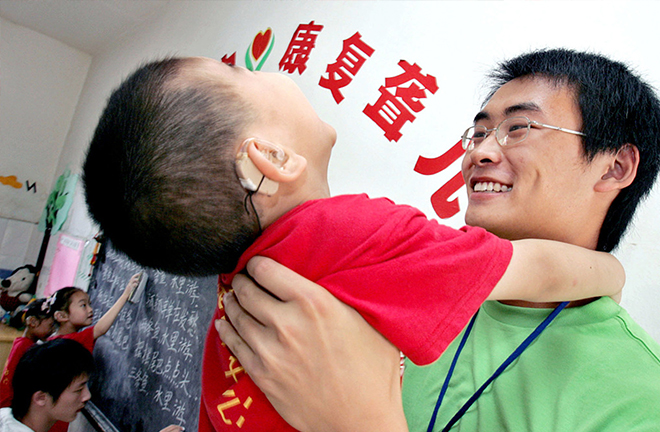 A university student volunteer plays with a hearing-impaired child at a rehabilitation research center for deaf children in Hangzhou, Zhejiang Province. Photo: CFP
---
Since achieving the formidable task of eradicating absolute poverty, China has gradually transitioned from prioritizing development aid over social assistance. This represents a shift in approach from passive and bilateral to preemptive and multilateral, from fulfilling people's basic survival needs to nurturing their ability. 
The Report to the 20th National Congress of the Communist Party of China stated that "the multi-tiered and categorized social assistance system will be improved." Disadvantaged children, whether due to family circumstances, health conditions or physical/cognitive/emotional impairment, are potentially vulnerable and are thus entitled to social assistance. Without early intervention, such children may develop personality disorders, personality deviation, cognitive biases, or affective disorders. They may also become vulnerable members of society when they grow up. Thus, it is necessary to provide preventative, ability-building development aid that facilitates mental development. 
Government-led aid
Children have great potential. Early childhood is an important phase of life during which their bodies, cognition, and emotions are all developing. This process makes up their course of socialization, when their families, schools, and peers can exert significant influence on their personality formation, mental development, outlooks on life and worldview. Whether or not a child can grow up to be a qualified socialist builder is largely determined by this socialization process. 
The China National Program for Child Development (2021-2030) proposed to adhere to and improve the system and mechanism for children's comprehensive development. While optimizing children's developmental environment, it is also important to ensure their survival, development, participation rights, and the right to be protected, thus consolidating the talent base for building a modernized socialist country. 
The government plays a leading role in helping children in difficulty survive and grow. First, the government provides their families with a basic life allowance. Such families, both in urban and rural areas, are usually those that receive subsistence allowance, which is the government's way of providing a strong guarantee for these children's survival. As of Oct, 2022, the Beijing Municipal Civil Affairs Bureau funded about 64,000 urban and rural households in need of subsistence allowance. 
Second, the government has implemented categorical guarantees. By categorizing children by the root causes of their difficulties, the government prioritizes the least advantaged children by giving them special protection. For example, abandoned babies, orphaned or de facto unattended children, seriously ill or disabled children, and families in difficulty are all qualified to receive prioritized protection in terms of living security, medical rehabilitation, nursing care for the disabled, critical illness, and accident insurance.
Third, by providing educational aid to children in difficulty, the government protects their basic right to education. This is the material guarantee for such children's growth. A 2019 notice on strengthening the protection of de facto unattended children expanded insurance coverage by including all de facto unattended children as well as those over 18 but currently studying in vocational schools, colleges, or universities. A notice on delivering stipends to de facto unattended children issued in 2021 gave such group 8,000 yuan each per year to help cover their education costs.  
Besides providing survival guarantees, developmental aid puts children's interests first by connecting social resources while working on the origin and the system, to ease or reduce the system's negative impact on their growth. Meanwhile, by improving children's family systems and directing positive energy and signals to them, developmental aid wishes to evoke family members' initiative to help children develop in a positive direction. 
Children in difficulty are different from other groups in need. In practice, it is important to engage the power of society. Professional social work services tend to pay relatively more attention to humanistic care and comprehensive care, and are therefore more suitable for carrying out developmental aid for children in difficulty.
The "Opinions on Reforming and Improving the Social Aid System" released by the General Office of the CPC Central Committee and the General Office of the State Council said, that it is necessary to guide and support the professional social work force so that they engage in social aid. It also encourages social work service providers and social workers to offer services like psychiatric counseling, resources, ability enhancement and social integration therapy, while helping social aid departments conduct surveys, evaluation, and demand analyses. The document also points out that it is necessary to develop voluntary social aid services, and to help voluntary services play their part in helping those in need. 
Government-led developmental aid can help consolidate the professional strength of social work and fulfill the multi-dimensional developmental needs of children in difficulty. Developmental aid is a preventative aid system led by the government, conducted by professional social workers and centered on human development for ensuring both survival and development. With government-led developmental aid as the precondition, local governments can meet these children's survival needs with basic material guarantees. The social work force, on the other hand, can meet their demands for cognitive and emotional development. Against the backdrop of common prosperity, the two work together to help children in difficulty achieve positive development. 
Professional social work
To improve children's socialization environment, we must intervene with their family systems. Caregivers are typically the family members that influence them the most. 
First, caregivers need emotional support. Caregivers of de facto unattended children are usually their grandparents, who may be old and having health issues. They deal with many hardships while taking care of their grandchildren. Home visits by social workers are opportunities for these elderly caregivers to talk about it. Due to various reasons, they must shoulder the responsibility of caring for their grandkids in their old age, from infancy to school-age. Each has his/her story of tough child-rearing expereince. When visiting caregivers, social workers would listen to, accompany, and empathize with them, providing much needed emotional comfort and support. By giving the elderly a chance to be heard, seen, and understood, this social service helps them acquire emotional support and relief. 
Meanwhile, due to varying levels of education, these caregivers may be unqualified to cope with the challenges presented by raising children. Some children struggle to concentrate in school, and consequently become "troubled students" for their poor academic performance. Their caregivers may not know that the reason for their grandkids' low performance is physiological (such as ADHD), and may simply mistake them for naughty students and resort to physical punishment. Social workers can offer caregivers information about medical institutions for children with ADHD, and urge them to have their kids evaluated. Once the caregivers understand it, they may accept their behaviors and treat them accordingly. 
Professional social work can help nurture cognitive development and encourage the acquisition of positive emotions. Cognitive and emotional development are important parts of children's socialization, and come into being and gradually take shape as children interact with others. However, with limiting conditions, families with children in difficulty have trouble feeding, clothing, and sheltering their kids, and cognitive and emotional development is often neglected. When paying home visits to such families, social workers can identify kids in need, and provide them with these services. 
For example, with ADHD kids refusing to take pills, parents may experience stress, and expect social workers to help children form the habit of taking pills. During home visits, social workers may sense hostility, indifference, or irritability from a kid, who usually has a tense relationship with their caregivers. After evaluating their demands, social workers may interact with these types of children through encouragement, appraisal, and motivation to boost their confidence, egos, and aspirations. Specifically, social workers will first establish friendship through games. Second, they will set life goals and make action plans with the kids. One such goal may be to become an excellent primary school student. Then they will make a series of action plans to achieve this. Third, social workers will urge the kids to implement the plans, including habitually taking their medication, sticking to a regular schedule, going to school on time, and finishing homework. Fourth, social workers will evaluate the effectiveness of the plans, and compare outcomes with previous visits. After many visits, kids may be able to form the habit of taking their medication on time, will make progress at school, and at home, become more outgoing, and more easy-going around caregivers. 
Professional social work can promote friendship between children in difficulty and their peers. During home visits, social workers usually find that many such children are solitary, self-abased, and unwilling to socialize with their peers. To improve these kids' interactions with peers, social workers will expand social resource links. With parents' consent, they will design tours and activities, and ask volunteers to take the kids to climb mountains, visit parks, or attend children's theatre. Social workers will also encourage neighbors to help each other, like encouraging children in difficulty bond over recreational activities. 
Developmental aid requires the support of developmental policies beyond the above-mentioned assistance from the government and social workers. The circumstances of the parents vary. Many are unemployed or lack stable employment. It can be assumed that their economic foundations are fragile. Although the government subsistence allowance can ensure their basic living, even small accidents can result in financial ruin. Their fragile economic base endangers their children's higher-level development. Developmental policies prioritize investing in the human resource potential of the vulnerable through improving their skills, capabilities, and ability to fit into the society. The lack of opportunities and developmental ability are the main factors contributing to impoverishment. By creating jobs and improving the employability of people in need, policies can help parents of the children in difficulty to end their reliance on allowances and aid, and one day walk out of poverty for good. 
Wang Lifang is a researcher from the School of Social Work at China University of Labor Relations. 
Edited by WENG RONG