Age-friendly community key to tackling population aging
GE YANXIA
|
2022-02-18
|
Hits:
Chinese Social Sciences Today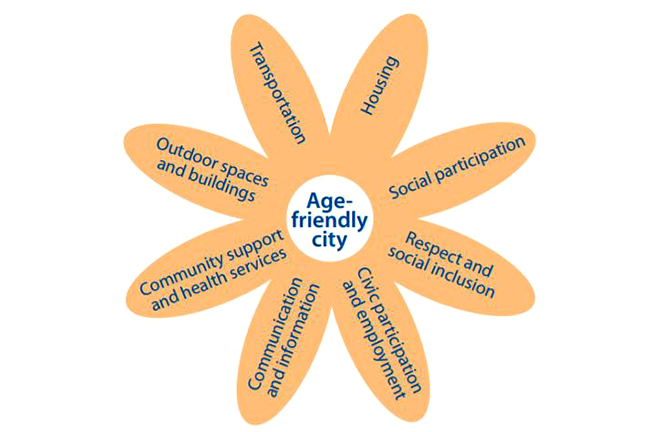 Age-friendly city topic areas listed in the WHO's Global Age-Friendly Cities: A Guide PHOTO: WHO
---
As the aging trend accelerates, the Chinese government has attached great importance to the role of community building in improving the elderly's life quality in recent years. The government has rolled out a number of policies to guide the shift of community-based elderly care from a fragmented supply to a new direction with the general goal of being elderly friendly. The aim is to provide a full range of community-based services to meet the needs of the elderly at home, enable elderly people to live independently, relieve families of the pressure of elderly care, and improve the well-being of elderly people and their families.
China will proactively cope with population aging, quickly build a coordinated service system for the aging population, featuring a combination of rehabilitation and medical care, home- and community-based care services, according to "The Decision of the Central Committee of the Communist Party of China on Major Issues Concerning Upholding and Improving Socialism with Chinese Characteristics and Modernizing the State Governance System and Capacity" adopted at the Fourth Plenary Session of the 19th CPC Central Committee.
A Circular on the Creating of Exemplary National Elderly-Friendly Communities (hereinafter referred to as the Circular) published in 2020 by the National Health Commission of the People's Republic of China and China National Committee on Ageing pointed out that it is important to create an operating mode and a long-term mechanism for building age-friendly communities, in a bid to benefit senior residents and make them feel happier and safer. It set a goal to build 5,000 demonstrative age-friendly communities in both rural and urban areas by 2025, and ensure nation-wide coverage by 2035.
The purpose of building age-friendly communities is to foster a favorable environment for the elderly to live, and maximize their ability to live independently. This is an important step in relieving the pressure of elderly care and meeting the challenges of an aging population.
In recent decades, as the fundamental principle of "community-based elderly care" has been widely adopted in policymaking, there has been a growing interest in the communities in which older people live and move about, with a focus on their physical and mental health and quality of life.
Research has also found that a supportive living environment helps delay declines in physical functions, and maintains independence and a sense of well-being in older people's lives. Improvement and adaptation of community environments in response to community dwellers' physical deterioration is of paramount importance to reducing health risks for the elderly, improving their quality of life in old age, and enhancing the functional resilience of families with older people. Aging countries across the world, such as the United States, the United Kingdom, Canada, as well as the WHO, have been advocating and promoting the development of age-friendly communities. Global Age-friendly Cities: A Guide (hereinafter referred to as the Guide), released by the WHO in 2007, is an excellent reference for building age-friendly communities.
Age-friendly communities are characterized by safety, health, convenience, and comfort. Safety refers to the various precautionary facilities and measures that minimize the possibility of accidents, including safe housing, safe travel, response to disasters and emergencies, and knowledge and management of various disasters. Health refers to harmonious interpersonal relationships and community institutions, including various types of clubs for older people, the frequency of activities in the clubs, the community atmosphere, respect for the elderly, good neighborhood relations, and environments for the expression of social will. Convenience speaks to the ease with which the elderly can access daily food, clothing, and accommodations. Specifically, it's to maintain the level of convenience in their travel, shopping, and entertainment. Comfort refers to the pleasure or satisfaction brought about by the surroundings, including access to nature and the arrangement of facilities, and so forth. It's fair to say that maintaining and enhancing life quality for the elderly is the essence of an age-friendly community.
At present, China is at a strategically important stage for the reform and development of an age-friendly society and old-age care system. We should seize all opportunities to build a long-term mechanism for the development of age-friendly communities, speed up the development of such communities, and achieve a sense of security, belonging, fun, and peace for the elderly.
On the one hand, goals and standards should be set to develop age-friendly communities according to national conditions. The goal and our standard involve putting in place a long-term mechanism for the development of age-friendly communities, and this effort's foundation is coordinated development. The goal and standard for the development of age-friendly communities in China should be both scientific and in line with the country's national conditions.
In general, an age-friendly community is built based on construction goals and standards which originate from the Guide, which states that building an age-friendly city should cover these areas: outdoor spaces and buildings, transportation, housing, social participation, respect and social inclusion, civic participation and employment, communication and information, community support, and health services.
Having used the Guide as a reference, China has initiated pilot work for building elder-friendly communities and cities. Meanwhile, the government has also released guidance and a medium to long term plan for building an age-friendly environment as well as responding to population aging.
After the Circular was rolled out in December, 2020, the country started building age-friendly communities while publishing a corresponding standard for the first time. The standard has combined the general standards, proposed by the WHO, with China's realities—including its population, economic, and social conditions. It stated that building demonstrative age-friendly communities in rural and urban areas should start with six aspects, including improving senior residents' living conditions, while making it easier for them to travel, access quality service, engage in social, cultural, and technological activities. The standard has put forward specific requirements for building such communities, which helps improve the conditions and support systems for the elderly as they spend their old age in their own communities.
On the other hand, a model should be established for the participation of multiple players in the development of age-friendly communities. This is an important mechanism to ensure the long-term sustainable development of age-friendly communities. Age-friendly communities cannot be built without the participation and cooperation of environmental planners, policymakers, local governments, charitable organizations, investors, public facility managers, transport managers, and other relevant parties.
First, we should tap into the economic and social values of building age-friendly communities. Common values, such as economic and social values, could mobilize different parties including environmental planners, policymakers, local governments, charitable organizations, investors, public facility managers, and transport managers to participate in the development of age-friendly communities.
Second, we should enhance the coordinated mechanism among multiple players. A collaborative work mechanism is a prerequisite to integrating multiple resources for quicker progress in related work. On the basis of common values and goals it is recommended that we should focus on the following: clarifying the investment return strategy for different players in cooperation, establishing an information-sharing mechanism, bringing into play our respective strengths, creating greater synergy, and establishing a cooperative mechanism and work environment conducive to the development of age-friendly communities.
Last but not least, we should put in place a long-term dynamic mechanism for the evaluation of age-friendly communities. The mechanism is an effective means to motivate local governments to emphasize and promote development of age-friendly communities. Based on research and evaluation results, this will not only help the national government to monitor processes and effects as age-friendly communities develop, but also helps to identify the strengths and weaknesses of development in different regions. In doing so, a science-based and accurate path can be identified for the development of communities in different locations. It is recommended that governments at all levels carry out long-term follow-up research on the development of age-friendly communities, analyze problems that arise during the development, identify the underlying causes, and put forward corresponding evaluation comments and suggestions.
In addition, the government, by purchasing social services, can entrust third-party scientific agencies to assess and analyze the development status of age-friendly communities in various regions, and release their assessment reports to the public, so as to ensure objective, scientific, and fair assessment. Plans should be formulated for furthering the development of such communities in different places based on relevant assessment and analysis results, in order to facilitate the efficient development of age-friendly communities.
Ge Yanxia is an associate research fellow from the National Institute of Social Development at the Chinese Academy of Social Sciences.
Edited by WENG RONG