Internet fuels boom in gig economy
HE XIAOBIN
|
2021-08-26
|
Hits:
(Chinese Social Sciences Today)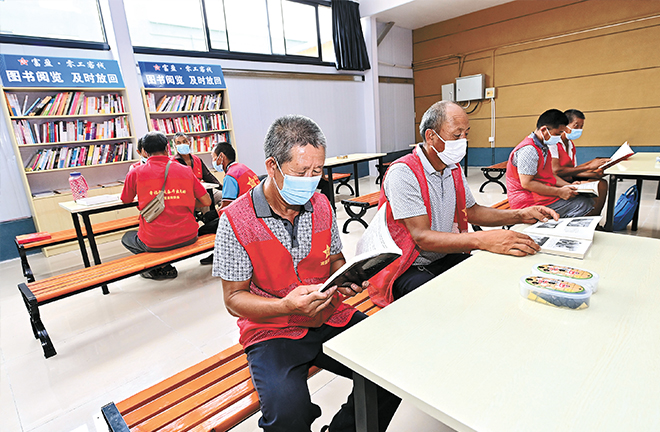 Migrant workers read and rest in the first "gig inn" in Weifang City, Shandong Province, on Aug. 13. The inn aims to match the demand and supply of the gig labor market, provide safety and skill training for gig workers, and help safeguard their rights and interests. Photo: CNSphoto
---
In recent years, with the wide popularization of mobile devices and the rapid advancement of information technology, the gig economy has been on the rise around the world and has gradually become one of the most important components of modern employment. In particular, since the outbreak of COVID-19, the traditional economic model as well as employment have been severely impacted, and more and more workers earn their living through the gig economy. The gig economy is in all respects an important part of the social economy.
The term "gig economy" refers to a free market system in which traditional businesses hire independent contractors, freelancers, or short-term workers to perform individual tasks, assignments, or jobs. These "gigs" are generally without fixed working hours or locations and on a case-by-case payroll via internet platforms or mobile apps.
Therefore, the gig economy is closely linked to the sharing economy, which also relies on internet technology to rapidly match supply and demand. Compared to traditional businesses, the gig economy is characterized by strong flexibility, non-labor relations, skilled labor, and intelligent algorithms. At present, the gig economy has been widely practiced in transportation, food delivery services, accommodation sharing, knowledge sharing, livestreaming, and other fields.
In China, this form of employment has a long history. Short-term and temporary workers have long been the main component of the secondary labor market. Prior to the internet age, gig workers were often excluded from official statistics as a supplement to full-time employment. With the development of the internet and the shifting mindset of work, the gig economy has revived and become an important part of modern employment. The main characteristics of the gig economy in its current stage are as follows.
As an important part of China's digital economy, the gig economy and sharing economy provide a large number of jobs and sources of income. According to China's Sharing Economy Development Report 2021 released by the State Information Center of China in February, the number of participants in the sharing economy was about 830 million in China alone in 2020, including about 84 million service providers, an increase of about 7.7% year-on-year. Throughout the disruptions of the COVID-19 pandemic, the gig economy has provided a large number of flexible jobs, effectively alleviating social employment pressure and increasing workers' income, while boosting the national economy.
According to the report, about 3.3773 trillion yuan was traded on the Chinese sharing economy market in 2020, up 2.9% year-on-year. Shared services and new business forms and models of consumption have become important forces for enhancing economic resilience and vitality.
Even before the popularization of the internet, hourly workers and independent contractors were quite common in China's labor market. Housekeepers and construction workers are typical examples of traditional gig workers. With the rise of the "internet + gig economy," a large number of traditional gig workers began to lean on internet platforms to find jobs. Nowadays, big data and powerful algorithms can efficiently and conveniently match supply and demand, greatly expanding sources of employment information and drawing more and more traditional gig workers into participating in the gig economy.
At the same time, new types of gig workers, such as network anchors and online bloggers, are growing in number. In addition, internet platforms increase the possibility of highly skilled workers earning extra income by knowledge-sharing and other means.
At present, various types of gig workers coexist in China's labor market, but traditional temporary workers, mainly represented by migrant workers, are still the main participants in the gig labor market.
Compared with traditional employment practices, the gig economy is characterized by temporary cooperation instead of long-term labor contract relationships in traditional enterprises. Under the model of "platform + individual," individuals have greater autonomy and more flexible working hours and workload, which means the workers participating in the gig economy tend to have both part-time and full-time jobs.
On the one hand, due to the flexibility of gig work, many people see it as a supplement to their full-time jobs, taking on temporary assignments in their spare time to boost their income. On the other hand, an ever growing number of younger workers are beginning to take gig work as their career, where they freely decide their working hours and content. According to a 2019 county-level survey on the gig economy jointly conducted by the Research Center of County Governance under the School of Social Sciences at Tsinghua University and 58 Tongzhen, a comprehensive information-sharing platform on counties and villages, more than 52% of county workers had gig jobs, and more than 27% worked full-time in on-demand jobs.
China's gig economy shows different characteristics in urban and rural areas. The gig economy began in big cities, where gig workers mainly provide life services such as transportation, food delivery, package delivery, and housekeeping, as well as highly skilled professional services such as online consulting, education, and legal services.
In big cities, services related to the gig economy are more widely available. Meanwhile, counties are also harnessing these benefits, with a boom in low-skilled gig job sectors such as life services. According to the 2019 county gig economy survey, more than one-third of the jobs in counties are internet-related, mainly ride-hailing drivers, food deliverymen, and online salesmen. However, overall, gig jobs based on knowledge and high-end skills services are less common in counties and rural areas.
The rapid development of China's gig economy, the rapid growth of gig workers, and a series of rippling effects have caught the government's attention. Going forward, China's gig economy is likely to trend toward the following aspects.
To start with, the scale of gig work will expand further. The development of the internet, with its trans-regional nature, has a huge impact on traditional employment. It can be predicted that the gig economy will attract a large number of workers at all levels to participate in gig work with the advantages that it provides, such as convenience, flexibility, freedom, and personal fulfillment. According to AliResearch estimates, up to 400 million people in China may be self-employed members of the gig economy by 2036, and about half of the labor force will provide production and services in the form of gig jobs.
Second, in the era of the internet economy, enterprises' organizational form will be more and more flattened. By reducing managerial layers, compressing functional departments, and streamlining work processes, enterprises will improve work efficiency, reduce redundant processes, speed up information flow, downsize management costs, and adapt to the development requirements of modern enterprises.
At the same time, thanks to the improvement of material living standards, the younger generation of workers yearn for relatively free work and a corresponding lifestyle, and have more requirements for autonomy, decision-making, and participation in work. It can be foreseen that the flattening organization will become the defining trend of gig platform enterprises.
Finally, the management of gig platforms will be more standardized. The gig economy is currently advancing at full speed. While promoting social and economic development, problems arise. For example, the monopoly trend of some gig platforms has begun to appear, the social security of gig workers is far from sufficient, the labor relationship between gig workers and platforms is unclear, the private data leakage of consumers in the gig economy is worrisome, the rights and responsibilities of the government and enterprises are blurry, and the government's tax and regulatory policies need to be strengthened.
According to a survey conducted by the Research Center of Corporate Responsibility and Social Development under the School of Social Sciences at Tsinghua University in 2021, car-hailing drivers in first-tier cities said rights infringement occurs frequently, such as long working hours (car-hailing drivers often work more than 10 hours a day), limited complaint channels once their rights and interests are violated, and patron price-hiking for consumers. It is believed that in the near future, the Chinese government will introduce and improve relevant laws and regulations, and strengthen the supervision of gig economy platforms, to effectively protect the legitimate rights and interests of gig workers and consumers, thus promoting the standard and high-quality development of China's gig economy.
He Xiaobin is the director of the Research Center of County Governance, School of Social Sciences, Tsinghua University.
Edited by YANG XUE