Innovating rural elderly care
ZHENG XIULING
|
2021-03-25
|
Hits:
(Chinese Social Sciences Today)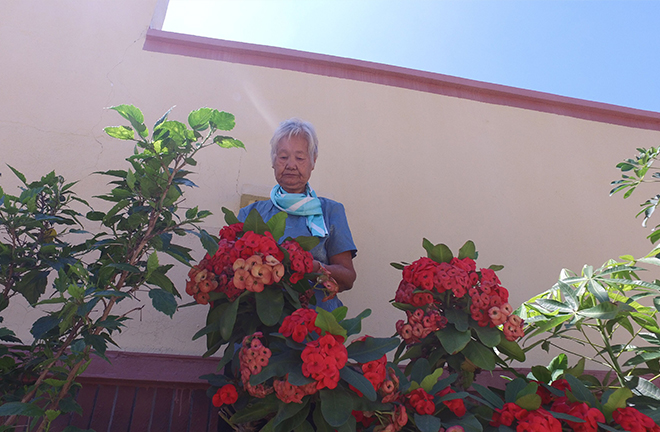 An 86-year-old rural resident, who lives mostly by herself with a hired care-taker, prunes flowers in her backyard in Fuqing County, Fujian Province. Photo: Weng Rong/ CSST
---
With increased modernization in China, and more young people pouring into cities, elderly people have begun to make up an increasingly large proportion of rural residents.
By the end of 2019, those aged 60 or above comprised 18.1% of the entire population, and those of 65 years and older accounted for 12.6%, according to the National Bureau of Statistics. Both figures are much higher than the international standard for aging, which are 10% and 7%.
By 2022, the percentage of rural residents aged 60 or above is estimated to reach 25.3%, meaning that China's rural areas will become an aged society. The well-being of senior rural residents is essential as China seeks to finish building a moderately prosperous society in all respects, which calls for a revolution in people's minds and a renovation of relevant institutions.
The topics of aging and senior care tend to trigger negative associations. We have unconsciously begun to see senior care as a burden t0 youth, families, and society. A negative disposition towards senior care is inevitably brewing.
We need to shift this attitude for the better. Aging is a natural process. It is only natural for adult children and society as a whole to care for the elderly, to thank them for their earlier contributions. Children, families, and society all need to realize that elderly care is an obligation and an honorable act. We need to appreciate the value of senior citizens, and end the misconception that "old people are useless." Kindness towards the elderly is not only a symbol of being civilized, but also a carrier of humanity's hope for a better future. As an old Chinese saying goes, "honor the elderly, as we do our own aged parents." This tradition should continue in modern society.
The report to the 19th CPC National Congress stated that: "As we respond proactively to population aging, we will adopt policies and foster a social environment in which senior citizens are respected, cared for, and live happily in their later years. We will provide integrated elderly care and medical services, and accelerate the development of old-age programs and industries." The CPC Central Committee and the State Council have also jointly unveiled the Medium and Long-term Plan for Responding Proactively to Population Aging, setting the tone for a "proactive response towards aging." The concept should be fully embraced by local governments, especially rural communities, who need to implement rules and regulations to end passive modes of elderly care.
Some local governments are passive and slow to act when it comes to senior care. While failing to thoroughly comprehend and implement the guidance of the CPC Central Committee and the State Council regarding senior care, local governments may act formally and mechanically. Meanwhile, many local districts have failed to act with initiative or formulate rules and regulations suitable for their own conditions. Elderly care has not even been included in some local governments' scope of work. Consequently, rural elderly care has become the weakest link in local governments' work.
The most prominent issue behind rural elderly care is that senior citizens do not often engage with local governments. Some seniors view elderly care as a care-receiving process that entirely involves outside parties. This mindset has resulted in resource occupancy and path dependency—two tendencies common among older adults, who tend to be disconnected from the concept of shared social resources. Local governments, especially those at the primary level, usually lack corresponding mechanisms to raise the active engagement levels of senior citizens. As a result, many retirees fail to participate in local communities, which leads to a huge waste of human resources.
Senior care functions best when it involves bilateral interactions. While individual care-givers, family members, and society needs to provide for senior members, an elderly person also needs to be engaged in a proactive elderly care environment, in which reasonable institutional arrangements have been set up to make the care-receivers feel useful by keeping them busy and active.
Undoubtedly, it is important to follow the Party's guidance and the country's policies, and embody core socialist values while carrying out rural elderly care, so as to set an aged care pattern for others to follow. Many elderly care measures at the primary level have yet to meet people's needs.
A typical case in point is that some senior care centers in rural areas are either suffering from lack of beds, or are too highly-priced or improperly managed to be practical. As a result, those who desperately deserve proper care are not provided for. This matter calls for prompt and creative solutions based on the real scenarios of each rural district.
First, multiple players need to be engaged for a coordinated effort. Seemingly simple, senior care actually involves a wide range of complex problems that requires a synergetic governance mechanism.
For example, Linhai City, Zhejiang Province created an old people's amusement park, a service center for the senior's home-based care, and a new model for combining healthcare with elderly care. An aged care service network has come into being, which engages institutions at municipal, town (subdistrict), and village (community) levels. The local government purchased services from two professional elderly care service providers, who then took charge of 300 care centers in the city, and conducted 24,000 individual services for over 3,000 seniors, including those who live alone or have dementia.
Another example of coordinated elderly care involving a range of participants is the innovative financing initiative for elderly care at Lifeng Village, Xunqiao County in Linhai. Apart from the Municipal Civil Affairs Bureau, county governments, village institutions, and individuals have all been encouraged to contribute financially. While the government is in charge of purchasing services, public service jobs have also been established, donations have been made, and various channels of capital investments have been unclogged. It should be noted that senior care should be seen as a part of an integrated system that concerns rural governance.
Second, we should explore innovative approaches such as "micro elderly care." The scale management style which rural areas adopted to conduct elderly care is hardly the best practice. A better solution might be exemplified by Shiqiao Town, Baofeng County, Henan Province. The small town developed micro-scale boarding houses for its elderly residents. These "micro retirement houses" are set up in local courtyards, with local women as care-takers. This act has helped turn some stay-at-home wives into a local workforce. With as little as 200 RMB, any qualified resident can benefit from the "Five Guarantees" (a national system ensuring qualified rural residents to have proper food, clothing, medical care, housing and funeral expenses), such as empty-nesters, disabled elders or those receiving care from home can all live in those small-scale nursing homes.
Third, we should combine elderly care with the country's efforts to promote rural civility. Currently, certain social malpractices persist in rural areas. Some adult children refuse to provide for their aging parents, some even abuse the elderly. This fundamentally hinders the progress of improving senior residents' well-being. To address the issue, some villages have designed honorary awards for filial family members to the elderly, while making elderly care a part of building a new socialist countryside.
For example, rural areas surrounding Taizhou City, Zhejiang Province have set up a senior care regime and a foundation for appraising and awarding the filial, and harmonious families.
The usual top-down assistance from governments to the people are often regarded as a charity. This false notion needs to be changed, as assistance and social services should be provided to senior citizens.
For that to happen, local governments must promote service-oriented elderly care by regarding it as an opportunity to repay the elderly, exercising power in the interests of the people and serving the people.
Next, service provision should reach all sectors of rural elderly care. In recent years, the central government has promoted the integration of elderly care with medical services and one-stop services, which helps change the current monotone and inefficient approaches to rural senior care. At the same time, much has yet to be improved, considering the complexity of rural elderly care.
We also need to improve service quality by enhancing training. China's rural care services are confined to providing care-takers with basic life necessities. The industry calls for more skilled volunteers, service providers with proper training and a higher professional quality, as well as high-quality talent in areas such as psychology.
Take Linhai for example, the city has divided elderly care services into different sectors: specialty nursing, general nursing, part-time nursing, and self-care. Each room is equipped with a doctor in charge, a nurse, and a daily-life nursing assistant. What's more, the city has also put into place a mechanism to ensure high-quality services by facilitating directed education in nursing schools and carrying out professional title appraisals.
Zheng Xiuling is from the Institute of Political Science at the Chinese Academy of Social Sciences.