Small towns crucial to national development
WANG SHAOCHEN
|
2020-12-31
|
Hits:
(Chinese Social Sciences Today)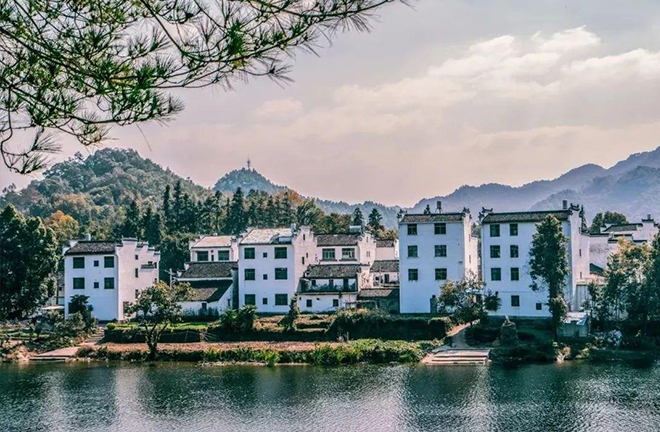 Small towns play a key role in China's socioeconomic development by linking cities and the countryside. Photo: FILE
---
As a bridge linking cities and the countryside, small towns are transition zones with both urban and rural functions. They are significant, whether in the past or at present, whether in the new-type urbanization strategy or the rural vitalization strategy.
In late October 2020, the Fifth Plenary Session of the 19th CPC Central Committee adopted the 14th Five-Year Plan (2021–25) for National Economic and Social Development and Long-Range Objectives Through the Year 2035, urging efforts to build a new development pattern of dual circulation that smooths domestic circulation and lets domestic and international circulations reinforce each other. Apart from reiterating the rural vitalization and new-type urbanization strategies, the session pointed out the importance of coordinating the development of small towns with that of big, medium-sized and small cities. In this context, it is necessary to reflect on the functional positioning of small towns in light of our real national conditions and historical experience.
Unique conditions in China
According to developmental theories of urban sociology, when a country is urbanized to a certain degree, a counter-urbanization phenomenon, or de-urbanization, will appear. In Western developed countries, small towns which exemplify a modernized life are where this phenomenon plays out. People choose to settle in small towns with lower population density and better living environments to enjoy better conditions of production and life, while helping ease a slew of problems related to big city malaises. This counter-urbanization theory explains the development of small towns in the West.
The theory, however, is not applicable in China. Back in the 1980s, small towns, particularly those in eastern coastal regions, prospered primarily due to thriving rural enterprises. This was not a case of counter-urbanization, as Chinese small towns didn't offer a better quality of life than cities. In fact, these towns became more rustic and grassroots than ever.
Nonetheless, they served as a "population reservoir," providing a platform for farmers to engage in production and labor without traveling far from their villages to access urban markets. As such, rural family structures were mostly kept intact, avoiding high social costs incurred by the absence of family members who went to work in urban areas.
Starting from the mid-1990s, a series of objective factors, such as reforms to fiscal and tax systems and the unstable international market, inspired local governments to gradually shift their focus from the operation of enterprises to urban management, dealing a heavy blow to rural enterprises. While the exodus of the working-age population led to the hollowing out of villages, big cities suffered from all kinds of "diseases."
From the perspective of relationships between urban and rural areas, and between industry and agriculture, the urban-rural dual structure was prominent, and industry's feedback to agriculture was inadequate. Second, the outflow of young and middle-aged workers broke down the complete family structure of household units in rural areas, and gave rise to a large semi-urbanized population who faced difficulties settling down in cities. Additionally, small towns' roles as population reservoirs became hard to sustain.
Against this background, the Chinese government continuously promoted a people-centered new type of urbanization strategy since the 18th CPC National Congress, calling for efforts to steadily urbanize residents who are able to secure stable employment and life in cities by granting them urban household registration and equal access to public services. The 19th CPC National Congress defined the rural vitalization strategy which prioritizes development of agriculture and rural areas and emphasizes the subjectivity of farmers, in a bid to weaken the urban-rural dichotomy and optimize the industry-agriculture relationship in a targeted fashion.
The development philosophy and the new development pattern laid out by the fifth plenum of the 19th CPC Central Committee requires attention to actual national conditions based on existing urbanization theories, rather than blindly copying Western experience. It is essential to leverage institutional advantages and emphasize the distinctive elements of Chinese small towns, which were developed from integrated urban-rural development, to avoid or reduce detours, thus reflecting the later-mover advantage of practices with Chinese characteristics.
Significance of small towns
Chinese small towns have played a crucial role in the economy's prosperity, fostering human resources, and preserving culture, not only in the 1980s, but also in the more distant past. As time-honored settlements for civilization, they carry significant production, lifestyle, and ecological functions.
Even today, small towns have retained distinguished features from villages and cities while connecting the two sides. They not only represent a universal link in optimizing urban-rural and industry-agriculture relationships, but also a special unit with unique functions. They cannot be ignored in the national strategy to build a new development pattern. Based on current conditions, they have both strengths and weaknesses.
In terms of production, small towns have an industrial foundation, but the level of development remains low. Some towns have solid manufacturing techniques and resource endowments, shouldering the responsibility for processing raw materials from the countryside into industrial products.
Since reform and opening up, labor-intensive industries have concentrated in small towns, making them strategic in the national, and even global, market economy system. Hence their role in providing job opportunities, raising incomes of village and town residents, and boosting economic growth is substantive.
However, some enterprises remain at a low position in the market chain. Creating insufficient industrial added value, they are vulnerable to external impacts and face pressure to transform and upgrade. In the new development pattern, some production links must be broken through.
Regarding quality of life, small towns provide relatively sound public services like healthcare and education, but the quality needs improvement. Although small towns are incorporated in the urbanization drive of the national development strategy, the public services they provide ought to cover a large rural population. However, they lag far behind cities in public healthcare and education, which is unfavorable to the cultivation of human resources. A lack of human resources will affect the balance of urban-rural and industry-agriculture relationships and hinder urban-rural circulation.
When it comes to the natural environment, small towns boast superior ecological resources and a longer history of traditional culture, but efforts are needed to diversify the models of development and protection. In recent years, the government offered policy support to a batch of small towns as they built themselves into distinctive towns, encouraging many locations to actively explore their own characteristics and exploit ecological and cultural resources. Meanwhile, however, the resources these towns chose to feature were not sophisticated, and were largely stereotyped across the nation and even the world, which overshadowed their natural value and should be rectified in the new development pattern.
Unleashing small towns' potential
Small towns have basic urban functions yet face a vast rural land. In order to build a new development pattern featuring dual circulation and optimize urban-rural and industry-agricultural relationships, their production, life and ecological functions should be further strengthened.
First, measures should be tailored to facilitate industrial development and provide more job opportunities for farmers to urbanize themselves near their villages. It is essential to continue transformation and upgrade on the premise of cementing the original industrial base; offer special support to enterprises specializing in processing agricultural products as well as various small and micro businesses; and galvanize the tertiary sector and emerging industries to create a number of distinctive and smart towns with technological characteristics and set a high-level, modernized urbanization trend. The aim is to realize effective circulation between industry and agriculture.
It is vital to improve public services to enhance small towns' livability. Public services such as healthcare and education in small towns should be gradually upgraded to share cities' burdens and prevent rural populations from further outflow. Small towns' functions in government-led and community-oriented senior care in the countryside should be reinforced, to ethically build social cohesion. Efforts should be made to comprehensively regulate the living environment in small towns with weaker production functions, bringing in start-up companies with high technological added value to attract talent to settle down, thereby smoothing the circulation between urban and rural areas.
Moreover, ecological and cultural resources in small towns should be effectively protected and developed to take a path different from the "treatment after pollution" model. To small towns with featured resources, a higher level of guidance should be provided, in addition to land and capital support, to avoid involution. Traditional and ethical cultural resources should also be valued to preserve excellent rural elements in the process of small town construction. The development of small towns and the modernization of agricultural and rural areas should be integrated to improve the circulation between the two.
Last but not the least, it is important to lift small towns' governance modernization and improve their capacities in risk prevention and control. Building a new development pattern is inseparable from good social governance. The urban-rural and industry-agriculture relationships will become closer in the new development pattern, which raises higher governance requirements for small towns that lie between cities and villages. They should be equipped with stronger abilities to prevent and resist risks. On the other hand, building the new development pattern and the gradual structural establishment of the new urban-rural and industry-agriculture relationships presents a more pressing need for the authorities of small towns to turn themselves into service-oriented governments. Therefore, consideration should be given to small towns' specific development conditions to continuously enhance their administrative and service abilities.
Wang Shaochen is from the National Institute of Social Development at the Chinese Academy of Social Sciences.