Shared development key to boosting local employment, mitigating rural aging problem
HONG DAYONG
|
2017-01-04
|
Hits:
(Chinese Social Sciences Today)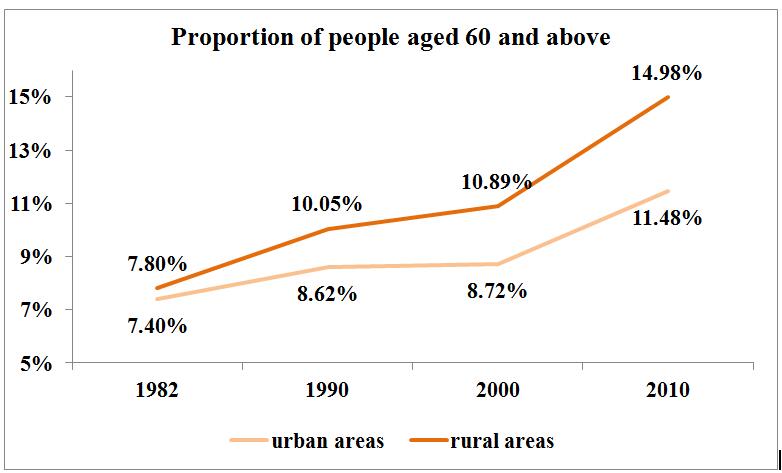 According to data from population censuses China conducted in 1982, 1990, 2000 and 2010, the proportion of elderly residents in rural areas has been increasingly higher than that in urban areas.
---
In China, rural areas have a higher proportion of elderly residents compared with urban areas, and the discrepancy between them is increasingly widening. This phenomenon is a result of the accelerating urbanization drive under which a large number of young people are flocking to work in cities. But, very few aged people come with their children to where they work. In fact, the aging problem in rural society may be worse than statistics show.

Due to uneven regional development, different rural areas vary in economic and social development. In places with better economic conditions, the proportion of the aged population is lower. Officials in these places tend to pay more attention to and invest more in assisting the elderly.

As a whole, however, work on assisting the elderly in rural areas lags behind the efforts in urban areas, and the elderly in rural areas have a large gap compared with urban areas in terms of living quality. Therefore, it is important to focus on rural areas in dealing with the aging problem.
Physical, mental difficulties
In particular, the elderly in rural areas in central and western China are being neglected due to rapid urbanization and social transformation. Across the nation, the elderly population who live apart from their children exceeds 60 million, and these "empty-nest" families have reached nearly half of the total senior families.

This is worse in rural areas. The young generation would rather leave their hometowns than work in agriculture. In addition to a lack of resources, some elderly people have to endure more suffering when they lose their spouses.

Moreover, the large-scale outflow of elites from rural to urban areas has hindered the development of community governance and construction. Some village schools stop running or become merged with other schools, forcing children to go to school away from their villages. Some of these grassroots communities exist in name only. Some just serve as a place for short gatherings among returning migrant workers during the Spring Festival.

Compared with those in urban areas, there are insufficient social security, medical and cultural services for the elderly in rural areas. And there is a lack of related infrastructure and facilities in quantity and quality. Only very few elderly people have access to the old-age pension, while more than 40 percent of them still have to do farming for a living. There is also a shortage of doctors and medicine in these areas. And it is quite common that many elderly people cannot afford to see a doctor when they get ill or to get hospitalized for treatment when in bad conditions.

In addition, due to intergenerational differences and rapid social transformation, elderly people in rural areas have difficulties in communicating with young people and getting integrated into society. They tend to feel lonely and marginalized, which may be the main cause for mental disorders or even suicide among the elderly.
Ineffective service system
The aforementioned problems pose various difficulties and challenges for the existing service system for the elderly that places families first and communities second while combining medical and nursing institutions.

Supporting the aged is not only a traditional virtue but a legal obligation, which highlights the importance of families. It is true that many of the elderly have received financial support from their children. However, financial support is only part of the problem facing the elderly in rural areas and may not be the most important for some. The elderly need other benefits provided by families which have been restricted due to long-time separation caused by children's migration to work in cities.

Also, the feasibility of developing nursing institutions and facilities remains doubtful. The forms and quality of services have yet to be improved. Deeply influenced by traditional notions of life, many of the elderly in rural areas are unwilling to spend their old ages in these institutions. Nursing home beds in some areas are even left unused. Moreover, investments in the construction of nursing institutions and facilities cannot receive satisfactory returns because the market mechanism has limited effect in rural areas. And it is unsustainable to rely only on non-profit and volunteer services. In this context, it is urgent to innovate the old-age service system in line with rural realities.

The key to solving the aging problem in rural areas and improving supporting services for the elderly is to promote economic and social progress in rural areas in order to attract employment in hometowns and reinvigorate rural communities. And this effort should be integrated into the long-term strategy of coordinating regional, urban and rural development.
Role of grassroots communities
Above all, Party committees at all levels should take the lead in dealing with the aging problem in rural areas. It is also important to strengthen the construction of Party organizations within grassroots communities to increase cohesion in rural areas while converging all kinds of forces to warm the near-empty nests occupied by lonely elderly residents. In addition, it is worth trying to appoint as officials elites who have made remarkable contributions to rural governance and give promotion opportunities to officials who have been devoted to elderly care during their tenure.

It is more important to introduce incentives to encourage children who live separately from their parents to fulfill family obligations. Also, attention should be paid to the role of communities in carrying on excellent traditional culture, strengthening legal and ethical education, and promoting mutual assistance among residents.

In particular, the neighbor-helping-neighbor system offers an innovative way to combat the aging problem which the government should give strong support to. In addition, we can encourage college students and professional social workers to open schools and expand services for the elderly, which can help cultivate an age-friendly social environment nationwide. In turn, young people will gain virtue and good manners in the process.

Coping with the aging problem in rural areas is an arduous task that requires Party committees and governments to rebuild vigorous communities. Grassroots communities should be put into full play to ensure the translation of supporting policies into effective practices.

The rural aging problem is a significant part of the aging problem of China. It relates directly to the interests of the aged in rural areas while having great influence on the prosperity of rural society and the stability of Chinese society as a whole. Therefore, properly coping with the rural aging problem will be conducive to achieving shared development and realizing the goal to build a well-off society in an all-round way.
Hong Dayong is from the School of Sociology and Population Studies at Renmin University of China.