Hukou reform should proceed cautiously to prevent widening rural-urban gap
By ZOU YINAN
|
2016-11-25
|
Hits:
(Chinese Social Sciences Today)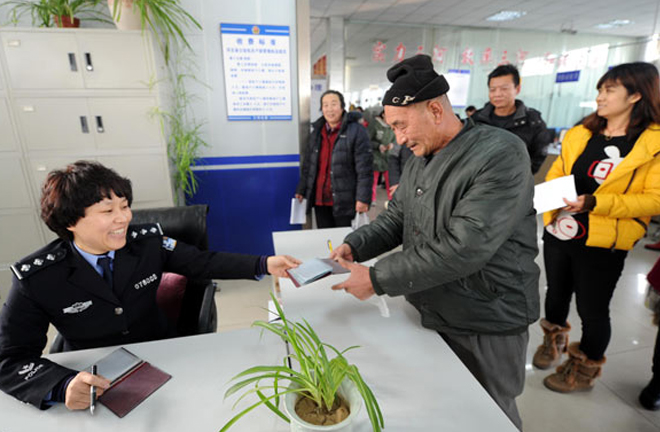 A man's hukou is transferred at a government service center in Sanhe, Hebei province.The Ministry of Public Security and 11 other ministries and commissions have drafted reform guidelines aimed at establishi a new system to allow hukou to be transferred based on a person's place of residence and occupation.
---
China's State Council recently released a plan on how to make 100 million migrants become urban hukou holders, which would entitle them to the same public services that urban residents have access to, such as healthcare and education.

Hukou refers to the Chinese system of household registration. Under this system, citizens can only receive services in the location where their household is registered, and it is difficult for people from rural areas to transfer their registrations when they relocate to cities.

The newly released plan aims to increase the number of people holding urban hukou to 45 percent of the population by 2020. In order to achieve this goal, a suite of supporting measures have been put forward, including a clarified points-based urban hukou system, more financial support for migrants to become urban citizens as well as a mechanism for increasing the scale of urban construction land and the number of rural migrants.

These methods are crucial to performing responsibilities and strengthening the incentive mechanism for hukou acquisition, helping to fundamentally reform the hukou system and overcome rural-urban barriers. However, any deviation from the goals and improper handling of details in the implementation may lead to negative consequences. Hukou reform is a systematic project that requires cautious progress and accurate evaluation to avoid a bigger rural-urban gap.
Less emphasis on talent
According to the plan, cities with more than 3 million permanent residents can adopt the points-based hukou system. This will remove some barriers to acquiring an urban hukou in big cities, making it possible for rural migrants to become urban citizens through their own efforts.

This means that people who achieve a sufficient number of points by meeting certain criteria can now become urban hukou holders and receive government benefits, but the current systems in big cities obviously favor those young and skilled migrants with excellent educational backgrounds, property and financial capital, while ordinary laborers can hardly acquire enough points to get a hukou.

For example, Beijing's draft plan of a points-based hukou system lists point indexes that factor in legitimate and stable employment and shelter, location of workplace, innovative entrepreneurship, tax payment, age, honorary awards as well as legal credit record. The final result can be achieved by totaling all points of each category.

In terms of educational background index and its point distribution, junior college graduates can obtain 10.5 points and people whose highest level of educational attainment are bachelor, master's and doctoral degrees can respectively acquire 15, 26 and 37 points. The points in this aspect will be given according to applicants' highest educational attainment while the points in terms of social insurance payment and urban settlement during their school years are not counted.

The points-based hukou system may provide opportunities for white-collar workers with excellent educational backgrounds to get an urban hukou, but it fails to benefit migrant workers, who are the most deprived of welfare benefits. In this way, the hukou policy, which is meant to apply to the rural population as a whole, may turn into one that solely targets talented people.

The preference for talented, educated people tends to enable the young and promising to acquire a local hukou, leaving the elderly, weak and poorly educated group to drift in big cities for a long time until finally they have no choice but to return to their hometowns. If the situation remains, big cities will get rid of demographic liabilities and begin to enjoy a demographic dividend. Simultaneously, the countryside will become increasingly sluggish, enlarging the development gap between rural and urban areas.

Hukou is a form of identity, representing various regions within a country, and it is totally different from the systems concerning nationality or permanent resident card of a sovereign country. The hukou system of big cities should not determine whether people can benefit from exclusive welfare entitlements by placing too great an emphasis on individual human resources.

All citizens within the nation are destined to equally enjoy public welfare of the places they live or work despite their social class and contribution. No doubt, the points-based system is a step toward hukou reform, but it is vital to assign points for each index in a manner that would avoid a strategic tendency in which excellent human resources all flow to urban areas.

Therefore, big cities' points-based hukou system should focus more on the indexes concerning period of urban residence represented by consecutive legal residence and social insurance payment while distributing fewer points to human resource indexes, such as educational background, professional titles as well as investment, making it a down-to-earth plan for rural migrants to acquire urban hukou. At the same time, the residence permit mechanism in huge cities should be optimized in order to cover more people. Also, residence permit application should have easier procedures and provide more forms of welfare, entitling more rural migrants to equal and basic public services.


Financial rural-urban balance
China will lend more financial support to the citizenization of rural migrants, the plan said. The central financial organ will reward the developed big cities in East China based on the number of rural migrants who obtain a local hukou.

Simultaneously, a fund will be established to increase infrastructure construction input of the cities that receive a relatively large number of rural migrants, and these cities will get more government budgetary investment. China's financial support aims to encourage big cities to receive more rural migrants and turn them into urban hukou holders.

The cities that receive migrants will definitely spend more on urban public services, so it is necessary to provide them financial aid. However, population is a crucial element of productivity, and it can drive urban investment and consumption. Dense population will lead to economies of scale, which is the prerequisite for regional economic prosperity. From this perspective, migrants cannot be considered an urban financial burden. It is unfair and a waste of financial resources to give excess aid to cities only because they receive rural migrants.

The exodus of rural migrants will greatly impact economic development of small towns and rural area because migrants are skilled labor in most cases, and the ones who stay in their hometowns are either weak or incapable of working. The development gap between urban and rural areas will doubtlessly become larger without financially assistance to small towns and the countryside. Therefore, governments should consider both the positive and negative effects of migration and compensate the regions that lose population , while promoting the integration of migrants into cities.


Land-hukou link
The plan aims to set up a mechanism linking scale of new urban construction land and number of new hukou holders, meeting reasonable land demand because of the arrival of rural migrants. Currently, the biggest hurdle to urban economic development is the approval of new construction land. The mechanism acts as a feasible strategy for urban sustainable development because growing population requires larger living zone. However, the strategy will probably fail to take full effect if governments apply it to all circumstances without any categorization of rural migrants.

Rural migrants can be divided into three categories. They are all rural hukou holders but they may come from isolated rural areas, suburban villages or city villages. The latter two groups of people live within urban area and have continuously paid various forms of insurance, so their acquisition of urban hukou is not such a burden for local finance. They have no urgent need for urban hukou because they have already benefited from urban welfare because of their close distance to cities. Some of them even enjoy more favorable urban entitlements due to land acquisition and demolition in the process of urban development.

However, the mechanism may result in strong incentives for local governments to give urban hukou to suburban and city villages as a move to acquire more urban construction land, blocking migrants of isolated rural areas from obtaining urban hukou and accessing welfare entitlements. The problem of the rural-urban gap remains challenging.

In terms of enforcement of the mechanism, it should be clarified that the scale of new construction land should be linked to the number of new hukou holders who previously lived outside the cities. Only in this way, can local governments have the incentive to provide an urban hukou to migrant workers who come from isolated rural areas and enable them to live satisfactory lives.


Zou Yinan is from the Department of Economic Teaching and Research at the Party School of the CPC Central Committee.