Effectiveness of two-child policy relies on support for women
By Yang Juhua, Hu Xinqiang, Du Shenghong
|
2016-10-13
|
Hits:
(Chinese Social Sciences Today)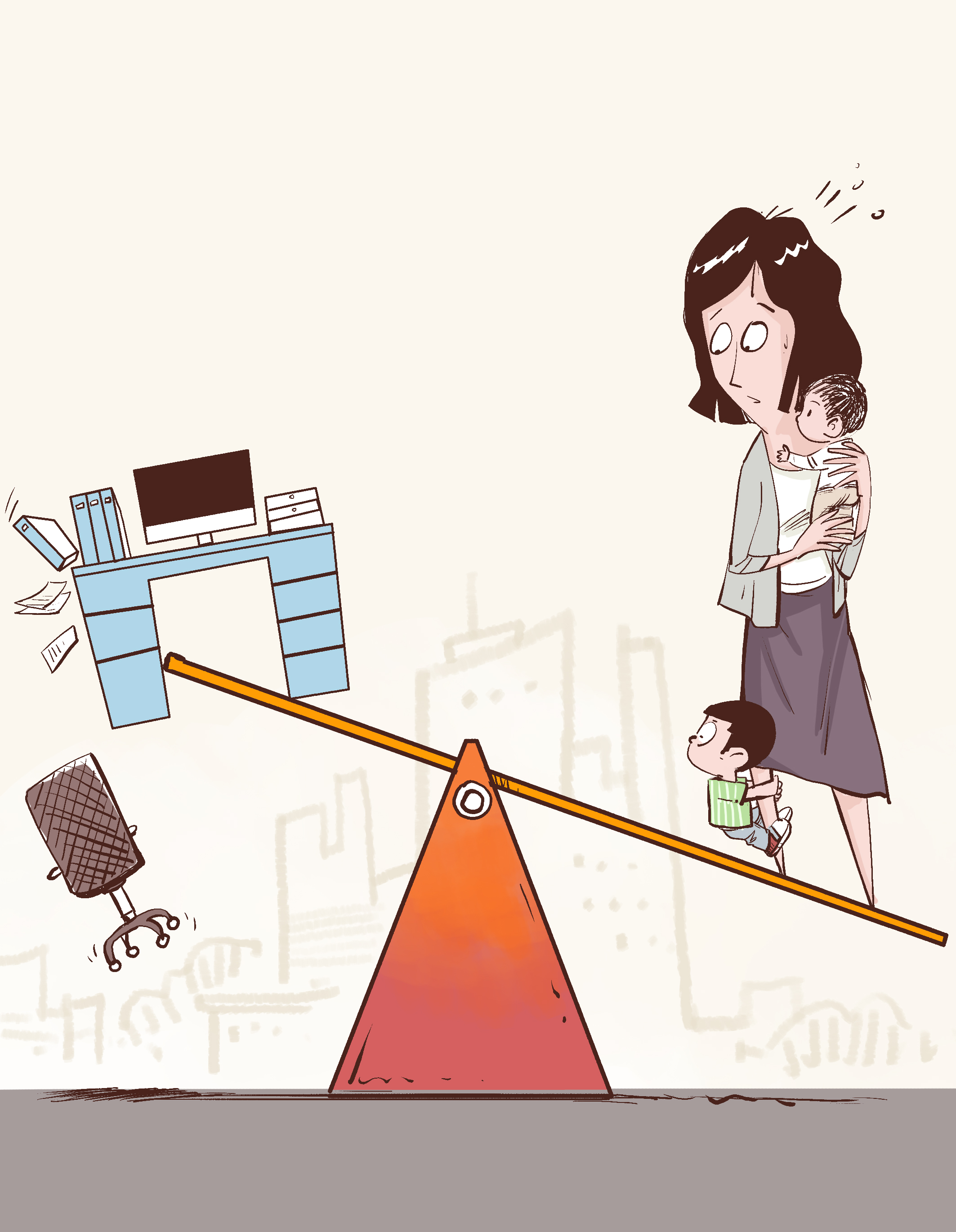 Two's a crowd
Cartoon by Gou Ben; Poem by Long Yuan

It is hard to keep a balance
Between life and home.
And these responsibilities
Fall to women alone.
Women may not have a second child
Even if allowed,
Because time and energy
Are the constraints,
And two's a crowd.
---
The central aim of the universal two-child policy is to promote the capacity of families to achieve sustainable development, thus realizing balanced growth in population and society. However, the issue depends on the human initiative to have a second child. Childbirth is an individualistic behavior, but the decision to have a child is jointly made by family members, which requires negotiation across different generations as well as communication between husbands and wives.

At the same time, it evidently has closer connections with broad economic trends. A balance must be struck between careers and family life. The universal two-child policy can only be effectively implemented once women are free from the constraints of the labor market and career development.
Family-job imbalance
In the era of the planned economy, China and its work units provided a great amount of socialized nursing services that helped to alleviate the family responsibilities of female employees , reduced income inequality with male counterparts and elevated social status. However, since the opening-up, China has transformed into a market economy, so governments have stopped making investment and production decisions.

Also, the media encourages women to make sacrifices for their families. The implementation of family-planning policy restricted most couples to one child. These factors made it difficult for families to have a second child because of the lack of support in terms of policy, services and culture.

The lack of favorable childcare policies has caused greater challenges for women in the job market. Population is a fundamental social factor and any policy adjustment concerning it would dramatically change the whole pattern of society. In this way, the launch of the universal two-child policy requires supporting strategies. However, insufficient collaboration has led to an unclear division of labor among departments and controversies regarding policies.

For example, laws and policies emphasize women's rights by prohibiting employment units from firing female employees or reducing their pay due to marriage, pregnancy, breastfeeding or maternity leave. In addition, laws act more as principles and guidelines but lack enforcement mechanisms, like punishment and compensation. Imperfect regulatory frameworks and the low cost of violating regulations also reduce the effectiveness of laws.

At the same time, there are no specific laws against gender discrimination and no specialized organs dedicated to employment discrimination in the labor industry. As a result, policies on protecting women's rights are at odds with those invisible gender discrimination policies.

Women shoulder the major burden for raising children because society provides little assistance. The market economy weakens protections for female employees. Also, work units have begun to reform by adopting enterprise models of operation, which frees them from family-related responsibilities.

For instance, enterprises no longer build kindergartens or provide preschool education. They even fire or transfer female employees, claiming that women's individual capabilities are not compatible with labor needs or that their potential to become pregnant could have a negative impact on productivity.

Since enterprises ended their involvement in social maintenance, it has become more difficult for women in the job market. The responsibility for childcare should fall to society, but the welfare system in China has yet to be expanded to cover this field. Therefore, family members—women in particular—take the entire responsibility. Public kindergartens are disappearing on a large scale.The proportion of public schools dropped from 83 percent to 33 percent between 1998 and 2013.

There is a great amount of anxiety in the Chinese parenting style, increasing women's burden in childcare. Parenting includes birth, feeding as well as enrollment in kindergartens and schools, but the lack of public services turns the process into a huge competition. And birth control policies exacerbate the problem, leading families to have high expectations for their only children instead of having more children.

Their eager expectations for their kids to have a bright future is a source of parental anxiety. To make sure everything is perfect, parents are extremely careful about prenatal and newborn care, and they would rather save money on food and expenses so that their children can master a form of art.

Over-parenting has become habitual and a part of life. It robs children of a happy childhood while putting great pressure on families, especially mothers. In circumstances like this, it is difficult for women to balance parenting and working—the two most significant components of life.
Nursing services
The reproductive nature of men and women enables humanity to thrive and society to operate normally. But currently, this physiological and social function results in discrimination toward women in the labor market. Women will find it more difficult to find a job and get promoted when they have more children, inhibiting their ability to accumulate physical wealth.

Research has shown that having another child will reduce women's income by 7 percent. In private enterprises, women with children earn roughly 30 percent less than those without children even with the same skills and experience, which can be seen as the penalty levied on childbirth.

The launch of the universal two-child policy tends to intensify women's nursing burden and creates hurdles to their career development. High costs in terms of money and opportunities may prevent women from deciding to have two children. In such situations, the policy will only be effective through collective efforts of various parties so that women can overcome difficulties in balancing the relationship between families and jobs.

Governments need to focus on the following aspects when making regulatory policies on women's rights in a bid to compensate for the lack of social childcare services.

The primary mission is to amend and specify the regulatory laws so that they can be effective at safeguarding women's rights and opportunities in the labor market as well as other aspects concerning education, politics and culture. The idea of gender equality should be promoted in family-related policies with the assumption that it is possible for women to develop themselves and make their families better at the same time.

Lower costs in childbirth and balanced development of women requires the establishment of a supporting system and optimization of insurance mechanism. Measures are needed to involve husbands in raising children, so that women will be less likely to be forced to give up their jobs.

At the same time, tougher supervision in the labor market and employment units is necessary in order to ensure equal rights in finding empolyment, job searching and career development. Such measures will also help enterprises to reduce human resource costs by giving the best employers incentives interests while intensifying punishment on the enterprises that fail to protect women's labor rights.

Enterprises should take social responsibility to address the conflicting interests between enterprise operation and childcare. They need to stop considering women of childbearing age— in particular unmarried women—a burden. Instead, employment units should evaluate women's capabilities in a legitimate way and explore their advantages from a long-term perspective. They need a sense of obligation to have a thorough understanding about social nature of childbirth. Also, companies should prepare human resource arrangements and replacement in advance by investigating childbirth circumstances of employees.

Labor unions should adopt suggestions and advice of employees. Their humanistic care can help to elevate the soft power of enterprises. Large and medium-sized companies can open childcare organizations through collaborating with communities while equipping separate nursing rooms.
At the same time, husbands should be allowed and encouraged to use part of maternity leave. Their involvement in childcare can both ease women's family burden while helping the personal development of children. Finally, an elastic working timetable is required. Internet technology breaks space limitations, so residential areas can function as working zones.

Over-emphasis on childcare may cripple women's ability to have a second child if they choose to pursue a career. This may lead to conflicts between couples and generations. Governments and society must jointly use various forms of traditional and new media to lead parents to pay more attention to children's interests and talents, thereby eliminating aimless education and excessive competition.

Women are stuck between the traditional childbirth culture and modern concept of equal development. To ease the awkward situation, all members of society should fully respect women's rights and decisions about whether or when to have children. At the same time, society and families should participate in caring for newborns, freeing women from the burden and eliminating disadvantages in career development brought by childcare responsibilities.


Yang Juhua, Hu Xinqiang and Du Shenghong are from the National Academy of Development and Strategy at Renmin University of China.