Children of migrant workers cannot be a 'lost generation'
By Liu Jianfei
|
2016-08-04
|
Hits:
(Chinese Social Sciences Today)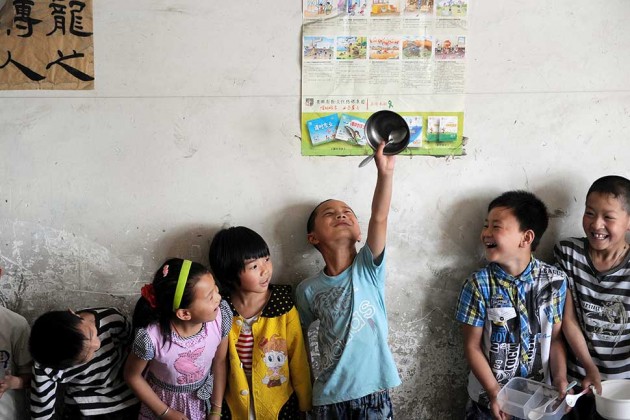 Children attend a kindergarten set up for migrant families in Beijing.
The children of migrant workers are central to China's efforts to bring about full and equal education. The Development Report on the Preschool Education of China Migrant Workers' Children, released by Shanghai Normal University on July 6, is the result of a two-year survey of more than 300 kindergarten teachers, administrators, and over 1,800 parents in cities like Shanghai, Beijing, Chongqing, Guangzhou and Shenzhen.

The report reveals such problems as the lack of educational resources, unified administration and investment. Measures should be taken to keep migrant children, the future urban residents, from becoming a "lost generation."
Unified administration
As migrant workers flow into metropolitan areas like Shanghai and Beijing, their children tend to stay behind in the suburbs and the countryside. At present, the distribution of educational resource fails to cover all migrant children. The problem is particularly pronounced in preschool education, with some areas lacking programs altogether.

In the past decade, migrant children schooling transitioned from a state of total neglect to partial coverage by public facilities. A unified national administrative pattern with a clear division of responsibilities has yet to be established. Most cities released policies to act as guidelines, encouraging district and county seats to set up their own administrative systems.

The gaps in the preschool education of migrant children are getting increasing attention from local governments, which consider the issue a critical component of urban education. Some cities have drawn up plans for the issue and taken actions, but the efforts are far from enough. Unlike compulsory education, preschool education has no unified regulations, leaving vacuums in the sector and its administration that allow migrant children to fall through the cracks.

Shanghai is one of the cities that emphasizes preschool education for migrant children. Starting in 2008, its educational departments at the district and county level began a campaign to increase the enrollment of migrant children into preschools while ensuring the education of preschool-age children who have a local hukou, or household registration. According to Shanghai's hukou regulations, the offspring of migrants can enroll in either public or private preschools when their parents get enough credit and live in Shanghai for a specified number of years. The points-based system not only establishes a standard mechanism for enrolling migrant children into public kindergartens but also lays a crucial foundation for a harmonious society.

In Shenzhen, 95 percent of kindergartens are run by locals. Based on the situation, the city explored a targeted welfare development pattern under which preschool education was led and financed by the government. The first batch of 50 public welfare kindergartens opened in September 2012. The number had reached 600 by January 2015, covering almost every qualified community. The landmark move benefited migrant offspring in Shenzhen by addressing concerns about the education of preschool-age children.

Beijing faces the same circumstances. Current educational policies concerning migrant offspring concentrate on compulsory education and beyond, leaving preschool education with administrative vacuums or margins of governments and educational departments. No specific, powerful or effective measures have been found.
Teachers
The majority of migrant worker's offspring are enrolled in private kindergartens and nurseries that are specially set up for migrants. Surveys have identified the biggest challenges for kindergartens that enroll migrant children. In these schools, students are frequently transient.The quality of the student pool is poor and enrollment is unstable. All these shortcomings exacerbate the conditions of kindergartens that are already facing difficulties.

However, the situation is more severe when it comes to teachers.Teachers in kindergartens of this kind mostly have no teaching certificates or no academic background in preschool education. They have few opportunities to receive training or to discuss teaching methods with their counterparts in other kindergartens. Most of them are unmarried graduates of junior colleges or technical schools aged between 20 and 25. At the same time, 70 percent of them have no more than three years teaching experience and the majority of preschool and nursery administrators are aging women. A large amount of teachers stay because once they gain experience, they are able to find better opportunities or take exams for teacher selection in their home towns, securing entry into the government system. These kindergartens and nurseries turn into training bases for inexperienced teachers.

Many teachers experience identity crises.They are teachers but at the same time, they are struggling wage earners. These problems are exacerbated by the poor treatment of the teachers in kindergartens for migrant kids, where salaries range from 2,000 to 3,000 yuan per month without social or medical insurance in most cases. Their incomes barely support their lives in cities, and there is low job satisfaction.

In cities that have quality education systems and lots of financial resources, the career prospects for teachers are promising, but the outlook for teachers in kindergartens for migrant kids seems gloomy. Without policy support, teachers in these schools cannot access platforms for career development on or off campus. Almost all the teachers surveyed have not been instructed by pedagogy experts from municipal or district levels and barely know them. The problems enormously constrain professional development.

In kindergartens for migrant children, migrants teach migrants, creating isolated islands of culture within metropolitan areas. In Shanghai, kindergarten teachers for migrant children mostly come from other places. They cannot mimic local accents, but students tend to relate better when the teachers share their accents, so urban civilization and culture can hardly be integrated into campuses or classes. It may lead to the ossification of social class, thus undermining urban development.

Those kindergartens receive almost no financial support for professional development. In public education, governments invest heavily in this domain, so schools have a sufficient budget to purchase reference books for teachers. They can also afford to send them to top schools to learn best practices or invite scholars to give lectures and organize academic forums. At the same time, governments only offer guidance but have no hand in resource allocation and funding support, while grivate kindergartens have no motivation to invest in professional development.

A few district and county seats have released clarified strategies. For example, Pudong District in Shanghai initiated a project targeting private kindergartens by integrating their teachers into the public educational system to improve professional skills, so kindergartens for migrant children can get a total of about 300,000 yuan for career development every year, an average of 200 yuan for each teacher. Another welcome move is that other local education bureaus have paid greater attention to this domain, such as Fengxian District organized training for runners of kindergartens for migrant children, including issues such as policies, management and safety. However, much more effort is needed to benefit ordinary teachers in terms of career development.
Diverse investment
A densely populated country, China has a total of 130 million children under the age of 6, accounting for 20 percent of the global age bracket. But financial investment in preschool education accounts for 1.2 to 1.3 percent of educational investment in the country, and it has remained stagnant in the past decade. This proportion is lower than that of developed and many developing countries, and it can hardly fuel the healthy and rapid development of preschool education.

Local governments should reform the distribution of financial resources to offer migrant children more opportunities to receive quality education. For an instance, they may take such measures as erasing the distinction between public and private kindergartens and investing according to the number of migrant children. Also, financial support for preschool education can be directly transferred to migrant families, so that family members can freely choose kindergartens.

The implementation of the two-child policy aggravates the imbalance between supply and demand in preschool education. So governments should encourage and support various social strengths to take part in kindergarten development and ease requirements on starting kindergartens with consideration to real circumstances. Through diverse forms of ownership, more social capital should be mobilized and invested in preschool education for the children of migrant workers.
Lu Jianfei is a professor at Shanghai Normal School. He is the chief editor of the Development Report on the Preschool Education of China Migrant Workers' Children.