Digital technology fuels community-based senior care in urban areas
JI JIANGMING and ZHANG LETIAN
|
2022-06-23
|
Hits:
Chinese Social Sciences Today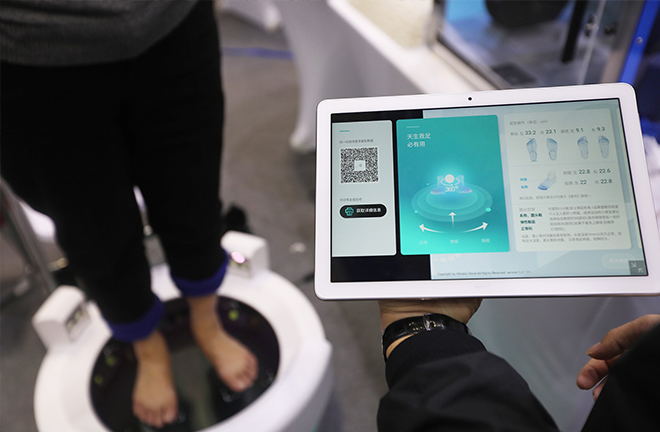 An intelligent sole scanning machine designed for diagnosing elderly people's foot problems is exhibited at the 15th China (Chongqing) Senior Industry Expo. Photo: CFP
---
With the acceleration of population aging, the integration of medical and elder care is developing vigorously. There are currently three basic models: the provision of medical care by senior care institutions, the establishment of geriatrics wards in public hospitals, and privately-run institutions that combine medical care with elder care. The first model is highly practical, the second is highly professional, and the third is highly flexible. However, these three models lack unified and effective service standards, assessment content, data formats, and safety norms, making it difficult to deeply integrate medical and elder care resources.
The fourth model discussed in this paper: community-based integration of health and senior care in urban areas, can integrate the first three models, and pull together the advantageous resources each has in senior care, medical care, nursing, and rehabilitation to provide quality services for the elderly at home.
However, there are still shortcomings in this model, such as insufficient collaboration between relevant government departments, insufficient integration of medical and elder care resources, poor connections between resource supply and demand, different health data standards for the elderly in different institutions, and the problem that medical insurance cards cannot be used for universal settlement.
To address the above problems, modern digital technologies, such as cloud computing, big data, new-generation internet, the Internet of Things (IoT), and artificial intelligence, can be used to build a comprehensive medical and elder care platform, develop intelligent monitoring systems, health monitoring chips, and intelligent devices (such as intelligent self-built platforms, service robots, wearable monitoring devices, intelligent terminals, and so forth). They can also be used to assist elderly users in the cloud.
In the meantime, a senior health database can be built through data mining technology, to facilitate scientific analysis and intelligent decision-making, reduce the burden of care, improve the efficiency of resource utilization, bring intelligent decision-making and intelligent actions to a new level, jointly promote policy objectives shift from "healthy aging" and "active aging" to "successful aging," "digital aging," and "productive aging," and provide policy options for building a senior-friendly digital society.
It is necessary to optimize top-level designs and institutional arrangements in order to improve the level of integrated community-based medical and elder care services. It is recommended to enact laws at the national level which integrate medical and senior care, clarify the quasi-public-good nature of integrated medical and elder care services, and define the responsibilities, rights, and benefits borne by the government, families, enterprises, elderly care service providers, communities, and other sectors in the development of integrated medical and senior care services in urban communities. Based on the nature of public goods, all parties should shoulder their own responsibilities and work together to ensure the development of integrated medical and senior care services in urban communities.
We need to formulate standards and specifications within data collection, processing, and application formats related to the elderly, align data collection standards, network storage systems, intelligent terminals, and application software systems, and prepare standardized documents.
Local government departments are encouraged to play a leading role, access the advantages of different social bodies, establish a diversified service supply system and a funding mechanism for the elderly, and absorb funds from domestic and foreign enterprises, social groups, individuals, joint ventures, and cooperatives, to reduce pressure on public finance. Social organization services can be purchased through bidding public wellfare projects. Local government departments can sign service contracts, cooperate with high-tech enterprises and technology service providers, and adopt PPP, BT, and ABO models to purchase their services, which will provide a wider range of medical and senior care services for elderly communities.
Leveraging digital technology
We should promote integration of medical and elder care with the help of digital technologies and drive the in-depth integration of medical and senior care resources. Against the backdrop of sci-tech innovations and smart city development, we should integrate resources from relevant parties such as the civil administration, health commission, social security, and medical insurance to build a new digitized and intelligent model for integrated medical and elder care services based on the efforts to bring medical care and rehabilitation into communities through digital technologies.
This approach aims to meet the elderly's basic demand for care and improve their sense of happiness. We should conduct scientific assessment of demand, combine all mutually functioning factors in the supply and demand system together, promote the coordinated and sustainable development of medical and senior care services, build a comprehensive, coordinated, dynamic, sustainable, and expandable supply and demand coupling system, and bring an end to the original landscape of segmented and isolated resources. In doing so, we will integrate medical and elder care resources and achieve a "1+1>2" convergence effect.
When the system is operational, new resources are constantly added, new data is generated, new information is exchanged, new results are output, and new developments are shared. To avoid multi-party management, or multi-party disregard, we should coordinate all relevant departments to build a public information platform and create a win-win elderly service ecosystem that combines medical and elder care together.
This will help break the phenomenon of "data silos," "compartmentalization," and "data fragmentation," realize information sharing and the optimal allocation of medical and nursing resources, government policies, and nursing talent, while promoting coordinated governance of various departments.
In addition, we should establish electronic medical records and health files for the elderly to protect the health of those in their old age. With the help of cloud computing, big data, cloud storage, and other technologies, we should develop software for the management of a "health cloud platform," to track and monitor the daily lives and chronic diseases of the elderly. Such software should be installed in community homes for the elderly. Technologies such as IoT, sensors, wearable devices, intelligent sensing, and video capture should be used to collect, mine, and analyze data regarding elderly patients' diets, medication, exercise intensity, chronic disease index, and other input. A "medical and elder care card" should be created for patients with the help of bar codes, two-dimensional codes, Radio Frequency Identification, etc. The data should be immediately uploaded to the "Health Cloud Platform," to establish electronic medical records and health files for elderly citizens. In cases where there are abnormal values, the system will automatically remind doctors to propose timely health intervention plans and send the data to mobile phones of the patient's immediate family members, realizing interactions among doctors, patients, and family members.
We need to connect the "health cloud platform" with relevant municipal and district work platforms and implement a hierarchical diagnosis and treatment model—first medical treatment in communities, then two-way treatment, different treatment for acute and chronic diseases, and interaction between upper- and lower-level institutions.
We should also offer free basic public health services, basic medical insurance, and some customized, paid services for those with special needs. After classification and graded diagnosis, rehabilitated elderly people can return to their communities, healthy elderly people can return to their families, and elderly people who are less capable of taking care of themselves and in urgent need of care can receive precise care from medical and nursing staff, to achieve the optimal allocation of medical and nursing resources.
Improving eldercare insurance
It is also essential to explore a new model of eldercare insurance to bridge the final hurdle of medical and nursing data integration. Difficulties in integrating medical and elderly care in urban communities result from the lack of a fulcrum that can bridge the three elements. A variety of payment systems are recommended to integrate medical and senior care. These should be established at the local government level, and the scope of medical insurance payments for home-based medical care should be extended so that those who participate in urban and rural residents' medical care can receive payment via insurance to ensure that more elderly people are covered.
It is also worth exploring the development of a long-term care and nursing insurance system for the elderly. Employers, individuals, and relevant government departments should share funding responsibility. An adjustment mechanism should be built at an early date to integrate community resources and establish a multi-layered comprehensive health and long-term care and nursing system. We should also work to find new insurance models that meet the medical and senior care needs of the elderly.
It is also necessary to optimize and upgrade the medical and elder care card based on medical insurance cards. A big data information platform should be established to build cooperation among residents, insurance companies, and the health commission (linking general practitioners, two-way transference, elderly financial services, and nursing insurance). Senior citizens are advised to purchase medical and elder care insurance based on their needs, and the services offered with a medical and elder care card. In doing so, we will be able to bring medical resources, public health resources, nursing insurance, and elderly care services into institutions for elder care, medical care, and nursing, and address the final challenge in the integration of medical and elder care data.
It is important to build a data security protection system to protect the health privacy of the elderly. Modern digital technology is a "double-edged sword" that can provide high-quality, personalized services for the elderly, assess their conditions, build a database of their needs based on their ability to care for themselves, their medical history, their financial capacities, their educational backgrounds, their children, their marital status, and provide them with services through a combination of "artificial intelligence and supply and demand coupling system." It is also vital to prevent the senior care database from leaking information, program deviations, and theft of data by hackers.
To this end, relevant entities should jointly develop a data security protection system, introduce security management measures, develop technical security standards, unify user authorization management, login management, access management, and ensure storage security, application security, and privacy security of the database for the elderly. At the same time, supervision should be strengthened to promote sustainable integration of medical care and senior care in urban communities.
Ji Jiangming is a professor from the School of Economics and Management at Huzhou University, and Zhang Letian is the vice dean of the School of Social Development and Public Policy at Fudan University.