High-quality media convergence to tell China's stories well
LUAN YIMEI
|
2021-04-08
|
Hits:
(Chinese Social Sciences Today)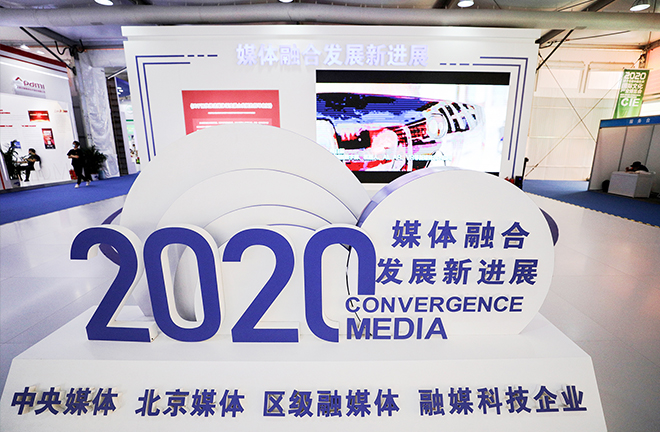 An exibition stand showcasing the progress made in China's mediaconvergence at China International Fair for Trade in Services held in Beijing on Sep. 7, 2020 Photo: CFP
---
Media convergence is the future. Media outlets should leverage intelligent convergent media while engaging themselves in China's economic growth, telling China's stories well. As the media seizes opportunities opened by a new round of high-quality development, they are called upon to display professionalism, inclusiveness, humanistic care, as well as warmth.
To begin with, media organizations should take the initiative in independent innovation, research and development by applying media applications including 5G and AI. In addition, they should continue to upgrade and reengineer their content production and consumption process, while boosting their effectiveness and efficiency to adapt to new circumstances at home and abroad.
Unlike 4G, 5G presents a brand-new ecology in which everything is interconnected. The growth of AI has disrupted many fields, journalism among them. Driven by technology, media convergence has reached the next stage with four new features. First, all objective movements are captured, recorded, and stored by modern information technology. Second, media content comes in many forms, including text, pictures, audio, and videos. Third, all social participants, including individuals and organizations, are engaged in information exchange online. Fourth, online media is integrated in a range of applications with various functions. The focal point of all Chinese media at a county, provincial, or national level, should be to strengthen media convergence, and intelligent convergent media should be the essential tool to reach their goal.
As mobile internet, intelligent chips, big data, and 5G networks have been put into use, and as AI iterates, intelligent machines will progress with leaps and bounds in mimicking human thinking and human emotions. These new technologies and their exploration of the future need to be studied under different application scenarios.
Meanwhile, as intelligent chips and sensors become ultra-microminiaturized, lighter, and cheaper, wearable devices are getting more popular by the day. Mobile computing has been applied to all kinds of wearable devices on our wrists, fingers, heads, waists, and ankles. This ubiquitous inter-connectivity enables media to travel everywhere. While "augmenting humans" through boosting human intelligence, physical and sensorial capabilities, wearable devices have become closer to humans, forming a new and symbiotic relationship between man and machine. Calculation patterns based on this relationship with information facilitates a continuous and natural way of knowing users' demands, making algorithms a ground-breaking technology for media.
VR is another technology that enables the media to tell a story or send a message. By pulling media closer to information senders and receivers, VR ushers in a new era of media-user interactions. Audience members are no longer far from the spot where news takes place, since VR and AR give users a brand-new experience. With a 360-degree panorama player, these technologies can place users in a scenario where they become "witnesses to the event," thus blurring the boundary between audience and journalism.
To unlock the industry's new look, media organizations should work on pilot schemes, institutional innovation, and better services. As a public service and information service provider, the media should become more aware of their responsibilities to deliver orders from above and report on feedback from regular citizens to higher authorities. Specifically, media convergence on a county level should better guide the real economy and participate in social governance.
To achieve high-quality development, national level media convergence has to pass through several stages. The early stage involves integrating ideas and organizations, as well as reinventing the process. Later stages involve linking media organizations to users, society, and other subsystems.
The high-quality development of media convergence should be able to drive the comprehensive development of human society. It should be innovation-driven, truth-seeking, and public-spirited. In the post-truth era, media should take the responsibility to screen and guard information that gets disseminated to audiences. Apart from seeking the truth, the press is able to report the truth and ensure that responsible reports comprise the mainstream voices which people hear.
In addition, media organizations should also bridge and balance relationships between the government, social organizations, and the public, so as to achieve coordinated governance.
Having integrated media outlets, convergent media at the county level should also properly disseminate information as their way to deliver public services and assist the local government in building a service-oriented government. By combining convergent media with e-government platforms, the government will be able to better serve the people and govern society with a stronger ability to disseminate information.
Chinese media should actively participate in shaping international discourse by telling China's stories well. The contemporary Chinese story has had different focuses at different times. At the founding of the People's Republic of China in 1949, the story talked about revolution, and the independence of Chinese people from foreign powers. After reform and opening up, the narrative arch followed the Chinese economy's takeoff. In the new era, the narrative has been about China's development and the rejuvenation of the Chinese nation.
Poverty alleviation is an integral part of the third narrative, facilitating its realization and demonstrating its achievements. It involves multiple perspectives and fits in the international dialogue. It reflects the joined efforts of contemporary Chinese people. It is a story about the development of science and technology in modern China, the revitalization of traditional Chinese culture, and its deep reforms that brought new development opportunities to the world. It presents a comprehensive image of China to the world as both traditional, modern, and global.
Recently, the COVID-19 pandemic has complicated global public opinions of Chinese enterprises, making it particularly important to rebuild their image overseas. Sports events provide a diversified global platform for displaying corporate images. Enterprises can tap into the global audience's common passions to effectively bring down ideological barriers and better communicate the image of Chinese enterprises as good actors and China as a responsible major country. The upcoming Beijing 2022 Winter Olympic Games is a good opportunity to reach out to global audiences and brands and uplift the image of Chinese enterprises and the country as a whole.
As China enters a new era, urban construction also faces a transformation from the construction of physical spaces, to renovation, to cultural space construction and value guidance. In this process, the media will play an important role in promoting urban renewal, construction, and communication.
Media, taking advantage of its medium, can encourage citizens to participate in urban construction in political, economic, cultural, and other social aspects. As a proponent of intelligent city construction and social governance, the media is an information platform, as well as a public service platform. It can conveniently collect citizens' feedback and ideas regarding urban governance and construction, and link communication between all parties, thus contributing to the successful solution of problems and the ultimate realization of construction goals.
The media can also facilitate the gathering of public action. As a part of the city's social system, it coordinates social actions, encourages citizens' active collaboration, and enhances social cohesion. By mobilizing the public's involvement with social management and governance, the media contributes to advancing urban construction and maintaining social stability.
Besides, the media has great potential in moving forward the construction and promotion of each city's image. For example, we can attract and encourage public participation in urban construction by publicizing an internet-famous place or a must-visit city. In this way, the media helps create a new prospect for urban construction with the concerted efforts of citizens to push forward the transformation of a city from the previous economic and physical space to a spiritual and cultural space, thus enabling the self-renewal of a city in the process of the country's modernization.
Luan Yimei is from the School of Journalism at Renmin University of China.