Improving migrant children's media literacy helps socialization
ZHUANG XI
|
2019-12-05
|
Hits:
(Chinese Social Sciences Today)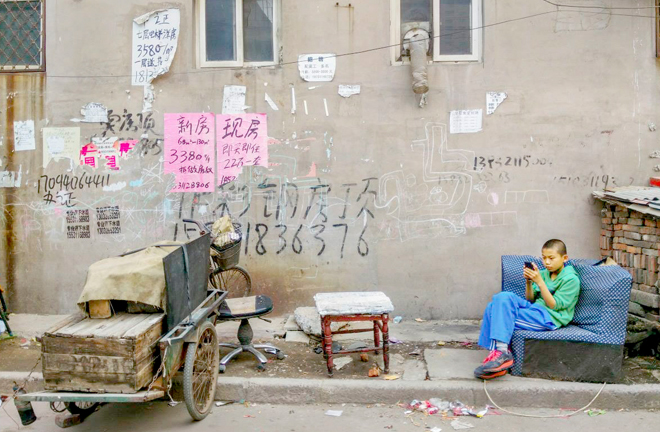 A boy living in the "village in the city" in Shijiazhuang City, Hebei Province, indulges in his phone. Photo: Li Suqing/CPAEDU
As the new generation of migrant workers are more inclined to take their children with them rather than migrate alone and also to pursue de facto or legal permanent migration with local residency rather than temporary migration, the number of accompanying children, or "migrant children" in Chinese, has sharply increased in urban scenarios. According to the Ministry of Education 2017 data, published in August 2018, the number of accompanying children enrolled in compulsory education was around 19 million, a 17.6% increase from five years ago.
When children and adolescents come to cities with parents who work as laborers, they are partly separated from their original social roles, support systems and social networks, and they face the process of rebuilding social networks and re-socialization.
Cognitive characteristics
With the extension of media networks across the world, people's sources of knowledge have diversified. To some extent, the internet has replaced the dominant position of the family and started to intervene in individual socialization in every occasion of cultural contact. The internet exposes all the secrets of culture and society to children, becoming a double-edged sword in their social learning.
On the one hand, the internet can expand the cultural cognition and social channels of migrant children, making up for the functional absence of family caretakers in terms of their accumulation of cultural capital. On the other hand, the internet may also become a source of false information and discriminatory perspectives, or become a route for escapism, causing a negative impact on their socialization.
Therefore, it has become an important issue in the field of social development to improve the digital media literacy of migrant children and build a communication environment conducive to the socialization of migrant children.
Digital media literacy in our discussion mainly includes the use of texts, tools and techniques, critical thinking and analysis, information acquisition and creativity, reflective and moral thinking, and active participation through teamwork and collaboration. For migrant children, education and intervention in aspects such as cultivation of reasoning ability, family intervention, multi-party support and participatory practice are of great significance at present.
According to recent studies, migrant children's extra-curricular activities show obvious dependence on the functionality of the internet, but they lack effective guidance in media interaction, and their formation of digital media literacy is basically in a spontaneous state. It is necessary for school education to integrate media literacy into formal courses for migrant children.
In terms of media use, providing proper guidance is a much better strategy than trying to prevent children from getting their hands on the latest technology. In line with the characteristics of their cognitive development, migrant children should be taught to correctly understand and use new media functions, learn to identify false information in the context of big data, and protect their privacy.
In digital media literacy education for migrant children, it is necessary to fully recognize the particularity of the context and the children's cognitive characteristics. For example, studies have discovered that migrant children and urban children have great differences in reading preference, and their interest in paper reading is much less enthusiastic.
Based on the communication characteristics of various media, different media achieve different cognitive effects. When people read paper media, their way of thinking is more alert and ready to engage in conscious analysis, with more rational judgment. Therefore, it is necessary to encourage migrant children to carry out graded reading and take part in off-line reading activities in addition to increasing their familiarity with digital media.
More parental involvement
The accompanying and explanatory roles of parents in children's media use are important. In the view of child psychologists, parents' daily home education style and children's self-evaluation are interactive. Parents who are good listeners and respect, trust and encourage their children often tend to reward good behavior over scolding and punishing bad behavior. This positive parenting makes children feel capable and empowered. In turn, children who have a higher self-assessment help parents become more democratic in parenting and disciplining.
In reality, parents of migrant children often impose mandatory restrictions on their children's online needs, which sometimes backfire under pressure. In this regard, migrant worker parents should change their perception on the use of the internet, replace negative restrictions with positive guidance, and improve the cultural cognitive ability of migrant children through understanding and participation.
In this light, the construction of family education consulting centers is strongly recommended. In the future, communities or schools may establish some flexible family education consulting centers to provide necessary consultation and auxiliary work for migrant families. These centers can take into account the needs of local families and utilize a variety of forms such as lectures, social media interaction and mobile service stations, creating opportunities for migrant children and their parents to do extracurricular reading, sports, field studies, and other parent-child interactions. In this way, parents can be more equipped and prepared to help their children improve digital media literacy.
The cultivation of migrant children's digital media literacy is a dynamic and long-term process, both online and offline. Ultimately, we need to help migrant children participate in real-life social interaction, which depends on community involvement.
Most families of migrant children live in "villages in the city," where the living environment is relatively poor and dysfunctional community construction is the norm. This greatly restricts the social activities of migrant children, because it is difficult to have comprehensive social interaction in these urban communities.
Their emotional sustenance and resources are mainly concentrated in a strong relationship network, which is likely to lead to the re-concentration of homogeneous groups and more passivity in social interaction. Migrant children's demand for a weaker relationship network can only be achieved through virtual behaviors in the cyber world. Once children indulge in the compensatory experience on the virtual platform, they may go to the other extreme: relying too much on the internet, becoming alienated from reality and neglecting their studies.
To solve the aforementioned problems, we should start from weakening the intrinsic motivation of children by adopting other healthier ways to meet their communication demands, so as to release their excessive dependence on virtual experience.
Community support can make a difference. For example, cultural centers and reading rooms can be set up in communities to cultivate migrant children's interest and ability in reading, so as to prevent them from indulging in the internet. Themed lectures and activities can be held regularly to invite families of migrant children and urban citizens, so as to eliminate estrangement and enhance mutual understanding through interaction.
In the current media discourse, migrant children are often stereotyped as a typical recipient. In the future, on the basis of enhancing the self-discipline of the industry and social responsibility, the media should actively and objectively report new trends among migrant children and strengthen their cultural confidence.
At the same time, mainstream values should be combined with the emotional demands and need for cultural belonging of migrant children, through interactive participation between the media and the public, to promote the positive communication between this group and urban discourse.
In the context of a participatory web, digital media literacy education should focus on rebuilding migrant children's confidence in their own abilities and knowledge and enhancing their communication ability. For one, they can be taught to create their own media content with the help of some basic apps. From topic selection to injuries, from shooting to editing, from collecting and writing to editing and publishing, no step in the production of media works can be separated from communication and collaboration. Through this teaching process, migrant children can naturally grasp some of the secrets of digital media. When once again as users they are faced with a flood of information driven by algorithms, their empirical experience as disseminators themselves can help them to navigate through the fog and seek for the truth.
Zhuang Xi is an associate professor from the School of Journalism and Communication at Nanjing Normal University.
edited by YANG XUE