New focuses key to China's Latin American studies
CUI SHOUJUN
|
2019-01-03
|
Hits:
(Chinese Social Sciences Today)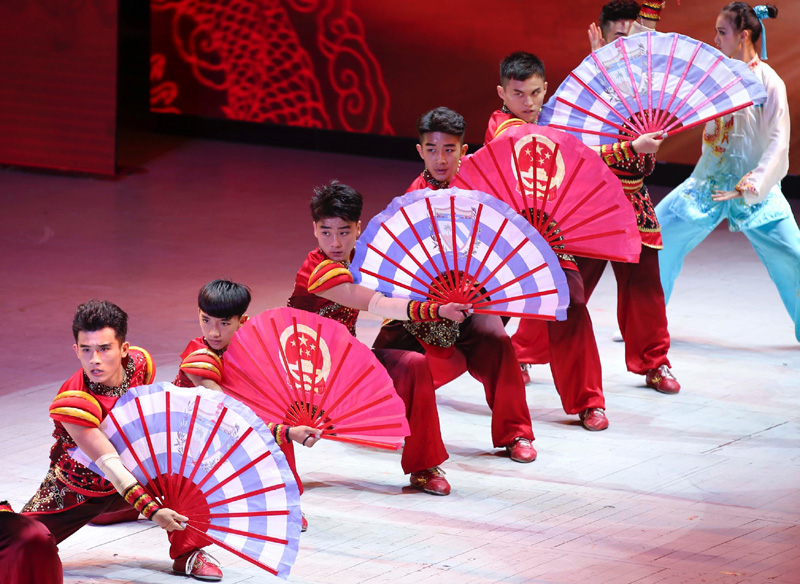 Artists perform at an evening gala celebrating China-Latin America cultural exchange in Cuba's capital Havana on Sept. 25, 2016. The 2016 China-Latin America Cultural Exchange Year, under the framework of China-CELAC Forum, hosted a wide variety of cultural activities to promote Chinese and Latin American culture and advance mutual friendship and understanding. Photo: XINHUA
---
As more and more Chinese enterprises go global, Latin American and Caribbean countries have been playing an increasingly important role in China's overall diplomatic layout. In recent years, frequent state visits between leaders of China and leaders of Latin American and Caribbean countries have put Sino-Latin America relations onto a fast track. The close state-to-state relations and the growing interest of Chinese scholars in country and regional studies have jointly promoted the rapid development of Latin American studies in China.

In general, international relations studies and country and regional studies are two organic parts of the study of international issues. The former is committed to revealing the general and universal laws on the basis of synthesizing the common characteristics of various regional phenomena. The latter is dedicated to the local, detailed and targeted analysis of countries and regions, aiming to achieve an in-depth understanding that can help provide practical guidance for foreign policy.

At a new starting point, it is of great theoretical and practical significance to strengthen country and regional studies in Latin American and Caribbean countries, which is conducive to the establishment of a research paradigm on international issues with Chinese characteristics and the alignment of the Belt and Road (B&R) initiative. In this light, it is critical to reflect on the current Latin American studies and identify shortcomings in order to improve the studies' scale, level and quality.
Bottom-up approaches
At present, the number of Latin American research units in universities and think tanks is booming. The first Chinese institution specializing in Latin American studies is the Institute of Latin American Studies at the Chinese Academy of Social Sciences. For a long time, institutes in this area of study were rare.

In order to serve the overall diplomacy of China, the Ministry of Education launched a project in 2011 to boost country and regional research. Since then, higher education institutions have generally paid more attention to country and regional studies, including Latin American studies. The first ministerial meeting of the Forum of China and the Community of Latin American and Caribbean States (CELAC) in 2015 built a closer China-CELAC relationship and cooperation and further promoted Latin American studies. As of today, there are a total of 60 centers for Latin American studies, a great leap in number.

However, in addition to the current top-down efforts of the government, Latin American studies also need bottom-up mobilization mechanisms. For example, to strengthen Latin American research, colleges and universities should fully stimulate the enthusiasm of teachers in research and make appropriate adaptations to country and regional research in terms of paper publishing and evaluation mechanisms. At present, some research centers do not have academic publications, so it is difficult for their academic activities to achieve a greater influence.
More country-oriented studies
Latin America covers an area of more than 20 million square kilometers and has a population of nearly 600 million. With 33 countries and regions, it is home to one of the highest concentrations of developing countries in the world.

Latin American countries vary widely in national conditions, from emerging giants with populations of over 100 million such as Brazil and Mexico to small island states with populations of less than 1 million in the Caribbean.

In practice, scholars have conducted in-depth studies on regional macro and general issues, such as Latin American integration, the governance cycles of left and right parties, advantages of regional investment, the middle income trap, resource nationalism and infrastructure bottlenecks. However, there is little attention paid to the medium and micro level issues of the region. In particular, field investigation is lacking, so there is little hands-on information.

With the implementation of the B&R initiative, the old research on the region's history and the generalized studies of the region are far from enough, and it is urgent to carry out in-depth study on the political, economic, social, cultural and other aspects of Latin American countries.
Within its global partnership network, China has established strategic partnership with 10 countries in Latin America, including Brazil, Venezuela, Mexico, Argentina, Peru, Chile, Costa Rica, Ecuador, Uruguay and Bolivia. The medium- and micro-level studies of many of these countries lag behind the needs of diplomatic practice.

In addition, the study of Central America and the Caribbean is almost blank. At present, Panama, Trinidad and Tobago, Antigua and Barbuda and other countries have signed the B&R joint development agreement with China, but the Chinese academic community still knows little about these countries.
Quantitative research
Qualitative analysis is the scientific study of data that can be observed, but not measured. It is concerned with cataloguing the qualities of what is studied. Quantitative analysis is the study of data that can be measured, the quantities of a category of data. A scientific study usually employs both methods of observation, but will tend to rely more heavily on one or the other dependent upon the subject of the study.

That said, in Latin American studies, more quantitative analysis is needed. For example, in the study of "to what extent China's economic influence in Latin America can be translated into political capital," qualitative analysis is often inadequate and quantitative analysis must be applied.

In this aspect, American academia has achieved fruitful results and set a good example for Chinese scholars. For example, the research project on public opinion in Latin America established by Vanderbilt University quantitatively investigates public opinion in more than 30 countries in Latin America, publishes dozens of high-quality academic papers and policy reports every year, and has gained more than 30 years of practical experience. Chinese scholars need to catch up in quantitative research and make up for this shortcoming.
Soft power
China is now Latin America's second largest trading partner and the third largest source of investment. According to China's customs authority, bilateral trade between China and Latin America and the Caribbean has been dynamic, amounting to some $260 billion in 2017, up 18.8 percent year-on-year.

Chinese scholars have conducted in-depth research on Latin American countries' hard power such as resource endowment, economic potential and geographical advantages, but there is insufficient research on soft power such as culture, values and social systems.

In July 2014, Chinese President Xi Jinping visited Brazil and attended the meeting with leaders of Latin American and Caribbean countries. In his speech entitled "Strive to Build a Community of Shared Future," he proposed a new pattern between China and Latin America and called for the creation of the "Sino-Latin American community of shared future," elevating China-Latin America relations to a new historical height.

However, though the political mutual trust and economic and trade cooperation between China and Latin America and the Caribbean have been upgraded, the cultural and people-to-people exchanges still lag behind. Efforts must be made to study the soft power aspect in Latin America and the Caribbean, so as to promote all-around cooperation between China and the region.
Interdisciplinary studies
Regional studies fall under the purview of interdisciplinary research, covering politics, economy, society, history, culture, geography and other fields of the humanities and social sciences. While the macro study of China and Latin America and the Caribbean is flourishing, there are still many complex situations and difficult problems at the mesoscopic and microscopic levels, which are often beyond the competence of a single discipline.

Some scholars currently engaged in Latin American studies are foreign language majors, who are good at language and literature studies but who fall short in observations on international issues. The barriers between different disciplines are evident, and researchers are often subject to the limitations of their own knowledge structure and find it difficult to cross that gap.
In this light, it is necessary for Latin American studies to accelerate the construction of a multidisciplinary, comprehensive and all-dimensional research system to break down the barriers between politics and economy, internal affairs and diplomacy, economy and society, and society and culture.

In addition, the study of Latin America also needs different perspectives and inputs from different industries. Diplomats are better at thinking from the perspective of policy making and diplomatic practice. Scholars are good at theoretical analysis and exploring historical laws.
Journalists are good at field investigation and social observation. Entrepreneurs tend to analyze from the perspective of the business environment and investment. Their communication and interaction shall be encouraged to improve the overall level of China's Latin American studies.
To sum up, China's research on Latin America is still in its infancy, and there are still many shortcomings compared with that of the United States and Europe. Latin America is a continent far away from China in terms of distance, psychology and cognition. In Latin American studies, abstract concepts and vague impressions are dominant over hands-on experience.

Going forward, we should stress bottom-up efforts, quantitative research, soft power related studies, and the breaking down of barriers between disciplines and industries in Latin American studies. Strengthening research on Latin America and the Caribbean will by all means better serve the implementation of China's opening-up strategy.
Cui Shoujun is a research fellow from the National Academy of Strategy and Development at Renmin University of China.
​(edited by YANG XUE)