Reality calls for deeper participation in international investment arbitration
FU PANFENG
|
2018-09-20
|
Hits:
(Chinese Social Sciences Today)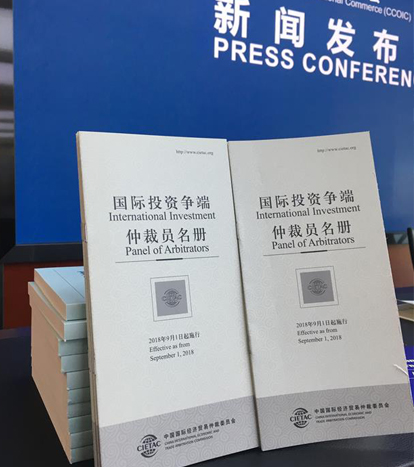 The China International Economic and Trade Arbitration Commission recently announced the International Investment Panel of Arbitrators to enhance Chinese arbitrators' influence, but it has so far dealt with no international investment arbitration cases. Photo: ECONOMIC DAILY
---
As the largest developing country in the world, China is undergoing transformation in international investment. While it continues to attract large amounts of foreign investment, Chinese enterprises have started to invest heavily in many countries and regions overseas.
The China-proposed "Belt and Road" (B&R) initiative has received much attention worldwide. Covering more than 60 countries and regions, the B&R extends across Europe, Asia and Africa. Many countries along the routes have become key areas for China's outbound investment cooperation.

As the primary legal approach to settling investment disputes between investors and host countries, international investment arbitration is significant to protecting investors' interests and maintaining the international investment order.
However, as a major global investor, China is far from being as deeply involved in international investment arbitration as it should. Thus, how to deepen its participation is a big issue.

Necessity of participation
Through the 40 years of development since reform and opening up, the Chinese economy has deeply integrated with the world economy and assumed a large role. The international investment arbitration system, as the superstructure, must reflect the economic base. In other words, the weight of China's economy should determine the depth of its participation in international investment arbitration, and its double identity as a capital importer and exporter should determine China's basic stance.

On the one hand, though China has been increasingly rational in its introduction and protection of foreign capital, foreign investors still unavoidably lodge requests for investment arbitration. In fact, this is still happening now, such as the recent cases of Ansung Housing and Ekran Berhad and the Hela Schwarz case not long ago. The Ministry of Commerce has faced mounting pressure in responding to related suits.

On the other hand, though as the "going global" strategy and B&R construction have advanced and China has grown into the second-largest investor in the world market, there are still various uncontrollable risk factors in outbound investments, such as tax collection, market barriers, exchange rate fluctuation and armed conflict.

In this context, international investment arbitration is a crucial channel for Chinese overseas investors to protect their rights and interests. From this angle, international investment arbitration is a boon to China.

Therefore, China must be rational when participating in international investment arbitration, not only preventing foreign enterprises from suing the Chinese government arbitrarily, but also encouraging Chinese companies to safeguard their interests overseas.

It is now the best time for China to engage more in international investment arbitration. Currently the international investment dispute settlement system is being reformed, the so-called crisis of legitimacy still looms large in international investment arbitration and the European Union has begun to promote the building of the international investment tribunal, which will undoubtedly deal a heavy blow to the existing paradigm of international investment arbitration.

During the reform of the international investment dispute settlement system, more developing countries have been urged to involve themselves in the rebuilding of international investment arbitration in order to enhance cultural diversity and regional representation.

Without doubt, China should seize this good opportunity to inject fresh blood into the current international investment arbitration mechanism, such as by providing dispute prevention services, as prevention is more meaningful than settlement.Status quo
As a matter of fact, it is not only necessary, but also urgent for China to participate deeply in international investment arbitration, as its past participation has been unimpressive.
First of all, Chinese lawyers have been marginalized in the legal services market for international investment arbitration. Although some investment arbitration cases have involved China in recent years, they were entrusted to Western lawyers. Chinese lawyers have never had full authority over investment arbitration cases involving their home government, due partly to their lack of relevant experience. Very few of them have played a supporting role in China-related cases.

Admit it or not, it will continue to be a norm for foreign investors to file suits against China in investment arbitration in the foreseeable future. If it continues, Chinese lawyers will remain in a marginal position in future China-related investment arbitration cases.

Moreover, it is quite rare for Chinese arbitrators to be appointed to arbitrate international investment cases. The International Centre for Settlement of Investment Disputes (ICSID) is a global organization subordinate to the World Bank Group for settling international investment disputes, taking a core position in the international investment arbitration landscape.

According to the annual report released by the ICSID, of the arbitrators or conciliators in cases handled by the ICSID in 2016, 21 were from the United Kingdom; 18 from Australia; 15 from France; more than 10 each from Germany, Canada and the United States; and only two from China. Of the arbitrators or conciliators in cases in 2017, Americans took 18 seats; the British and French got 15 each; the Spanish, Canadians and Argentineans took 10 each; and the Chinese got none.

Noticeably, nine Chinese arbitrators and conciliators are registered in the ICSID, but most of them have never acted as arbitrators in ICSID cases. The same thing happens in non-ICSID investment arbitration. Generally, Chinese arbitrators are absent from international investment arbitration.

In addition, Chinese arbitration law, institutions and education have been divorced from international investment arbitration practices. Chinese arbitration law denies the validity of ad hoc arbitration, but many international investment arbitration cases use that approach.
Hence, it is difficult to give China the seat of arbitration in such cases. This has hindered Chinese courts from taking part in international investment arbitration as a judicial overseer of arbitral decisions, and it has objectively impeded Chinese lawyers and arbitrators from being involved in "home court" cases.

When it comes to Chinese arbitration institutions, though the China International Economic and Trade Arbitration Commission has made rules on international investment arbitration, they have so far dealt with no international investment arbitration cases. In other words, they have no experience in managing international investment arbitration cases.

Regarding Chinese education on arbitration, a few institutions of higher learning, such as Tsinghua University, have provided international arbitration and dispute settlement programs with lectures given by top international experts on arbitration. However, these fail to change the weak position of international arbitration in the Chinese legal education system, and they also fail to meet the great market demand for high-caliber international arbitration talent, which seeks foreign language proficiency and excellent professional skill.

Possible paths
Efforts can be made from the governmental and societal levels to enhance China's participation in international investment arbitration.

On the governmental level, when sued, the Chinese government should respond actively and gradually delegate cases to native lawyers to help them accumulate real-world experience in international investment arbitration. Although Chinese lawyers are not as good as their Western counterparts in language abilities, rules, and professional communication between the arbitration court and lawyers of the other party, their increasing participation in global arbitration is apparent to all.

In the long run, the Chinese government should also promote international arbitration education in colleges and universities aiming to incorporate it as an independent course in legal education, cultivating back-up talent for international arbitration.

At the same time, it is important to align Chinese arbitration institutions with top international agencies, particularly pushing ahead with "de-administration" to pave the way for handling international cases. The most important of all, surely, is to gear the Chinese arbitration law to international standards and build Chinese cities into international arbitration centers, thereby directing international cases to proceed in China.

On the societal level, an extensive range of subjects are involved in international investment arbitration, including overseas investors, lawyers, arbitrators, arbitration agencies, institutions of higher learning and financial organizations. Specifically, overseas investors should conduct sufficient dispute risk evaluation and prevention beforehand and actively leverage international investment arbitration to safeguard their own interests afterwards.

Lawyers shouldn't await opportunities passively. Instead, they should take the initiative to integrate themselves into the international investment arbitration services market, learning constantly and striving to expand business.

Arbitrators should devote greater effort to improving their foreign language and professional skills and to obtaining greater recognition in the industry by attending high-level conferences on international arbitration and by publishing articles in related well-known journals, thereby increasing the probability of being commissioned in international investment arbitration cases.
Arbitration institutions should learn from top international arbitration agencies, raising awareness of their services and cutting red tape, especially by internationalizing the management of cases and making full preparations for handling international cases.
Colleges and universities should pay full attention to the value of arbitration education in the legal education system, hiring top-notch experts to teach students in English so as to produce high-quality talent with excellent language and arbitration abilities.

Financial institutions should aim to utilize the Third Party Funding market that has lately emerged in international investment arbitration in a bid to break the monopoly of Western financial organizations and set new trends in the development of the field.


Fu Panfeng is from the Institute of International Law at the Chinese Academy of Social Sciences.
​(edited by CHEN MIRONG)