MOOCs no rival to traditional classroom education
By Ma Xiulin
|
2015-05-08
|
Hits:
(Chinese Social Sciences Today)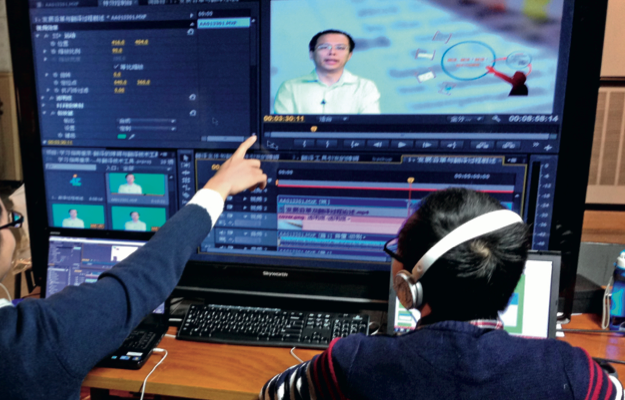 Staff members record MOOCs at Peking University.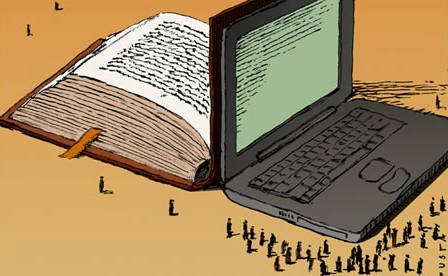 More and more people have taken interest in MOOCs and resorted to the platform to acquire social knowledge.
Despite its many advantages and convenience in the digital age, it is unlikely that the Massive Open Online Course (MOOC) educational model will supersede traditional classroom teaching in the foreseeable future, according to empirical research by Beijing Normal University (BNU).

Research background
As information technology penetrates the education sector, Internet-based teaching has gained immense popularity, giving rise to MOOCs geared towards the majority of learners.

In 2012, top universities in the US established online learning platforms one after another, providing free courses on the Internet. Harvard and Yale universities spearheaded the campaign with their open online courses making a great impact.

The ensuing emergence of the three major course providers-Coursera, Udacity and edX-created more opportunities for learners to study based on their own needs.

In February 2013, the National University of Singapore entered the MOOC platform by partnering with the US-based educational technology company Coursera. Chinese universities subsequently followed suit. Domestically renowned universities including Peking University, Tsinghua University and BNU now all offer MOOCs to provide high-quality educational resources.

Aimed at mass interaction and participation with the support of the Internet, MOOCs not only blend traditional course presentations, such as texts, pictures, videos and exercises, but also offer an interactive forum that gathers learners with identical learning objectives. They mobilize learners from different parts of the world to acquire social knowledge in different times and spaces through the Internet.

As an open educational form, MOOCs represent a typical learning-centered model grounded in the e-Learning theory with the following features.

First, they are Internet-based and open to the public with relatively sound course structures.

Second, they are dynamically generated. MOOC teachers are responsible for preparing learning materials like courseware, video resources, images, cartoons and tests before class. When a course is in session, it will include topic discussions, Q&A sessions and hands-on practice, while adding something new to these modules according to the needs of learners to enrich the learning cell system for related knowledge points.

Third, the learning environment is open and society-oriented. Available to all interested learners for registration and use, MOOCs include online forums and encourage learners to learn in the form of group activities through wikis, blogs and social networks.

Fourth, with the advancement of technology, MOOC learning resources are progressively diversified, integrated and reflect characteristics of learners. Teaching information can be updated in accordance with learning feedback and even sent to learners based on their learning status in a targeted fashion.

Advantages of MOOCs
Compared with conventional teacher-to-student instruction, MOOCs are advantageous in five ways.

First, based on their vast class sizes, MOOCs divorce teaching from learning spatially and temporally. They allow numerous learners to join the same learning community, therefore achieving a high student-teacher ratio.

Second, they ensure the sharing of high-quality teaching resources. Relying on the Internet, MOOCs break the limits of time and space in the traditional classroom, making it possible for learners from all over the world to stay at home taking courses opened by prestigious domestic and foreign universities.

Third, the MOOC platform features teaching activities that inspire a great deal of response and interaction. An objective, automated online assessment system (integrating quiz and examination) keeps track of learners' studying progress and offers timely feedback so that learners can adjust their learning habits.

Fourth, the MOOC teaching environment provides diversified learning resources. On a single knowledge point, there will be rich learning resources in different forms such as texts, cartoons and videos to cater to the needs of learners with different cognitive styles.

Fifth, MOOCs provide an environment for asynchronous learning, which is hard to realize in traditional classroom teaching. Backed by MOOCs, learners can choose learning resources to study based on their own cognitive styles and learning pace.

Disadvantages of MOOCs
Despite its advantages, MOOCs have some deficiencies compared to intensive teaching in the real-world classroom.

First, learners will never have an immersive experience on the MOOC platform. In essence, MOOC-based learning is still about learning in front of the computer screen, during which learners study by viewing learning resources and taking part in human-computer interactive activities. Under such circumstances, learners will easily get bored and burnt out.

Second, MOOCs require excellent independent learning abilities, sharp time management skills and strong motivation to learn. Learners will otherwise be vulnerable to the disturbance of other factors, hence worse learning effects. When studying MOOCs, some learners are unwilling to learn step by step. This in turn can limit their mastery of a particular course or unit.

Third, there is no live student-teacher interaction in MOOCs. In a traditional classroom, eye contact, facial expressions and smiles between a student and teacher will have important impact on the teaching effect.

When students make learning achievements in a certain period, mutual encouragement between student and teacher spurred by common progress will motivate students to study harder in the next stage.

However, MOOCs lack this vitally important student-teacher interaction and communication among students. Some students feel lonely during the learning process and easily experience study burnout.

Fourth, in the traditional classroom, the personal charisma, words and deeds of a teacher, which are difficult to replicate in MOOCs, will exert important influences on the teaching effect and personal development of students as well.

Inapplicable to systematic education
MOOCs initially applied to primary and secondary education. With the deepening of theoretical research on online education, they were gradually brought to college and popularized.

Currently, MOOCs serve college teaching activities largely in two ways: "flip classrooms" with MOOCs as the main teaching mode; and "mixed classrooms" with MOOCs as supplements.

In order to explore the teaching effect of MOOCs among college students, the faculty team of basic computer courses at BNU carried out research on the MOOC-based "flip classroom" for basic college computer courses and exposed three problems about the mode.

First, when learning through MOOCs, 95 percent of surveyed students were too impatient to watch the whole teaching video from start to finish, be it a long video recording classroom teaching or a short one about teaching cases. Many of them fast-forwarded using the media player's scrolling bar.

Second, students spent less time studying than expected. Most of them switched to other websites shortly after navigating the MOOC interface. It has become a habit for some students to quickly skim through videos.

Third, nearly 30 percent of students said they still preferred traditional face-to-face teaching over the inverted classroom mode.

The final teaching effect of MOOC-based "flip classroom" suggests that students indeed obtained certain improvements in practical application of knowledge and independent inquiry. However, the knowledge they gained was not as systematic and complete as what they acquired in the traditional classroom. Worse still, there were a larger number of students who scored extremely low in MOOCs compared to traditional classrooms.

In conclusion, MOOCs are a new, Internet-based learning environment that provides good support for "learning-centered" mode. Although it has many advantages, it is yet to disrupt traditional on-campus education. According to the application effect of MOOCs, the mode is favorable for short-term training or training for mastery of specific knowledge. Traditional schooling is more advisable for disciplinary, systematic educational and teaching activities and the cultivation of students' personality and traits.

Ma Xiulin is an associate professor from the Faculty of Education at Beijing Normal University.