Analysis of new global communication order
By Zhong Xin
|
2015-04-10
|
Hits:
(Chinese Social Sciences Today)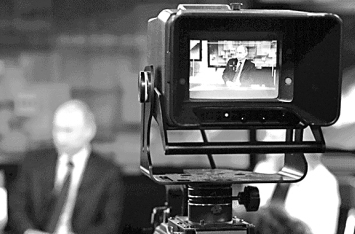 Russian President Vladimir Putin in an interview with Russia's state-run television channel, Russia Today

Today's new order of world communication is obviously influenced by non-Western media, non-traditional media and non-state actors, unlike the old order of world communication that was dominated by Western media, state actors and traditional media.

Participation of multiple subjects
The rise of non-Western media is changing the environment for world opinion, which used to be dominated by Western media. In recent years, some scholars have called the rise of non-Western media, such as Al Jazeera, Russia Today and CCTV News, as "The Rise of the Rest." These emerging international media outlets cover different regions of the world, providing news and information from non-Western perspectives. They are attracting strong ratings and increasingly promoting their influence worldwide.

By the end of 2014, the number of CCTV News viewers had reached 387 million, 37 million more than 2013. The network was broadcast in more than 170 countries and regions. Russia Today is well known for its fresh, bold news reportage and has far exceeded other foreign media outlets in ratings growth. Founded in 1996, Al Jazeera covers various regions in the world with multiple languages and channels. It offers news with a unique Arabian perspective and has gradually won Westerners' trust through its strategic balanced reporting. It has also generated significant advertising revenue due to its ratings and influence in some regions.

The rise of non-traditional media has made it possible for multiple subjects to participate in international communication. Social media has provided convenience for exchanges and interaction between institutions and individuals. For example, smartphones have made it easy for people to communicate with each other across various platforms. The Internet and social media have broken the boundary between domestic and international transmission, creating a global communication environment.

Non-state actors such as enterprises, non-governmental organizations and individuals are committed to building self-media and actively participate in global communication, promoting their global development strategies. Transnational enterprises resulting from economic globalization require multiple channels to carry out integrated marketing communication and enterprise brand construction. Non-governmental organizations need to mobilize the public to take part in their concepts. Individuals participate in production and dissemination of information to achieve their own goals.

Overall, state and non-state actors depend on traditional and non-traditional media to spread information to the world and interact with the international public, resulting in the new normal of global communication order.

New public diplomacy
The development of communication technology has generated new public diplomacy. Comprised of newspapers, books and periodicals, radio and TV, the traditional media environment was characterized by one-way vertical transmission. The government representing state actors spread information to the foreign public through international broadcasts and cultural exchanges to influence their cognition, attitude and behavior. This was the former model for public diplomacy.

New public diplomacy takes place in the new media environment where there is two-way horizontal transmission. State and non-state actors, such as the government, media, enterprises, non-governmental organizations and individuals provide information for foreigners through online or offline channels to influence their cognition, attitude and behavior.

Public diplomacy theoretical modes proposed by Ali Fisher, one of the top analysts of public diplomacy, contain cultural diplomacy and exchanges. Joseph Nye Jr., a scholar of soft power and public diplomacy, deemed that public diplomacy has three basic dimensions. The most important one is daily communication, including response to crises and attacks. The second is well-planned strategic transmission. The third is the establishment of long-term relations with key individuals through scholarships, personnel exchanges, training, discussion, conferences and open media.

The rise of new public diplomacy has resulted in the transfer from mono-international actors to multi-international actors; from one-way information transmission to two-way dialogues; and from political propaganda to social communication and social networks.

It aims to build national brands and promote national soft power and international credibility. To win the hearts of others, new public diplomacy stresses that "listening" is of significance for understanding requirements of communication targets; "aiding others to achieve goals" is an important mode of public diplomacy; and "establishing long-term relations" is an important goal of public diplomacy. It also stresses pushing forward interaction and mutual promotion between international counterparts as well as international social responsibilities of international actors such as maintaining common human interests.

Localized dissemination
Global transmission of multiple actors, such as national government, transnational enterprises, transnational media, international non-governmental organizations and international figures, is increasingly reflected in localized transmission. Localization strategies include facing local groups of market segments; establishing media in the local place or depending on local media and social networking platforms; using local languages; hiring local employees; focusing on local affairs and public concerns; and providing information appealing to local people.

The Beijing American Center has engaged in diverse dialogues over the past two years, discussing topics such as leaving for the US to study, English studies, visas, US politics, economy, social culture and process of rule of law, combating the Ebola virus, protecting wildlife, sports and fashion. The US Embassy in China created the microblog account @US Embassy in China on May 21, 2010. As of May 9, 2014, its number of followers had reached 870,000, up 200,000 from the previous year.

The concept of new public diplomacy aims to maintain not only self-interests of actors, but also others' interests and common human interests. Inclusiveness is essential in the construction of the new order of world communication. International actors should be aware that maintaining all interests means maintaining their own interests, and actively promote inclusiveness to the world through their words and deeds. Only when positive energy overpowers negative forces at the root of conflict can inclusiveness be realized in the new order of world communication.

Zhong Xin is a professor from the School of Journalism and Communication at Renmin University of China.