Three steps for Chinese culture to 'go global'
XU JUN
|
2021-12-24
|
Hits:
(Chinese Social Sciences Today)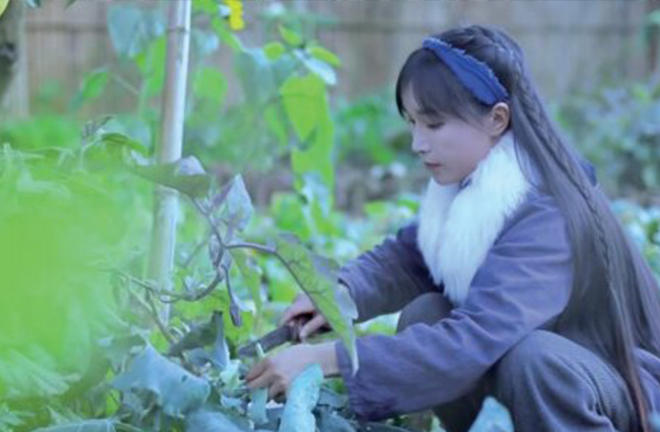 A screenshot of Chinese blogger Li Ziqi picking vegetables for a farm-to-table meal. It is reported that Li's YouTube subscriptions reached 14.1 million people on Jan. 25, breaking a world record as the vlogger with the most subscribers on YouTube's Chinese channel. Photo: CHINA DAILY
---
Translation, as a means of communication and cultural exchange, has played an important role in spreading culture ever since people speaking different languages first made contact with each other. Translation is a cross-cultural bilingual communicative activity, which not only represents the process of language transformation, but is also a form of cultural transmission. Since the 21st century, as China's comprehensive national strength rises, China's international clout is expanding, fundamentally changing the relationship between China and the West, and between ancient and modern times.
In particular, we are seeing that the past practice of learning from the West has gradually been replaced by a new trend: Chinese culture "going global." Another shift, involving both ancient and modern times, is the clear break from the "old world" to a new understanding and development of traditional Chinese culture and Chinese values.
The field of translation now faces two challenging questions: What kind of Chinese culture does China want to present to the world? As Chinese culture "goes global," what's the process?
Cultural heritage comes first
"Culture is a country and nation's soul." The inheritance and continuance of fine traditional Chinese culture depends on the recognition of its significance and the realization that it is the foundation and soul of the Chinese nation and the cultural ground for the construction of socialism with Chinese characteristics.
The 18th CPC National Congress proposed that we need to "promote the development of cultural programs and industries, and inspire the cultural creativity of our whole nation," as a major task. The 19th CPC National Congress further clarified that "we must promote the creative evolution and development of fine traditional Chinese culture." Going forward, we need to follow the "two creative" spirit to better handle the relationship between inheritance and development.
In view of this, Chinese academia has had heated discussions about constructing an inheritance and innovation system for excellent traditional Chinese culture and realizing the national strategy for Chinese culture to "go global."
Traditional Chinese culture is an important resource for the further development of Chinese culture and its inheritance, and an indispensable intellectual guarantee for the national rejuvenation. Chinese classics are important cultural achievements inherited from Chinese culture. They embody the core of 5,000 years of traditional Chinese culture and represent traditional Chinese cultural values.
Therefore, the first issue we need to attend to as Chinese culture "goes global" is the translation of Chinese classics. The overall ideological wisdom and thorough understanding of life reflected in Chinese cultural classics has a spiritual charm that transcends time and space. These novels are the root of the Chinese nation's cultural soft power, and have important significance in terms of enlightenment in the current global wave of consumerism and digitization.
That said, we should maintain cultural self-awareness and self-confidence, capture the core of Chinese culture, and upon in-depth and comprehensive research on Chinese thought, culture, and literature, make sure the most fundamental, excellent, and essential part of Chinese culture is introduced abroad, so that translation forms a system of mainstream culture in synergy with Chinese cultural values. After all, the deepest influence of national culture is mainly reflected in values, and the influence of its values reflects the overall impact of a culture.
The convergence of different trains of thought or cultural backgrounds is both an ancient and reality-based trend. In the context of globalization, regional histories have already shaped the grand arch of world history, and local traditions and experiences anchored in time and space are bound to become unique value coordinates in the global experience.
Against the backdrop of frequent communications and exchanges in the international arena, an emphasis on ideological values and integrity when translating Chinese classics not only constructs a discourse system which promotes Chinese culture overseas going forward, but also can effectively guide the direction of tradition in the face of globalization, while adhering to tradition, and creatively transforming traditions, thus setting an example for facilitating mutual learning between ancient and modern times and between Chinese and Western civilizations in the new era.
Respond to audience demand
Chinese culture "going global" is an umbrella term that covers a range of content. Judging only from the perspective of translation and communication, this includes both ancient Chinese classics, such as Chinese literature, philosophy, aesthetics, politics, and ethics, which are the distillation of thousands of years of China's spiritual wealth, and outstanding contemporary Chinese literary works. When Chinese culture "goes global," we must stick to the roots of our traditional culture while also continuously promoting our contemporary cultural products and achievements to the world.
In the process of Chinese culture going out, we need to ask what kind of culture we should show to the world. Translation is an introduction to Chinese culture, and needs to follow correct Chinese values. All cultures with Chinese characteristics, positive energy, that could enrich people's spiritual lives, enhance people's spiritual realms, and expand people's spiritual boundaries are excellent examples of Chinese culture that can be introduced to the world.
When it comes to the translation of Chinese classics, maybe the hundred schools of thought come to mind, such as Confucianism, Mohism, Taoism, Logicians, and Legalism. However, due to the limitations of history, culture, society, ideology, and many other factors, the publication and acceptance of Chinese classics abroad is not always smooth, and we need to continuously improve efforts.
At the same time, we are pleased to see that through translation the works of contemporary writers, such as Mo Yan and Bi Feiyu, have expanded their readership overseas, largely because they meet the needs of overseas readers. At present, science fiction and online literature have become the two leading forces in publication of contemporary Chinese popular literature overseas. Contemporary Chinese science fiction inherits traditional Chinese literature's genes, and with a uniquely Chinese narrative, it not only observes current Chinese society, but also reflects on the common challenges faced by people around the world, transforming literature into culture and thought, and serving as a source of global empathy.
In this light, we should keep abreast of the times, fully analyze the overseas market, and actively respond to the demands of overseas audiences, expand the channels of literary translation, engage in diverse and dynamic translation and acceptance interactions, so that Chinese culture can "go global."
Innovation stands for future
Cultural exchanges between China and the West can take many forms, either through official channels or in spontaneous exchanges and interactions among people. In reality, there are still some shortcomings in China's overseas communications, and the ways that culture "goes out" is relatively plain. There is an urgent need to tap into the potential of multiple forces and come up with more high-quality works that touch people's hearts, so that traditional culture can shine with new means of communication and gain global attention.
In recent years, rapidly developing We Media industries have also brought opportunities to cultural exchanges between China and the West, among which Chinese vlogger Li Ziqi went viral overseas with her short videos about cooking Chinese food, traditional Chinese handicrafts such as embroidery, and idyllic rural life in China. Li opens a window for the world to engage with Chinese culture, and she is praised for inspiring millions to return to their roots and live closer to the land.
The combination of interactive pictures, sounds, colors, images, and text can have a strong visual impact and multi-media effect on the target audience. It is apparent that innovative communication like this can enhance global acceptance more effectively than the text alone. The translation, introduction, and communication of Chinese culture should take advantage of visual culture's dynamic development, and utilize the diverse interactions and cross cultural interpretations of different symbols to provide multiple possible audiences from different regions and nations to understand Chinese culture and learn about China.
The Chinese culture is a mighty river moving forward. Different parts of Chinese culture have rich connotations and different perspectives, including the fertile soil accumulated over 5,000 years of civilization and the rapid changes brought about by modernization. It is difficult to tell such a profound and complex story well. We need to respect Chinese history, attach importance to classic books, and find exemplary stories from ancient books. We also need to respect the present, pay attention to global needs, and tell China's stories with the recipient's perspective in mind. We need to respect the rules of communication, update communication methods, and spread good Chinese stories in a new way which conforms to the rules of modern interpersonal communication.
In the era of globalization, it is normal to take the initiative to "go global" in terms of economic and trade activities. The same goes for intellectual and cultural exchanges. If we say that the goal of translation practices and the study of Chinese classics is to reinforce Chinese cultural values, then contemporary Chinese online literature's goal is to respond to the times. We should uphold the principle of inheritance and development, and spread China's stories through a three-pronged multi-dimensional interaction of "inheritance, response, and innovation," so as to present a panorama of Chinese culture to the world.
Xu Jun is a Distinguished Professor of Arts, Humanities and Social Sciences at Zhejiang University and executive vice president of the Translators Association of China.