WTO and Chinese anti-monopoly law
WANG XIAOYE
|
2022-03-03
|
Hits:
Chinese Social Sciences Today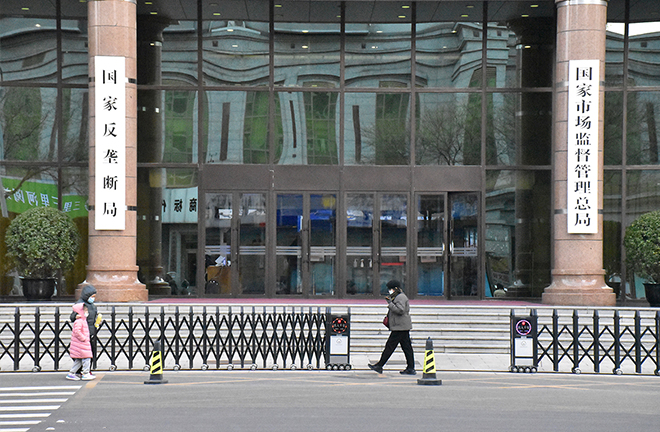 China's national anti-monopoly bureau is inaugurated on Nov. 18, 2021 in Beijing. Photo: CFP
---
On Dec. 11, 2001, China officially became a member of the World Trade Organization (WTO). Entry into the WTO was a major strategic decision made by China based on a forward-looking judgment of economic globalization, and significantly influenced the establishment and development of the legal system for China's socialist market economy.
In China's accession document to the WTO, Chinese representatives noted that China, at the time, was drafting its anti-monopoly law (AML). This was because terminology concerning anti-monopoly in related laws, such as the anti-unfair competition law, did not sufficiently address all trade monopoly and competition problems in a market economy. Chinese legislators were aware of this urgent issue and were conducting investigations and theoretical research on anti-monopoly lawmaking to introduce its first AML when the timing was right. This illustrates how the country's accession to the WTO fueled China's AML, which was promulgated in 2007 and implemented in August, 2008.
Epitome of WTO's competition policy
The WTO attaches great importance to the relationship between trade and competition, and highlights the influence exerted by competition policies on trade liberalization, reasonable allocation of resources, and the improvement of social welfare. Based on this, the WTO has helped enact AMLs in over 130 countries and regions, through technical assistance and cooperation with competition agencies, despite the lack of a globally unified agreement in competition policies. Back in 1995, only 35 countries had AMLs in place. China introduced its AML after joining the WTO. This move helped disrupt the regional lockdown and industrial monopolies that China faced for many years, and promoted the development of a unified, open, competitive, and orderly market system in China. It also helped strengthen the fundamental role played by market and competitive mechanisms in resource allocation, laying an institutional foundation for China's economic and social development.
Competition policies, as the basic economic policies of a market economy, are of great significance to China's economic development. The planned economy relies on centralized and planned resource allocation. On the contrary, a market economy allocates its resources through market and competition mechanisms. In other words, "survival of the fittest" is applied here to eliminate inefficient companies, unreasonable production processes, and inferior products, to promote the reasonable allocation of resources. A pricing mechanism is also used to balance demand and supply and meet people's needs. In addition, a competition-related incentive policy is in place to drive technological innovations, improve operation and management, reduce costs and prices, and achieve maximum output with minimum input.
However, a market economy provides no mechanisms to maintain fair and free competition. Hence, companies tend to limit competition to obtain a competitive edge or avoid competition pressure in market competition. For example, companies that produce the same product tend to form a cartel, limit each other's outputs and prices, or divide regional markets. Companies that enjoy certain market advantages might abuse their power and pursue predatory pricing strategies, reject transactions, or conduct tie-in sales or forced transactions. Governments should enforce the AML, a law which protects competition and prevents monopoly, to allow competition to organically adjust supply and demand and allocate resources.
Although the existing anti-monopoly lawmaking targets and patterns vary from country to country, people share one consensus: a company is likely to raise prices or reduce supplies as soon as they gain the monopoly or a dominant position in the market. This theory applies in both monopolies and oligopolies. Three pillars are usually established in AMLs among different countries: a ban on hard-core cartels, restriction of concentrated undertakings, and a ban on abuse of the market's dominant position. Apart from these pillars, China's AML also has another important pillar, the anti-administrative monopoly. When China's economy was going through an institutional transition, in the old system, a large share of limits to competition in economic life originated from administrative power. Therefore, banning the government and its sub-departments from abusing administrative power to eliminate or limit competition has become a fundamental part of China's AML.
China's AML has played a big role in advancing the country's competition policy and improving China's business environment. As of the end of 2021, the law enforcement agency had investigated and treated 741 monopoly cases of various kinds, amounting to penalties of over ¥30 billion. Nearly 4,000 cases of concentrated undertakings have been concluded, 50 of which resulted in restrictive conditions, and three of which were prohibited. Over 300 administrative monopoly cases were examined, and nearly 1,000 monopoly-related civil disputes and administrative proceedings were concluded by the People's Courts.
In 2015, the National Development and Reform Commission imposed a ¥6.088 billion fine on Qualcomm Incorporated, which broke the record for China's anti-monopoly administrative penalty for the year. The Commission also raised a globally influential view on the permission of the standard-essential patent: "Qualcomm charged unfairly high royalties... and unreasonably used the net sale price of the whole mobile devices which incorporated its technology as the base for its royalty fees."
In 2021, the State Administration for Market Regulation fined Alibaba ¥18.2 billion for its "pick one from two" practice in the e-commerce market. The practice was seen as a violation of merchants' and consumers' rights and interests, and hindered the innovation and development of platform economy. Therefore, the Alibaba Group's behavior constituted an abuse of its market dominant position.
These major AML cases attracted wide global attention and displayed China's high level expertise in AML enforcement. This is also true in the field of business concentrations. A great number of large multinationals now operate in China, and their mergers and acquisitions all need to be declared to China's AML enforcement agency, in addition to their counterparts in the US and the EU. China's AML has become one of the most influential AMLs in the world, akin to the Antitrust Laws in the US or the EU competition Law.
The above-mentioned cases imply that the AML has a direct and significant influence on companies that operate in the Chinese market. These companies are not entitled to shut out or limit competition, or to form a price-, quantity-, or region-based cartel, despite their freedom to draft contracts and operational autonomy. In addition, they are not allowed to eliminate competitors through merger and acquisition, either. Even companies such as well-known state-owned companies that enjoy market dominance thanks to government authorization or IPR, are not allowed to abuse their dominance. This demonstrates that the AML has put extra competition pressure on the market and pushed companies to adapt by constantly improving themselves. Hence, the AML has not only optimized resource allocation, but also served as an important legal tool for companies to sharpen their competitive edge.
China's AML legislature and law enforcement agencies have also improved. For example, the State Council and its anti-monopoly commission released the Provisions of the State Council on Thresholds for Prior Notification of Concentrations of Undertakings, the Guide of the Anti-Monopoly Committee of the State Council for the Definition of the Relevant Market, the Guide of the Anti-Monopoly Committee of the State Council to the Commitments Made by Undertakers in Monopoly Cases, the Guide of the Anti-Monopoly Committee of the State Council for Countering Monopolization in the Field of Intellectual Property Rights, and Anti-Monopoly Guidelines of the Anti-Monopoly Commission of the State Council on Platform Economy, as well as the judicial interpretation of relevant civil disputes as issued by the Supreme People's Court.
In the early days when the AML was first enforced, administrative enforcement powers were split among three agencies, namely the National Development and Reform Commission, the Ministry of Commerce, and the State Administration for Industry and Commerce. In 2018, the reform of state institutions led to a unification of anti-monopoly enforcement powers by the State Administration for Market Administration.
In November 2021, the Anti-Monopoly Bureau under the State Administration for Market Administration was promoted into the State Anti-Monopoly Bureau, a sub-ministerial level government agency. By raising the administrative level, the anti-monopoly enforcement agency now has a higher status among government agencies, enjoys more resources for law enforcement, and strengthens the authority and deterrent effect of the AML.
The most important milestone for China's AML is its ongoing amendment. The draft amendment passed the first review at the 31st Session of the Standing Committee of the 13th National People's Congress. This amendment focuses on clarifying the fundamental importance of competition policies, the legal status of fair competition review, reinforcing anti-monopoly enforcement in the digital economy, and stepping up the punishment for relevant violations. It offers a clearer legal basis and stronger institutional guarantee for intensified anti-monopoly efforts and cracks down on the disorderly expansion of capital.
AML and China's opening up
Since its entry into the WTO, China has delivered its commitments in full, opened its market wider, and injected new momentum into its own development and the world economy. The AML, introduced after joining the WTO, represents China's competition policies, reflects the essence and inherent requirements of a socialist market economy, and proves that China has shifted to a market economy from a planned economy. This helps improve China's standing among market economies across the world, contributes to its further opening up, its benefits, and the economic globalization of other countries.
China has joined the Regional Comprehensive Economic Partnership, which took effect in January, 2022. The country is now working to join the Comprehensive and Progressive Agreement for Trans-Pacific Partnership and the Digital Economy Partnership Agreement. These show that openness is the distinctive feature of contemporary China. Competition mechanisms are vital in promoting fair competition and enhancing consumer welfare in free trade zones. Although one cannot say that competition policy makes up the entirety of a free trade zone agreement, a free trade zone would certainly be incomplete without it. Competition policy is therefore a key element for the vast majority of free trade area agreements in the world, and parties are obliged to uphold fair and free competition and oppose restrictions upon competition.
Wang Xiaoye is a research fellow from the Institute of Law at the Chinese Academy of Social Sciences.
Edited by WENG RONG