Enhancing IPR protection in livestreaming commerce
LIU LEI
|
2022-01-13
|
Hits:
(Chinese Social Sciences Today)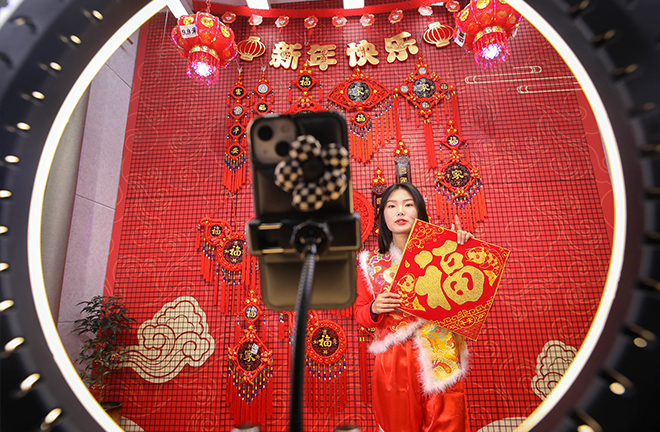 A livestream anchor sells a Spring Festival decoration on a livestreaming platform. Photo: CFP
---
Livestreaming commerce has grown rapidly in the last few years, and is continuing to rise as an extremely popular type of promotional marketing. While it provides more efficient and convenient channels for promotion, and forges tighter and wider connections with consumers, it also makes it possible for criminals to infringe upon Intellectual Property Rights (IPR).
To begin with, sales of fake and shoddy goods represented the initial threat to IPR. As all parties concerned contribute to facilitating transactions, the sales chain and service chain have both been extended, with more segments getting involved; in consequence, a compound composed of false advertising, sales of counterfeit products, difficulties in enjoying after-sales service, and in protecting consumer rights has formed. Livestreaming commerce, as an emerging online sales model, plays a remarkable role in increasing orders, meeting consumers' various demands, and this is the very reason why IPR should be strictly and effectively protected—for its development in the long run.
IPR governance for online shopping
The wide variety and high sales volume of products available online make it difficult to detect fabricated, IPR-infringing products. According to the 47th Statistical Reports on Internet Development in China, issued by the China Internet Network Information Center, the user size of livestreaming in China reached 617 million by December of 2020, an increase of 57.03 million compared to March 2020. In addition, there are 388 million livestreaming commerce users, and users who purchased products in livestreaming commerce accounted for 66.2% of all livestreaming commerce users. Such a huge number of users means that the rising online shopping model is effective in attracting consumers efficiently, but, at the same time, it poses new IPR infringement risks.
For example, many places have reported cases such as producing and selling counterfeit mobile phone screens: having purchased cheap phones, lawbreakers would disassemble them and detect the status of their screens, before they refit and refurbish the screens, and paste the trademark of a big brand onto the finished product. Infringement exists not only in the process of online selling, but also throughout the entire product chain.
Statistics and news reports show that the sales of products infringing IPR in livestreaming commerce are on the rise. Criminal acts include selling products with counterfeit trademarks, counterfeiting trademarks themselves, copyright infringement, and selling the infringing duplicates. What is more, a complete industrial chain with specialized division of labor has already taken shape in the manufacturing and sales of trademark counterfeit goods, which covers manufacturing, assembling, sales, and supply. All these elements have made it more difficult to protect IPR in livestreaming.
Distinguishing types of infringement
IPR infringement in livestreaming commerce can be divided into two types. The first type is the infringement act performed by livestream anchors in order to attract and interact with more consumers. For instance, many anchors will sing other people's songs to capture the audience in a livestream room. Some may also play background music to create a certain atmosphere. However, singing or playing a song without authorization constitutes a copyright violation. In addition, unauthorized use of other people's photography works, or art works, in the livestream room's decoration or publicity materials may also violate copyright laws. Meanwhile, playing clips from films, TV series, concerts, athletic competitions, or games, to compliment products in a livestream room, when done without the prior consent or the copyright holder's authorization, can also violate copyright of the original videos.
The other type of IPR infringement concerns the product or service that is being recommended or sold in livestream rooms. Apart from anchors that sell fake products, some franchisers with the authorization to sell authentic products, may also water down real products with fake ones in order to profit more. In this case, it is necessary to differentiate between different parties concerned when holding them accountable for their liability for tort.
Essentially, livestreaming commerce is an act of marketing, and a link in selling a product or service. Yet, throughout the process of IPR violation, livestreaming commerce also links the front end and back end of consumption, as it facilitates the trade. If an anchor sells fake goods by themselves or while working with counterfeiting vendors, they should be held directly liable for the infringement. Whereas in the second type of case, in which franchisers mix fake products with real products, the violative act does make use of the livestream channel as well as consumers' preference for conformity, bargains, and low prices. Nevertheless, uncovering the intentions of anchors and livestream platforms is crucial in accountability inquiries. To be specific, it is necessary to find out whether or not platforms and anchors' behaviors count as selling counterfeit products and willful infringement, and whether or not suppliers' behaviors count as deceit and willful infringement. There needs to be proof of these accusations before different parties' responsibilities can be distinguished.
Multi-party system design
The major subjects in the management system which targets IPR infringement in livestreaming commerce mainly include: livestream anchors and platforms, suppliers, consumers, and regulators. The construction of regulation measures and an industrial management system should be based on the above-mentioned basic facts, taking into account the areas and links that play different roles.
To start with, we need to reinforce anti-risk abilities in terms of protection of IPR which target livestream anchors and platforms. To prevent risks concerning IPR targeting the livestreaming anchors and platforms, it is necessary to establish four clear aspects of work.
First, the livestreaming anchors and platforms themselves must be fully equipped with basic knowledge of IPR; this must be a fundamental requirement. Both the promotions, interactions, and products' introductions which take place during livestreaming commerce and the various elements used in livestreaming rooms need to be reviewed for IPR beforehand, to eliminate the hidden risks of IPR infringement.
Second, we must examine the conditions of IPR for the products and services promoted and sold in livestreaming commerce, and demonstrate the IPR certificates. While in the process of choosing products, the livestream anchors and platforms need to clearly understand the conditions of IPR for the products and services they intend to market via livestreaming commerce. Thus, they can eliminate obviously infringing products by examining the IPR certificates. While livestreaming, they can show the IPR certificates for particular products, enabling consumers to be clearly informed, and making enquiries easier.
Third, it is necessary to encourage IPR holders to supervise the conditions of their IPR. The livestreaming anchors and platforms should proactively build effective connections with IPR holders and establish special supervision channels, building effective channels to accept supervision concerning IPR with IPR holders directly. When receiving the complaints and notifications from the IPR holders, the livestreaming anchors and platforms should provide feedback and take relevant measures in a timely manner.
Fourth, livestreaming platforms should take the initiative to strengthen their professionalism, technical support, actively adopt the newest technological outcomes in the relevant technological fields, and increase technological R&D. This will reinforce IPR protection for livestreaming commerce through technological methods including source tracking, real-time supervision, and online recognition.
It is also important to pin down suppliers and copyright holders' IPR liability. The supplier, if not the direct copyright holder of the involved products' IPR, needs to obtain effective authorization before selling the products. Therefore, it is the suppliers' basic responsibility to ensure that the goods they produce have the right IPR. This means the supplier should not only avoid selling products that infringe upon IPR, but also look into others' violations and hold them liable for any infringement so as to protect copyrights. Based on this, the suppliers' IPR liability determines that it should ensure that products being sold in livestream rooms do not violate IPR, otherwise the seller needs to be held accountable for selling IPR-infringing goods.
Copyright holders should pay more attention to livestreaming commerce, and supervise any act of selling goods that concerns their IPR products. They should also safeguard their rights by stopping violations through filing complaints, providing leads and reporting to authorities.
Next, it is necessary to educate and provide guidance to consumers regarding IPR protection. Apart from the low price of products, livestreaming commerce appeals to consumers also because of the trust they have for the anchors. However, when IPR violation is involved, neither the bargain nor the anchors' personal influence will be able to cover up infringement. Since it is usually hard for the average consumer to identify fake products, it is necessary to roll out consumer guides based on typical cases and counterfeit product scenarios in livestreaming commerce. This will help them better differentiate fake from real, shop more sensibly, and inform authorities of products that may have violated IPR.
Finally, China should also establish IPR regulations in livestreaming commerce, and make supervision in this arena more efficient. Existing regulations for livestreaming commerce do not cover much IPR protection. Meanwhile, livestreaming, as it is live and temporary, leads to a scenario where it is difficult to obtain evidence. Also, punishment for IPR infringement is not clear-cut enough. This influences the effectiveness and timeliness of supervision. Therefore, we need to establish rules, regulate procedures for obtaining evidence, and establish punitive mechanisms based on the uniqueness of IPR protection in livestreaming commerce. Reporting is an important way to spot IPR infringement on livestreaming platforms. To better engage the public in IPR protection, it is advisable to increase incentives for whistle-blowers.
Liu Lei is an assistant research fellow at Beijing Academy of Social Sciences.
Edited by WENG RONG