Multi-tiered governance is best approach to consumer protection
By YAO JIA
|
2016-11-21
|
Hits:
(Chinese Social Sciences Today)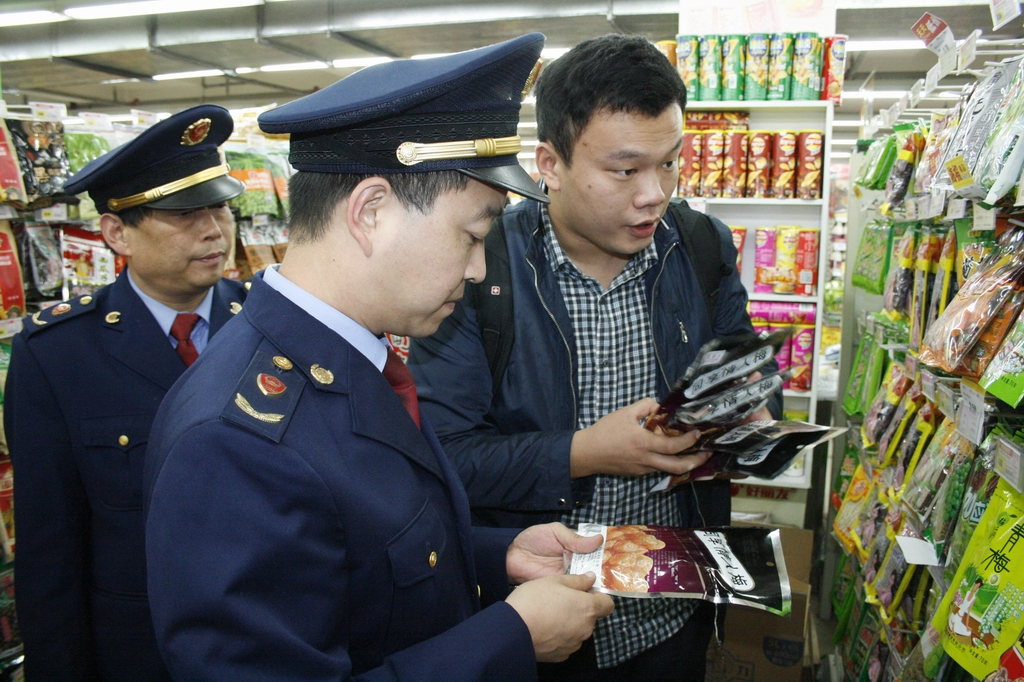 Staff from the Industrial and Commercial Administration Bureau of Mengjin, Henan Province, conduct commodity quality supervision and inspection in a super market.
---
Consumer protection is closely tied to people's livelihoods, making it a crucial social and legal issue in China. It is becoming increasingly relevant in the context of emerging online shopping promotions, such as the recent Singles Day sale, China's version of "Cyber Monday."
China has been dedicated to improving consumer protection and perfecting regulations since the establishment of the market economy with socialist characteristics. Years of management experience have revealed the need for institutional innovation to meet the challenges ahead and achieve full protection of consumer rights. In recent years, consumer protection law has responded by putting forward multiple levels of government to replace the traditional unitary system.


Legal progress
Polycentric governance is based on years of practice and experience. It is rooted in concepts of legal management. China's Law on Protection of the Rights and Interests of Consumers touched upon collectivist governance in 1993 and reemphasized it in the 2013 version.

The State Administration for Industry and Commerce drafted and released regulations on implementing consumer protection law in August. The draft explains social polycentric governance from various dimensions, such as subjects, behaviors and responsibilities. It aims to achieve a situation in which "government, businessmen and society are all involved in defending the legitimate rights and interests of consumers."

According to previous legal guidelines, consumer organizations acted as a single form of social force when protecting consumer rights and interests. But the latest regulations suggest a collective governance pattern involving executive and social protection.

It is easy to generally understand the pattern that government organs at all levels, consumer and sector organizations as well as mass media make cooperative efforts in a bid to realize the goal of consumer protection. It should be noted that the governance pattern was mentioned in legal texts as early as 1993, but it was poorly implemented for a long time.

The new rules are more than principles, and they require effective implementation. Consumer protection is a systemic social project involving competing interests among markets, governments, consumers and society. Any problem in the system may provent it from achieving the goal. Effective implementation of each part in the governance scheme ensures consumer protection.


Legal foundation
The governance scheme is a political strategy, but it is necessary to codify it in law. The development and implementation of China's law on consumer protection is a testament to the declining influence of public regulation as well as the difficulties enforcing consumer rights and lack of supervision on business dealers who tend to avoid oversight. It is necessary to emphasize polycentric governance because the role of other social subjects, such as supervision, has not been activated.

The malfunction of regulatory laws is the primary cause. China's law on consumer protection took form in a different context from that of Western countries. At the early stage, Chinese consumers lacked sufficient awareness of their rights, and so rights were not well defended. The laws and regulations on consumer protection took effect mainly through executive management. Legal enforcement has taken a backseat to public regulation, which has proven unsatisfactory over the past three decades.

There is no evidence of management improvements in the market-oriented sectors over the past years because the expansion and categorization of unitary governance failed to produce a better situation. At the same time, the confluence of events concerning consumer rights infringement led to public to be suspicious of authoritative power. Public involvement falls short when it comes to legislation, execution and social supervision.

In addition to the lack of sufficient consumer organizations, there is a paucity of social groups to act as intermediaries between authority and consumers. The sluggish management model suggests the need for involving other subjects and mechanisms.

The other cause is the failure of consumer rights protection and the overly general obligations of businessmen. Therefore, the fundamental problem of China's consumer protection is more an issue of legal enforcement than optimization. In terms of civil legal framework, the laws on protection of consumer rights and interests were released in 1993, which was prior to the drafting of a series of significant civil regulations, such as the contract law. It belongs to the field of civil law but acts as regulatory law in practice. Nine major consumer rights were put forward in the 1993 version and highlighted in the 2013 one, but these rights have been poorly defended in legal practice.

Another major subject in consumer law, regulations on business-people have a number of deficiencies. Many of them lack credibility and a sense of promise in the profit-oriented market, which leads to infringement of consumer rights. Also, their broad business scope makes it hard to define business behaviors in the process of legal enforcement because the current law only lists some basic principles. For example, it is relatively hard to define fraudulent behaviors due to difficulties establishing evidence criteria.

Also, other social groups have not effectively engaged in the process. Social polycentric governance is not about involving as many subjects as possible. Instead, it strives to motivate the function of legal subjects and makes them play their due part so that the governance pattern can be practicable.

The practice of consumer protection involves a number of different subjects, including consumers, business-people, governments, consumer groups, sector organizations as well as mass media. Among them, consumer groups, sector organizations and mass media have long played a marginal role in the issue, reflecting on the necessity for multilevel governance.


Feasible methods
Multilevel governance requires all society to tackle the problem collectively, but buck passing and an unclear division of responsibility may cause it to fail in the process of implementation. In addition to being declarative in nature, the governance pattern puts an emphasis on enforcement in the legal mechanism concerning consumer rights protection.
Responsibilities of merchants should be categorized and performed. Consumers and merchants are the core and fundamental subjects of polycentric governance. Compared to creating new mechanisms or models, it costs less and achieves better results to promote categorization and implementation of the current laws and regulations.

The draft regulations list and clarify business responsibilities of the traditional and emerging industries. However, the priority in protecting consumer rights and interests is to fully perform the responsibilities established in legislation.

Also, government management should take effect. When it comes to legal enforcement, governments are not as important as merchants, but their supervision is doubtlessly crucial to safeguarding consumer rights and interests. All laws and regulations have repeatedly emphasized upgrading national executive protection for consumers, which can be realized through method research and establishment, standardization of goods and service sectors, regulation of market order as well as lectures to consumers.

At the same time, social forces should effectively engage in governance. As the central type of social force, the consumer protection associations have played a major role in protecting consumer rights over the past years, but their performance is not as satisfactory as expected. Relevant laws and regulations all highlight welfare responsibility of consumer organizations especially when it comes to non-profit lawsuits. The Supreme People's Court has also released legal interpretations of civil non-profit lawsuits concerning consumptive activities, acting as a safeguard for consumer protection.

Sector organizations and chambers of commerce should also engage in regulating business operations so that consumer rights can be ensured. These days, mass media has become an important avenue for protecting consumer rights. In the context of multilevel governance, mass media should be functional in educating consumers and supervision by public opinion.


Yao Jia is from the Institute of Law at the Chinese Academy of Social Sciences.