Ways to improve Chinese teenagers' internet literacy
ZUO CAN
|
2023-03-30
|
Hits:
Chinese Social Sciences Today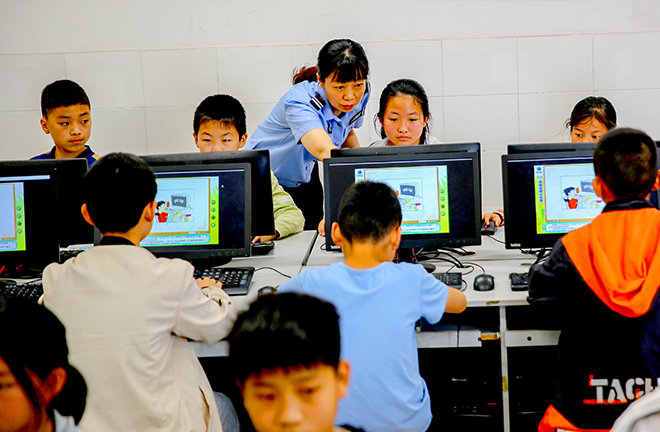 Police officers teach students how to surf the web safely, away from harmful or illegal online material at an elementary school in Nantong City, Jiangsu Province, on June 8, 2022. Photo: CFP
---
In the digital age, internet literacy has been the focus of discussion among academics at home and abroad. Since 2020, online classes have become a common experience shared by most primary and secondary school students. During this time, teenagers significantly increased their use of the internet, exposing several problems such as internet addiction, cyberbullying, and internet anomie, which urgently calls for efforts to increase internet literacy.
From skills to culture
The concept of internet literacy extends from media literacy, but no unified definition exists in academia. Charles R. McClure, an American scholar, proposed the concept of network literacy early in the history of the internet. In the 1990s, as the information society's impact became clear, he pointed out that libraries and other public institutions should play an important role in improving network literacy, which refers to the ability to identify, access, and use electronic information in the network. 
On this basis, a growing number of scholars argue that internet literacy should not only refer to the ability to surf the web, but also a sensitivity to the culture and society related to the internet, critical thinking, and a certain judgment of the media environment. When discussing teenagers' internet literacy, some scholars believe that the internet provides children with diversified media content, which not only caters to their information acquisition needs, but also encompasses self-expression, entertainment, interpersonal communication, and so on. To say the least, it is an important way for children to understand society, so internet literacy requires cultural and critical dimensions.
In reality, internet literacy education revolves around two aspects. First, internet literacy includes simple techniques for surfing the web, such as how to use software systems and how to search for information online. On some level, system-use knowledge is translated into having internet literacy. In its second definition, internet literacy is understood from the perspective of problem-solving, as literacy is regarded as a means to prevent various network related problems. For example, only in the face of internet privacy, internet addiction, cyberbullying, and other issues, will the necessity of internet literacy be highlighted.
Certainly, we need to improve basic computer skills, increase network security, and avoid internet addiction, which are part of the subtle connotations of internet literacy. However, in the digital era, internet literacy can be a more positive and open concept. Teenagers today are known as "digital natives" who were born in the digital age and grow up in an online environment. More than one third of primary school students began to use the internet in preschool, and this trend is accelerating year by year, according to the 2020 Report on the Internet Use of Chinese Minors. As the survey revealed, teenagers are often exposed to new online worlds at an early age, by playing games, opening social media accounts, writing online novels, offering opinions in online forums, and other activities. The internet has had a profound impact on teenagers' cognition of themselves and society, and on the formation of their worldview. In turn, they are also deeply involved in the development of internet culture.
In this context, the concept of internet literacy for teenagers should have more cultural and social attributes. It is not, thus, from the perspective of victims and cautious users, but from the perspective of active participants that educators, parents, and policymakers must understand the influence of internet literacy on the construction of teenagers' value systems, to guide them as they direct their own self-growth and acquire value judgment in internet use. For teenagers and the public alike, it is crucial to notice that internet literacy is not just about how to safely use the internet, but how to aid the growth and development of children in the digital age, and to actively harvest information and value online.
From content to form
In recent years, the necessity of internet literacy education is widely agreed upon, but in practice, relevant education is still inadequate. According to data from the "Internet Use Survey of Chinese Minors" conducted by the Institute of Journalism and Communication of the Chinese Academy of Social Sciences, overall, less than one fifth of Chinese minors have taken, or are taking, internet literacy courses, whereas the majority do not even know what internet literacy courses are. Many schools do not include teenagers' internet literacy in their curriculum and lack proper teachers to carry out systematic curriculum design. Even with a clear understanding of internet literacy, many schools are not certain of what an internet literacy course should include, whether it is an independent course, or placed within ideological and political courses, basic computer courses, or only in class meetings for general knowledge. Internet literacy education in China is still in its infancy.
Refining the pedagogy for internet literacy should start from an overhaul of related literature. The quality of existing literature on internet literacy is far from satisfactory, and textbook compilation requires professional knowledge and the usage of language suitable for underage readers. 
On the one hand, we cannot group all minors together. Minors in different age groups encounter different problems, so we must provide customized forms of learning. For example, primary school students use the web mostly for entertainment, so they would probably prefer cartoon videos; Middle school students engage in a wider range of online activities and are more willing to be treated as adults and accept logical explanations. Clearly, unified reading materials are not suitable for minors of different ages. 
In addition, we should take note of urban-rural and regional differences. The network resources of "left-behind children," or children in rural setting with parents who work in urban settings, are quite different from those of children in big cities. There are thus significant differences in information and data literacy, communication and cooperation literacy, creation of digital content, digital security literacy, and so on. Unified education in internet literacy may bring new inequalities, which should be avoided in government implementation of education. 
Furthermore, a notable characteristic of the information age is that it changes rapidly. New online phenomena and applications are emerging endlessly, and many new problems cannot be solved using outdated experience. Therefore, internet literacy education must keep track of new trends to effectively respond to the needs of minors.
Producing and reading picture books on internet literacy is not the only way. In this digital age, multimedia forms of internet literacy education are essential. Open courses on internet literacy in video format could be a good choice. In 2022, the "Open Course on Internet Literacy for Teenagers" introduced the rules of safely surfing the internet via cartoon videos. Each video clip lasted only a few minutes and responded to specific topics such as "careful use of internet slang" or "don't blindly follow online influencers." At the same time, taking into account how teenagers currently access the web, new forms of internet literacy courses could be developed, such as videos, games, and broadcasting.
From family to society
Neither the popularization of the concept of internet literacy nor the promotion of internet literacy education should be an isolated process. Rather, it must be a systematic project, which needs policy support, social recognition, and cooperation at home with family education.
In existing work on the internet literacy of minors, there are already preliminary measures and support at the government and social level. In July 2020, in order to create a healthy online environment for minors, the State Cyberspace Administration began carrying out several special campaigns to clean up the internet environment and build a safer cyberspace. Tough actions were taken against predatory online social interactions and undesirable phenomena involving minors, including cyberbullying and cyber violence, as well as strengthening legislation against violations such as racketeering. Online games, vulgar fiction, entertainment livestreams, and other online activities irrelevant to studies provided by educational websites were also dealt with. 
In September 2021, the General Office of the CPC Central Committee and the General Office of the State Council issued the Opinions on Strengthening the Construction of Network Civilization, which outlined the importance of online behavior norms and the legitimate rights and interests of teenagers in cyberspace, and stressed that constantly improving young netizens' internet literacy is essential. In 2022, the Cyberspace Administration of China issued the Draft Regulations on the Online Protection of Minors to further improve the online protection of minors. Although still scarce, some schools have also rolled out preliminary online literacy education courses.
Family education has a great impact on minors' internet literacy, but how parents guide their children in practice is still a thorny issue. As some existing research found, American parents supervise their children's internet use by putting in place rules for the time and length of internet activity, as well as the content of web pages, etc. More importantly, parents often discuss the online world with their children, and teach them to identify true or false information and to protect their privacy in this process. However, this requires the parents to have a certain level of internet literacy. In fact, many teenagers' addiction to online games and short videos in China is precisely due to their parents' behavior. Under the pressure of a busy work and life schedule, many parents do not have enough time to educate their children, so it is not easy to truly implement family internet literacy education.
Social support for family education is essential. Many cities have begun to promote family education guidance centers, which teach parents how to communicate with their children. In the construction of a social psychological service system, many schools have also launched a "parent service" to facilitate parent-children communication. It is not uncommon for parents and children to have disputes over internet access in these services, and internet literacy is frequently discussed. Such public services can not only help the development of family internet literacy education, but also effectively extend the internet literacy system in a larger social context.
Teenagers who grow up as digital natives need to build their own value system and cultural system in order to participate in social development. More open and constructive internet literacy should thus be incorporated into the personal development of minors to help them understand today's culture and society, so that they grow to be the future drivers of Chinese modernization.
Zuo Can is from the Institute of Journalism and Communication at the Chinese Academy of Social Sciences.
Edited by YANG XUE