Spreading Chinese culture with overseas Chinese education
XU XUEHUA
|
2022-12-16
|
Hits:
Chinese Social Sciences Today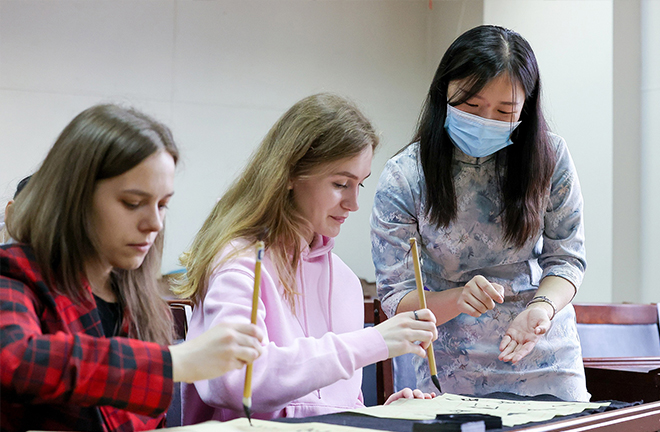 A Chinese teacher is teaching two students calligraphy at the Vladivostok branch of Confucius Institute at Far Eastern Federal University (FEFU) on 20 April, 2022, UN Chinese Language Day. Photo: CFP
---
Contemporary Chinese culture is the inheritance and sublimation of the height of traditional Chinese culture. While advancing and enriching traditional Chinese culture, we also need to spread contemporary Chinese stories, thoughts, connotations, and vitality to the world. The diffusion of Chinese culture overseas includes translation of Chinese classics, the operation of Confucius Institutes, and diplomatic exchanges. Cultural exchange and study reliant on face-to-face communication is slowing down due to the Covid-19 pandemic. The study of Chinese language, however, has become an important bridge for traditional and contemporary Chinese culture to "go abroad."  
Foster cultural understanding
Languages serve as mediums of communication and tools for the transmission of culture. Chinese education and cultural diffusion are mutually reinforcing and beneficial. Since the study of Chinese language was renamed "Chinese international education," it has reoriented towards the international promotion of the language and to the international diffusion of Chinese culture. As the number of overseas Chinese teachers increase year by year, exchanges on Chinese education between teachers at home and abroad are also booming. This has led to the synchronized application of curricula and pedagogy. Chinese study not only teaches language but also fosters cultural understanding. 
First, overseas training programs are application oriented. Language practice and cultural understanding have become the main teaching goals of education in Chinese, where emphasis has transitioned from inculcating vocabularies and grammar to language application and fostering international perspectives. Curriculum development has begun to emphasize spoken Chinese and an understanding Chinese culture, while the proportion of conversation classes and cultural classes has increased. Key teaching points have become conversing with Chinese people and cultivating an adequate knowledge of Chinese culture. 
Second, some Hanyu Shuiping Kaoshi (HSK, the Chinese Proficiency Test) courses have been included in the overseas Chinese language education system as a way of making Chinese culture better known internationally. In recent years, as the HSK has become more widely recognized globally, studying Chinese has gone beyond a personal interest and is more of a professional skill that have a positive impact on one's career. Most Chinese education institutions have set up courses to assess students' proficiency in Chinese. As an internationally standardized Chinese proficiency test, the HSK tests a student's knowledge of many traditional festivals, social customs and habits, scenic spots and historic sites, and specialties or local products. As the number of candidates taking the exam increases, Chinese culture has also expanded its outreach. 
Third, cultural course offerings have been improved to balance traditional and contemporary culture, theory and practice. Cross-cultural understanding is a prerequisite for fostering international perspectives, which is why many universities and Confucius Institutes offer Chinese history and culture courses based on their own conditions. Apart from conventional courses, some schools even offer dialectic courses to teach Cantonese, Shanghainese, and more. Courses related to current events and selected readings of contemporary Chinese works have also been launched to reflect the lives of contemporary Chinese people, further facilitating the diffusion of Chinese culture. 
Landscape of modern China
Since the 18th National Congress of the CPC, the country has made historic achievements in cultural construction. Understanding contemporary China is a key part of enhancing China's communication ability and making itself better heard by the world. Due to Covid-19 restrictions, both the teaching methods and content of overseas Chinese education have changed. In terms of content, a principal change has been an increase in Chinese cultural elements. 
First, the variety of teaching methods fuels the range of cultural diffusion. As online education becomes more prevalent, traditional onsite classes have given way to a variety of learning forms, including onsite, online, and hybrid courses. Teachers in different countries apply the most suitable methods according to different curricula. Online cultural courses easily overcome geographic constraints and allow many people to attend courses at the same time, further expanding the audience for Chinese culture. Onsite cultural experience courses are vivid, interesting, and give students a better sense of participation, therefore stimulating learners' interest in their target language and country.  
Second, application-oriented education offers more down-to-earth content. Applied language is predicated on communication, and the precondition of language exchange is cultural understanding. To improve the effectiveness of overseas Chinese education, it is necessary to help students learn authentic Chinese and culture. Short videos, Weibo (Chinese twitter) posts, and questions and answers on Zhihu (Chinese Quora) are all vivid teaching resources that can help students learn about Chinese life and culture. 
Third, online interactions with native Chinese speakers can help students who cannot attend classroom courses. Communication between Chinese learners and Chinese young people produces a vibrant collision of perspectives and is an excellent way to expose the world to Chinese culture. Since the outbreak of the pandemic, apart from communicating face-to-face with assigned Chinese teachers and overseas Chinese students, some universities and Confucius Institutes outside China have also set up online courses with their sister universities in China since short-term exchange programs have not been possible. This helped ensure the continuation of smooth cultural exchange throughout the pandemic. 
Fourth, China's social media platforms are favored by Chinese learners, which makes them an ideal channel to make China's voice heard. Web culture is an important part of China's culture. It is a reflection of China's social life, and the popularity of short video platforms indicate that China's cultural carriers and communication methods have entered a new phase. Today, more and more Chinese learners outside China have begun to communicate with Chinese young people over social media, which allows students to improve their language proficiency while eliminating barriers for communication. 
Cultural events
Cultural events are an important part of cultural education. They are valuable an extension of Chinese language classes. Many kinds of cultural events for overseas Chinese learners exist, including cultural seminars, performances, language contests, and cultural experiences. Such events are held to help Chinese learners see the charm of Chinese culture in a subtle manner. While the pandemic is still rampant, Chinese cultural events outside China are still quite diverse, mainly displaying the following characteristics. 
First, cultural lectures highlight mutual respect and mutual learning, and help to convey China's voice in interactions and exchanges.  The lectures are oriented towards audience demand, while incorporating content such as comparative cultural norms and contemporary Chinese film reviews by international audiences. They not only tell China's stories, but also listen to other countries' stories.
Second, these cultural events are rooted in traditional culture while adding contemporary Chinese elements. They demonstrate to overseas audiences both traditional Chinese culture and contemporary Chinese images, including designs, drawing, films, and literature. They help break the stereotype that China possesses only has Peking opera, martial arts, and calligraphy, and instead display a more diverse and colorful picture of Chinese culture. 
Third, cultural event organizers also try to meet young learners' demands by making the events fun and practical. For example, in addition to offering conventional cultural activities such as calligraphy, operas, and martial arts, the Confucius Institute also holds cultural experience events like Chinese paintings, dough modeling, tea art, and woodblock painting. These fun and engaging events have gained popularity among kids. 
Adjusting communication strategy
As Chinese culture gradually wins global recognition and approval, the country has become more confident, and more opportunities exist for Chinese culture to go global. In the meantime, we also need to understand the challenges lying ahead.
First, it is necessary to adjust measures to local conditions, while catering to the needs of students, to deliver the right content to the right audience in a targeted way. Chinese President Xi emphasized that it is important to conduct a variety of person-to-person events and promote cultural exchange in different ways. European and American perceptions of China are different than those of Asian countries. While spreading Chinese culture, it is necessary to post different cultural content to foreign audiences in different countries. A precise and tiered communication strategy can help us deliver our content on a larger scale and in a more effective way. 
Second, it is essential to open more channels for cultural communication among kids. We need to develop more suitable textbooks and courses for them studying Chinese. Currently, Chinese is included in many countries' national educational systems, with children making up the majority of overseas Chinese language learners. We treasure this tendency, and should take it as a great opportunity to introduce Chinese culture in basic education in an international setting, by training more Chinese teachers for young learners. We should also develop localized elementary Chinese textbooks, and develop complementary cultural learning platforms, to expand the channels for promoting Chinese culture among kids abroad. 
Third, we need to enrich the content of cultural events by including content with local and ethnic minority features in addition to traditional culture. Chinese culture is extensive and profound, encompassing ethnic minority cultural artifacts such as Tibetan opera and Mongolian long song, both of which are included in the UNESCO Intangible Cultural Heritage Lists. We need to introduce this content to foreign audiences and make documentaries and literary works reflecting local features and local lives better known to the world. This will help the world know the real modern China while reducing misunderstandings and bias.
In conclusion, Chinese culture stepping out into the world need to keep pace of the times. We need to continuously adjust communication strategies, and demonstrate to the world the true essence of Chinese culture in a positive manner. We should make efforts to help Chinese civilization better known and Chinese people's voices better heard.
Xu Xuehua is from the School of Foreign Languages and Literature at Nanjing Tech University.
Edited by WENG RONG