Social, cultural perspectives offer insight into life in modern China
By Li Changli
|
2016-07-25
|
Hits:
(Chinese Social Sciences Today)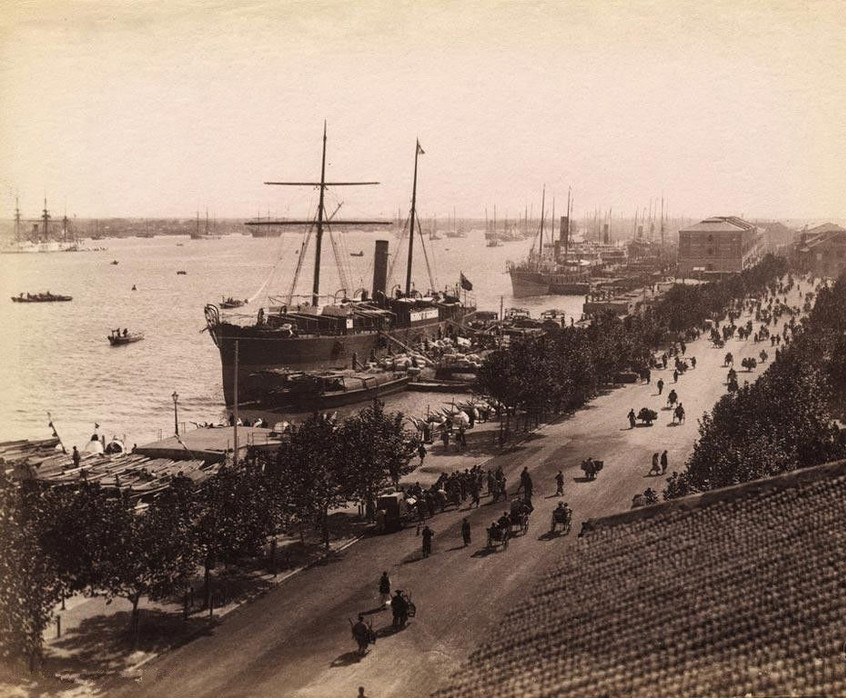 Pictured here is a scene of the Bund district of Shanghai in the 1890s. As a treaty port after the First Opium War, Shanghai underwent dramatic social changes, exerting significant influence on people's lives.
Studies of life history focus on mankind's efforts to satisfy its basic needs, such as food, clothing, housing, transportation, culture, recreation and interpersonal relations. During the past 30 years, research on the history of life in modern China (1840-1949) has achieved progress by expanding the scope of study and realizing greater engagement with society.
Customs
Earlier frameworks of modern Chinese history focused on politics but largely neglected customs. With the revival of research on Chinese social history, scholars have begun to study the evolution of customs.

In the 1980s and 1990s, research on customs in modern China continued to follow the political line. Their studies focused on the influence of social transformation on the development of customs as well as the reform and abolition of traditional customs brought on by the introduction of Western ideas and new customs.

In the 21st century, research has diversified into a number of branches, and the methodology of case studies is becoming increasingly popular in the field. Furthermore, the combination of social and cultural studies has also contributed to progress.

In the past decade, subjects of study have included urban and rural customs, etiquette, holidays and festivals as well as the interplay between social transformation and the evolution of customs.
Social groups
Different social groups are studied. Constituting the intellectual elite, the literati, whose perceptions are easily affected by their living conditions, tend to exert influence on society through writing or speaking. The changing status of women in modern times runs parallel to the social transformations taking place in society at large. In recent years, research on the lives of migrant workers has also yielded positive results.

Moreover, there is specialized research on the lives of city residents, workers and farmers. Changes in human relations caused by social transformation are also breaking new ground, in which follow-up and in-depth studies are needed.
Urban life
Research on city life offers a fresh perspective on China's modernization drive. Urbanization plays a vital role in social and historical changes. Therefore, historical studies of city life attracted early attention and flourished.

Concentrated research has been conducted in the area. Social changes in modern China arose from the establishment of treaty ports after the First Opium War (1840–1842) and the Second Opium War (1856–1860). In particular, studies of life in Shanghai at that time attracted earlier attention and achieved more results compared with those of Tianjin, Wuhan, Canton and other trade ports.

These trade ports were influenced by Western culture. Scholars also explored life in cities like Beijing, Nanjing and Chengdu with deep-rooted traditional culture to identify the differences.
It should be noted that city life research in recent years has shown a tendency to focus on small and medium-sized cities or small towns rather than metropolises.

Public life and space in urban areas is a hot topic. Some scholars are no longer confined to only keeping an eye on the living situation while resorting to the theory of the "public sphere" to analyze the relationship between public space in cities and public lives of citizens.
Consumption
Consumption in food, clothing, housing and transportation plays a decisive role in the quality of life and thus constitutes a significant part of historical studies of life in modern China.

There has been remarkable progress in studying the consumption level of people living in villages and towns, and of urban population who are the backbone in driving the development of cities. In addition, some scholars have examined the interactive relationship between consumption and social culture.

There are comprehensive studies and specialized research about the changes in food, clothing, housing and transportation in modern China. In particular, scholars pay more attention to topics related to the transition from the old to the new. For instance, in addition to providing protection from the cold, clothing serves as a form of self-expression, which implies a social and cultural meaning. Previous studies focused on the applications and implications of clothing in social customs, while after 1990, scholars began to view the phenomenon from the perspective of life history.

Also, the relationship between public transport and life of citizens has been examined. Case studies were conducted in Shanghai, Tianjin and other cities. Some tried to interpret the development of public transport by studying the rickshaw. Moreover, changes in eating and housing are included into the studies of urban life. By contrast, there are few such research results about rural areas.
Culture
Cultural activities, such as beliefs as well as forms of relaxation and entertainment, have a strong bearing on people's perceptions, morality and conduct.

One of the derivatives of modernization is mass culture. In particular, the popularity of newspapers and periodicals promoted the dissemination of information and ideas, exerting great influence on people's lives.

Lifestyles and forms of recreation imported from the West have been influential—particularly on urbanites. A major research focus is the development of public culture in major cities, with an emphasis on Shanghai. Some scholars also examine the changes of recreational traditions in mainland cities. Furthermore, the research in rural areas has begun in recent years and achieved representative accomplishments.
Comprehensive studies
Historical research of life in modern China started with monographic studies, and accomplishments are mainly written in monographs. However, the appearance of comprehensive works has laid a solid foundation for and signals maturity in the field.

In its infancy, comprehensive research of life history was a subset of research on social history. History of Modern Chinese Society was the first general history book, while Social and Cultural Changes in Modern China was the first chronicle to distinguish itself from previous works on the history of culture and the history of society.

In recent years, influential works on comprehensive studies have appeared. Over the past 30 years, the history of life in modern China has become independent from the history of modern society and developed unique disciplinary characteristics.

Research on life in modern China differs from research that focuses on ancient times. Records about antiquity are limited, so scholars tend to adopt a static approach and study social life in a certain era. By contrast, dramatic changes have taken place in society during the history of modern China, which only spans about a century. Researchers are paying more attention to the interaction between social changes and life evolution. Furthermore, researchers also probe into the interrelations of modern life from the perspective of political, economic, societal and cultural factors.

With more specific studies, various sub-branches have developed, including the history of public life, individual life, recreation, time, body and transportation. In addition, there is increasing application of the sociocultural perspective.

However, we should take note of the lack of theoretical analysis and innovation. Many research results are only scratching the surface of life phenomena without getting to the bottom. Further innovation in perspectives, methodologies and theories is needed to better interpret social transformation in modern China.
Li Changli is from the Institute of Modern History at the Chinese Academy of Social Sciences.