Addressing teachers' concerns key to high-quality rural education
WANG XIAOSHENG and WU ZHIHUI
|
2022-11-25
|
Hits:
Chinese Social Sciences Today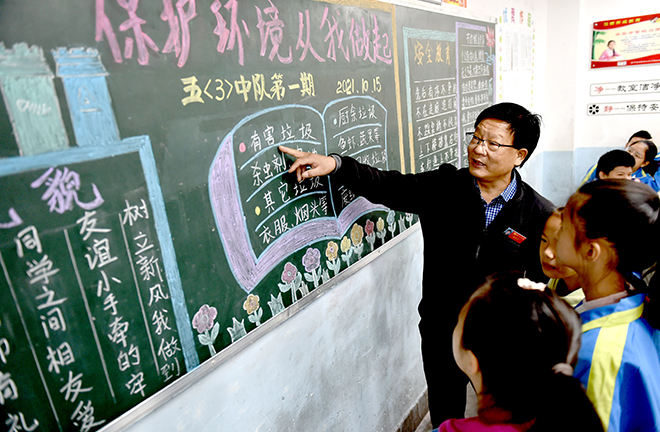 Former school principal, 61-year-old retired teacher Chen Guoping, volunteers to teach at a primary school in Rongjiang County, formerly one of the nine remaining poverty-stricken areas in Guizhou Province, on Oct. 13, 2021. Photo: CNSphoto
---
Rural teachers are the key to developing sound rural education. However, for many years the shortage of rural teachers, low personnel stability, and other problems have restricted the improvement of rural education. It has become an urgent problem and a task of strategic significance to create a team of high-quality teachers who are passionate about rural education, are willing to teach at rural schools, and who consciously integrate into rural society.
Existing problems 
In the context of new-type of urbanization and rural revitalization, the problem of "weak rural compulsory education" is still daunting, and has gradually formed a vicious cycle of "weak vocational attraction of rural teachers—low quality rural teachers—difficulties in improving the quality of rural education."
In the new era, the principal obstacle in education has become the contradiction between the people's ever-growing demand for high-quality education and imbalance and inadequacy in educational development. It is widely recognized that rural education falls short of quality, and the goal of balanced quality education has yet to be realized. According to the 2018 Programme for International Student Assessment (PISA) test result, the gradient gap between urban and rural education in China is alarming, and cities are better than counties, towns, and rural areas. Another study, based on the China Education Panel Survey (CEPS), finds that from central urban areas to remote rural areas, achievements in students' cognitive ability presents a "differential pattern," and the weak quality of rural education has become the biggest hurdle to achieving high-quality development in compulsory education within China.
The quality of teachers is the key factor affecting the quality of education. The weak rural compulsory education quality can largely be attributed to rural teachers. The results of overall tests of math teachers' professional levels for grade 4-6, at primary schools, in five tier administrative areas, show that there is a clear gap in the knowledge of surveyed teachers. Among them, the highest scoring teachers were in the provincial capital city, their knowledge score was 78.95. The lowest scoring were village teachers, who scored 38.54. Teachers' knowledge is one of the core indexes used to evaluate teachers' work. As we can see, we cannot overlook differences in teacher quality and the role this plays in the education quality gap between urban and rural areas.
Under the combined impact of imbalanced urban and rural development, inconvenient transportation and geographical conditions, low comprehensive vocational benefits, and mismatches between posts in rural schools and personal development plans, rural teachers' careers are not attractive enough, and it is difficult for rural schools to attract and retain quality teachers. For one thing, in the initial allocation of teacher resources, rural schools are in a disadvantaged position when attracting outstanding talent. For another, the overall retention of rural teachers is poor and the outflow of quality educators is serious, among which are young and middle-aged "backbone" teachers. According to surveys, up to 71.56% of rural teachers want to leave the countryside to teach in urban schools, and only 20.75% of county-level teachers are willing to teach in rural schools. Rural teachers "don't want to teach in rural schools, don't want to stay, and are not good at teaching," which greatly restricts the improvement of rural education's quality.
Dilemma in reality
In recent years, the government has placed great emphasis on the training of rural teachers. With the support of a series of preferential policies, the overall team of rural teachers has undergone gratifying changes. However, with the development goal of high-quality and balanced education and the realistic demands for high-quality education in mind, rural teachers are still the weak link in rural education, presenting a triple dilemma of structural imbalance, a survival bottleneck, and an insufficient development path.
First, a good hiring structure is the basis for the construction of a team of high-quality rural teachers. In reality, the talent pool for rural teachers has structural flaws in its age range, educational background, and disciplinary distribution. In rural areas, 26.03% of teachers are 30 years old or younger, but 11.87% of rural teachers will retire in the next five years. This is causing the phenomenon of  "central collapse," where experienced mid-career teachers are underrepresented in rural areas, and many village schools and teaching centers find that very young teachers and teachers nearing retirement must coexist.
Second, rural teachers have lower educational levels when starting their careers. 45.36% of primary school teachers have a college degree or above, and 31.90% of junior middle school teachers have a bachelor's degree or above. Among them, only 3.70% and 24.04% graduated from provincial key universities or above, respectively, and the proportion of non-traditional majors was 23.20%. 
Third, in rural schools, structural shortages of English, science, music, PE, art and other professional teachers are prominent. The phenomenon of rural teachers "teaching subjects they have not learned" is quite common, with the proportion of teachers teaching two subjects and three or more being 73.60% and 49.39%, respectively, in contrast to that of 45.54% and 23.20%, respectively, in larger counties and towns. The average number of subjects that teachers teach in village schools is 3.5.
In addition, some counties and towns have not recruited teachers according to the national standards for village schools and teaching centers, but only hired substitute teachers. As a result, there is even a 50-50 split between substitute teachers and formal teachers in some villages and teaching centers.
The material security and quality of life for teachers directly affects whether teachers feel at ease when working in rural schools. According to our survey, the quality of life for rural teachers is far from satisfactory. 69.61% of rural schools lack sufficient teacher accommodations, while 80% of rural schools have sub-standard housing in need of improvement. In the meantime, rural teachers have a heavy workload. Besides regular teaching, they also need to undertake several non-teaching tasks. In addition, the salary for rural "substitute" teachers is relatively low, with an average monthly salary of 1,721.44 yuan. There is a huge gap between this salary and the salary of teachers on the government payroll.
Rural teachers seeking professional development face the dual dilemmas of inadequate and unsuitable training and poor access to promotions and professional titles. First of all, there is a mismatch between existing training forms, content, and the actual needs of rural teachers. At present, the training forms offered to rural teachers mainly include school-based training, online training, and teacher workshops. Meanwhile, expert guidance and expert lectures—which are better received by rural teachers—can only cover 47.47% and 17.04% of rural teachers. The existing training content mainly covers teaching skills, ethics, and application of information technology, while coverage of safety education and mental health education training, which are considered more important by rural teachers, is less than 50% accessible. In some villages and teaching centers, opportunities for out-of-town training are scarce. 
As mentioned, it is difficult for rural teachers to improve their professional titles, and the proportion of senior professional titles is low. According to the survey, the proportion of middle and senior-level rural teachers was 37.87%, while county and town teachers made up 46.74%, marking a gap of nearly 10 percentage points. It takes an average of 10.30 years for rural teachers to be promoted from intermediate to senior titles, and 9.68 years for teachers in counties and towns. At the same time, due to the imperfect selection mechanism, there are still a certain number of rural teachers who did not receive proper professional training, so they lack the potential for further professional development.
Future steps
In this light, based on the experience of developed countries and local practices in China, we propose systematically improving the quality of rural teachers and accelerating the modernization of rural education by engaging in teacher training, screening and supplemental hiring, in-service training, and staffing management.
The quality of pre-service training and in-service training should be improved to lay a foundation for the construction of a team of high-quality rural teachers. First, we could attract high-quality students to apply for normal colleges by means of reimbursing fees or public training and early batch admission. In normal colleges and universities, outstanding students who are interested in teaching in rural areas could be advanced to the second round of selection. 
Moreover, it is necessary to comprehensively improve the quality and skill level of normal university students, strengthen management of interns in the training process, encourage normal university students to volunteer in rural schools, increase rural experiences, and enhance their suitability to teach in rural schools. 
Third, high-quality training for all rural teachers is a must. The training content and methods should be based on the on-the-ground situation of rural education. In particular, attention should be paid to strengthening the training of young rural teachers and encouraging them to upgrade their academic qualifications while on the job. It is suggested that a master's program for rural teachers should be specially set up to prioritize personnel from central and western regions and rural areas.
We should strengthen the targeted training of teachers in remote areas and cultivate local students, shaping them into high-quality teachers through "targeted enrollment, targeted training, and targeted employment" to meet the special needs of rural schools. 
At the same time, teachers' selection and assessment should further include academic results, teaching ability, critical thinking, organizational leadership, creativity, cooperation, and dedication, to find teachers who are committed to rural education. Needless to say, the comprehensive compensation of rural teachers should be improved, including welfare, housing, and salary, as well as implementing a plan to resolve problems such as "couples living in different places," thus attracting and retaining quality rural teachers.
The staffing, teachers' exchange, rotation, and professional title management should be innovated to inject vitality to the construction of a team of high-quality rural teachers. In accordance with the real needs of rural schools, staffing should consider the ratio of students to teacher, the ratio of subjects to teacher, and the workload of teachers in small-scale rural schools. Overall planning and dynamic adjustment of teacher staffing within rural regions is crucial, as are efforts to eliminate the use of teacher staffing quotas by government departments, especially educational administrative departments. 
It is also necessary to promote two-way and in-depth communication between urban and rural teachers, explore a large rotation system and a small local rotation among school districts and education groups. Subsidies, turnover dormitories, and other incentive measures should be in place for exchange teachers, so that teacher exchange can truly become an important means to balance urban and rural education and improve the quality of rural teachers. 
In the meantime, rural teachers should be given fair opportunities for  earning professional titles through a unified post structure ratio, standard indicator sets, special posts, the cancellation of quotas, and proportional restrictions. The evaluation and recruitment of professional titles should attach importance to educational achievements and contributions, instead of fixating on foreign language scores, computer skills, publications, and honors attained, to brighten the career prospects for outstanding rural teachers.
Wang Xiaosheng and Wu Zhihui are from the China Institute of Rural Education Development at Northeast Normal University.
Edited by YANG XUE