Balanced education key to common prosperity
NI HAO and CHEN JIAN
|
2022-09-22
|
Hits:
Chinese Social Sciences Today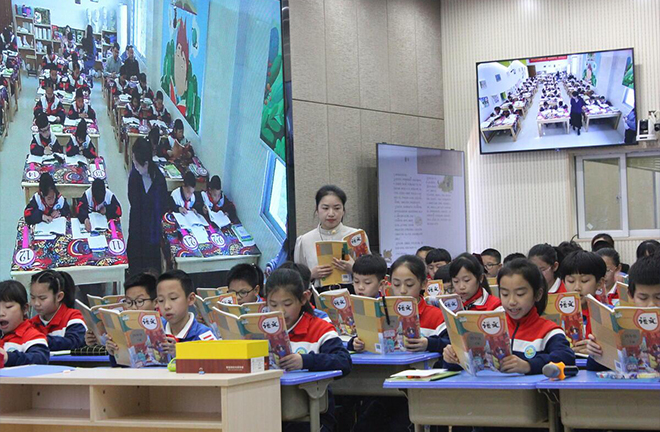 A synchronous classroom shared by Shitanxiang Primary School in Wenzhou City and Fuyang Primary School in Pengxi Town, Taishun County, Zhejiang Province. Photo: ZHEJIANG ONLINE 
---
Quality and balanced development in education is the foundation and core task of achieving common prosperity. Children in villages having access to a good education has become a new challenge facing China at the new stage in pursuing quality and balanced educational development. 
At the end of 2020, the Department of Education in Zhejiang Province and four other departments jointly issued the "Guidance on the Development of a Community of Shared Future for Compulsory Education in Urban and Rural Areas in the New Era." This is the first attempt in China to promote province-wide development of three models which build a community of shared future for compulsory education in urban and rural areas (hereafter referred to as "shared education community"), namely, integration, joint development, and collaboration. This will promote the allocation of quality educational resources in cities and towns on a grassroots level, and improve the educational quality and operational performance of rural schools. 
Measures and problems 
According to statistics, 3,685 schools in Zhejiang Province participated in this programme in 2021, covering 80% of public schools, including all rural schools. A shared educational community embodies the concept of collaborative development. It pulls urban and rural resources together by means of digital technologies. A framework to develop and share quality educational resources has taken shape, laying a solid foundation for balanced educational services in urban and rural areas. 
In 2022, the government of Zhejiang Province continued to include the development of a shared educational community in its list of tasks to deliver tangible benefits to the people. Relevant departments promptly issued the call for cross-regional school pairing (506 schools), which required 50 counties (cities and districts) in eight prefectures to support 26 counties in mountainous areas and six island counties in seven prefectures in developing cross-regional shared education communities. Zhejiang has adopted various strategies to accelerate the development of an example of shared educational communities. 
Under the guided development of shared education communities, and overall construction guides for the education communities, four major campaigns were launched to promote the vigorous growth of shared education communities. Initial results have been seen as development of public services in urban and rural areas has become more balanced. 
First, digitization makes it easier to share educational resources between urban and rural areas. Since 2019, Zhejiang government has included the comprehensive promotion of "Internet + compulsory education" into the government's priorities for improving people's livelihoods and proposed the target of pairing 1,000 primary and secondary schools to help each other, so that children in urban and rural areas can share high-quality educational resources. This is the beginning of a new "Internet +" educational support mechanism. With the support of information technology, through the "Internet + education" model and the development of new teaching spaces, shared urban and rural high-quality educational resources will be promoted and pilot projects such as the "synchronous classroom for urban and rural areas" will be implemented. Some schools have implemented urban-rural synchronous classrooms and remote classrooms to enable rural areas to share urban areas' resources. 
Second, schools are paired to promote the standardization of urban and rural schools. By the end of 2020, Zhejiang Province has full "coverage" in two aspects: all counties in Zhejiang Province have participated in the pairing campaign, and all rural schools have been covered by the educational assistance program. More than 3,000 schools and over 1,600 pairs of urban and rural schools, have participated in the pairing campaign, effectively balancing the distribution of students, teachers, and resources. In addition, through the fourth round of the "mountain and sea collaboration" strategy, regional and human resources are fully leveraged. 56 counties with relatively better education are required to support 29 educationally weak areas. They are engaged in in-depth cooperation in various areas, such as development of a teacher exchange platform and educational resource sharing. The inter-school disparity coefficient of compulsory education schools in the province is less than 0.3, and the quality and balanced development of education is leading the country. 
Third, the two-way flow mechanism helps promote quality and the balanced allocation of teachers in urban and rural areas. Focusing on the two-way exchange of teachers within shared educational communities and the orderly transfer of resources between urban and rural areas, the teaching team structure in schools involved in shared educational communities is optimized to promote internal improvement and high-quality development of rural education. First, we actively explore cooperation models for developing a new teaching community. Teachers within the shared educational communities can move between school districts without barriers. The co-construction and collaborative shared educational communities also have corresponding requirements. The member schools are led to explore development of a mechanism for the "integrated deployment of teachers." 
From 2017 to 2019, 1,788 school leaders and 4,710 key teachers from urban and high-quality schools joined exchange programs with rural elementary schools and lagged-behind schools in the province. All counties have established internal teacher mobility mechanisms within the shared educational communities, and teachers are gradually changing from "school staff" to "shared educational community staff." 
Fourth, urban and rural students enjoy equal education and training thanks to the exchange mechanism. To start with, targeting bottleneck reduction, interest expansion, innovation enhancement, and other content, high-quality curriculum resources are shared through online teaching. Next, a long-term mechanism is put in place for student exchange within the shared educational communities. Meanwhile, more activities should be carried out in shared educational communities for students in urban and rural areas to learn, practice, try labor practice, and develop friendships with each other. 
Basic educational public services involve many departments, and a wide geographical area with great personnel mobility. It is a systematic project, and there are still difficulties in practice. Due to factors such as imbalanced urban-rural development, and transportation and geographic constraints, problems such as poor teaching, insufficient endogenous force, schools struggling to adapt, and insufficient technical adequacy still exist. The teacher team still needs to be improved. Poor teaching quality and insufficient educational innovation is the main factors limiting the development of education. Job responsibilities and the corresponding reward need to be improved.
Furthermore, the internal dynamics of shared educational communities need to be improved. Some paired regions and schools lack an active sense of practice, resulting in obvious differences between positive and negative regions, and between positive and negative schools. Meanwhile, school governance is facing challenges. The development of shared educational communities brings about diversification in educational governance, but some schools also have difficulty adapting to this, and an efficient governance pattern of equality, cooperation, and synergy has not yet been formed within shared educational communities. 
Finally, there is an imbalance between technological empowerment and application benefits, insufficient experience, lack of technological affinity, and obvious differences in the quality of students between urban and rural schools. The effect of large virtual classes in urban-rural paired schools under the network environment of "Internet + compulsory education" needs improvement. There is still a gap between teaching practice and overall optimization, and there is a mismatch between teachers' and students' information literacy and their ability to apply technology. 
Solutions and inspirations 
In the future, we need to strengthen policy coordination, stimulate innovation in institutional mechanisms, and make it a priority to improve teachers' compensation. The development of shared educational communities shall be included in the education agenda and the government's work assessment index system as a key assessment component on practical matters for the people. A coordination group for the development of shared educational communities will be established. 
We need to strengthen the endogenous impetus for development of urban-rural shared educational communities, supervise and guide counties and districts to achieve co-management, resource sharing, joint talent training, and cultural integration with shared results. The long-term mechanism for the development of urban-rural shared educational communities needs improvement. A combination of open competition and performance assessment will be adopted to facilitate movement of educational and managerial resources between urban and rural areas under shared educational communities. Four teams will be created, including a team of education experts for diagnosis and supervision, a high-level mobile teacher team, a high-level education management support team, and a comprehensive service team for the educational upgrade of weak schools. Opportunities, in terms of study and training, title evaluation, cadre selection, and awards will be first given to comrades who have been teaching or working in management in rural areas for a long time. 
This reform should be complemented with the "double reduction" policy and other policies to promote specialization through integration, promote co-development, and prevent fragmentation. Distinctive development should be respected under a co-consultation, co-building, and win-win cooperation model. Existing school resources should be revitalized to create an advanced campus culture that is in line with the characteristics of each school, and to form a mechanism for the customized development of each school. The "double reduction" policy also enriched after-school programs. This opportunity must be fully leveraged to promote effective implementation of special projects in rural schools, so that trusteeship services can be better implemented and a number of demonstration schools with distinctive characteristics in various fields such as technology, humanities, sports and arts, and comprehensive schooling can be formed. 
During the 14th Five-Year Plan period, we should achieve full coverage of weak rural school pairs by means of grouping and peer-to-peer support, focusing on improving the quality of support, refining the assessment mechanism and innovating the linkage assessment mechanism. We should explore the possibility of organizing professional management teams to provide well-rounded guidance to rural and urban schools through the government's purchase of third-party services. Professional management teams will promote the in-depth integration of rural and urban schools in terms of school regulations, school management, teacher teams, and teaching, conduct third-party assessment and evaluation of the existing situation, and propose targeted improvement strategies. 
Shared educational communities should not only promote teacher mobility, but also an extensive student exchange. We should also establish shared research communities to strengthen action-oriented research and think-tank research on rural education. We care about young teachers in rural areas, and should demonstrate it by expanding training channels for teachers in rural school, giving full play to provincial think tanks in the fields of farmers, agricultural, and rural areas; and conduct regional coordinated development to carry out collaborative research. A list of selected rural education research topics should be released, and teachers should be encouraged to carry out action-oriented research to solve problems in rural education development and promote innovative practices in rural education development. 
Ni Hao is an associate research fellow from China Academy of West Region Development at Zhejiang University and Chen Jian is from the Research Center for Regional Coordinated Development at Zhejiang University. 
Edited by WENG RONG