Efforts needed to nurture middle-income group
LI YIFEI
|
2022-11-25
|
Hits:
Chinese Social Sciences Today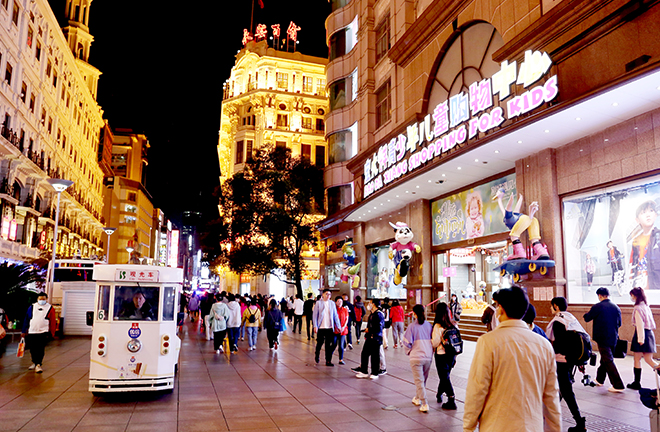 People stroll on Nanjing Pedestrian Walk Way in Shanghai in Oct, 2022. Photo: CFP 
---
At the 10th meeting of the Central Committee for Financial and Economic Affairs, General Secretary Xi Jinping emphasized that it is important to adhere to the people-centered approach, advance common prosperity while promoting high-quality development, and expand the middle-income group to develop an olive-shaped distribution structure. The Proposal of the 14th Five-Year Plan (2021-2025) for National Economic and Social Development and 2035 Vision of the People's Republic of China proposed to increase the middle-income group's income, expand the group's size, and ensure that the group is expanded significantly by 2035.   
Calculated by China's State Statistics Bureau standards, there are over 400 million people who qualify as middle-income in China. However, there are large income gaps within the group, with one segment inadequately employed or lacking resilient income. As a result, their consumption potential is not yet fully released. Thus, only when we nurture higher-quality middle income groups can we truly improve our social structure and advance high-quality economic growth. 
Large market 
In the new development stage, expanding the size of the middle-income group while improving its quality has become essential to integrating the goals and methods of development. This requires maximization of people's development potential and efforts to multiply the middle-income group's numbers as the country heads towards socialist modernization with Chinese characteristics. Concurrently, China is accelerating the group's high-quality development, while we gradually develop an olive-shaped social structure in order to fully leverage China's edge as an enormous market and finish building the new development paradigm. 
To start with, as high-quality producers, the middle-income group hels move the economy up to a new development stage. They are the backbone of China's socioeconomic development and have relatively high human resource levels and strong learning abilities, therefore can better drive the country's technological progress and innovative development. In addition, the group's high-quality development also help increase the incomes of lower-income groups, thus helping to improve social mobility. To be specific, middle-incomers with higher skills can help increase lower-incomers' job opportunities as skill complementarity takes effect: a knowledge spillover can increase lower-income group's opportunities to learn new skills. As potential middle-incomers, these lower-income earners can eventually climb the social ladder. This is how an olive-shaped social structure that suits the new development paradigm gradually takes shape. 
Next, the middle-income group consists of stable and high-quality consumers, who help the country fully leverage its super-large market advantage. The middle-income group has the basic features of stable consumption capacity, higher Marginal Propensity to Consume (MPC), and high-quality comsumption, all of which make them the main force in China's super-large-scale market. 
According to calculations from the Chinese Household Income Project 2018 (CHIP 2018), the middle-income group—which made up 30% of the country's population—contributed an outsized 46.5% of China's total consumption expenditure. Their housing expenditures, medical expenses, education expenditures made up 47.7%, 43.2%, and 45.2% of the country's total, respectively. Judging from the quality of consumption, middle-income consumers' consumption needs are more individualized, their consumption volume is larger, and they have high quality requirements for goods and services. Their large consumption needs for quality products has generated enormous potential to explore various new market categories. Optimizing the demand structure also helps China unleash its potential as a large market. 
Grounding expectations
The "potential middle-income group" refers to the group of people that are most likely to join the middle-income ranks. Nearly 70% of China's population is below the lower limit to be middle-income, which makes them lower income. Those just below the threshold are the main targets that deserve greater attention as China tries to expand the size of the middle-income group. CHIP 2018 defined those earning over 70% of the lower limit of middle-income group as potential middle-incomers. Based on this standard, 16.3% of China's residents qualify as potential middle-incomers, with 22.84% of this group residing in rural regions and 63.74% residing in urban regions, 37.75% living in eastern China, 30.22% in central China, 24.31% in western China, and 7.72% in northeastern China. 
The potential middle-incomers are the key targets for expanding the country's middle-income group, especially the migrant population, new graduates from secondary and higher education, as well as the self-employed. From a geographical perspective, cities and districts with the largest density are of strategic importance. To nurture a larger high-quality middle-income group, relevant policies and measures need to remain grounded in reality. 
First, it is important to steadily raise residents' living standards by advancing high-quality development. General Secretary Xi urged efforts to integrate high-quality development with action to meet people's aspirations for a better life. To expand the middle-income group, it is necessary to increase residents' income levels during high-quality development and create a sound interaction between socioeconomic development and people's all-round development. 
To begin with, we need to gather and improve distribution of resources to seek greater balance and increase the efficiency of economic growth. Currently, China's economic activities and its population distribution are geographically imbalanced. In the microcosmic sphere, this is manifested in the lack of convergence in residents' income among different regions of the country. This is because the potential has not been fully unleashed for efficient resource allocation. Therefore, it is time to accelerate the building of a more complete mechanism for market-oriented factor allocation, and to make sure that various kinds of production factors can flow freely and in an orderly manner within specific areas. 
By stepping onto the path of population aggregation that suits large countries, China can achieve regional economic convergence, while ensuring average income convergence. Boosted economic efficiency and raised residential income levels can then increase the proportion of people in the middle-income group.
Next, it is essential to unblock social mobility channels, improve distribution mechanisms for sharing the benefits of economic growth, and foster an equitable, sustainable development environment. We need to abide by the market's rules, comprehensively reform the household registration system, equalize basic public services, and effectively break from the new dual structure within cities. We also need to continuously expand coverage of education, employment opportunities, medical care, elderly care, housing security, among other urban public services. It is also important to enhance migrant workers' vocational education and skill training, to strengthen their ability to survive and thrive in cities. This means we need to do things right in all the key junctions: ensuring that migrants can relocate to cities, retaining laborers, and helping them develop themselves. This people-centered approach is the fundamental requirement of the new urbanization. 
Second, it is essential to promote an intergenerational reform, and to achieve sustainable development during urbanization. Labor force is an important factor for socioeconomic growth. At present, the eastern coastal area—as the more developed area in China—is challenged by aging and a sub-replacement birthrate, while the migrant population finds themselves in a dilemma, unsure of whether to return to their hometown or stay in the city. Urbanization is an important process for nurturing and developing the middle-income group, and migrants are the key targets. Thus, an intergenerational reform is essential. 
Industrial workers (the second-generation rural people) have acquired more skills compared to their parents (first-generation) as they migrate into cities, and their sources of income are more varied, making them capable of adapting to cities. They are more willing to stay in the cities, and are more concerned with children's education and their life in the city. An organized transformation of the second-generation farmworkers into urban residents can be accomplished by stabilizing their employment and life in the city. This can not only nurture more second-generation laborers into the middle-income group, but also help the third-generation realize a complete identity transformation into the second-generation urban citizens, which can make expansion of a high-quality middle-income group easier. A long-term development strategy to transform the agricultural migrant population into urban residents can help inject more momentum into urban sustainable development by mitigating the country's population aging and low birth rate.
Third, it is necessary to preciselyidentify different groups of people and make differentiated policies for each of them. Nurturing middle-income group requires us to pay attention to both quantity and quality. We must maintain the existing size of the group while improving related policies. Migrant workers, white-collar workers, self-employed retailers in cities and towns, entrepreneurs of small and micro businesses, skilled workers, and researchers are all important parts of the middle-income group, though they have different issues and demands. For example, rural migrants wish they could enjoy equal access to urban public services, employment opportunities, salaries, job training, children's education, among other benefits. Meanwhile, self-employed retailers and entrepreneurs seek out business-friendly environments and preferential policies for financing, and so forth. 
Thus, it is necessary to build a well-structured policy framework that differentiates priorities through applying policies in a precise way. We need to avoid allowing existing middle-incomers to fall off the ladder, while providing more job security and living security for those with a relatively low income. To help these people avoid falling or returning to poverty due to educational demand, unexpected diseases or accidents, the government needs to reduce external uncertainties with basic protection. In the meantime, options for vocational education and skill training input are also needed for people with low working skills and low incomes. Namely, it is important to improve potential middle-incomers' income and employment opportunities by helping them acquire knowledge and skills. This will help make China's middle-income group bigger and of better quality. 
Li Yifei is from the International Journal of Management.
Edited by WENG RONG