Chinese economy to keep long-term upward trend despite headwinds
PEI CHANGHONG
|
2019-03-21
|
Hits:
(Chinese Social Sciences Today)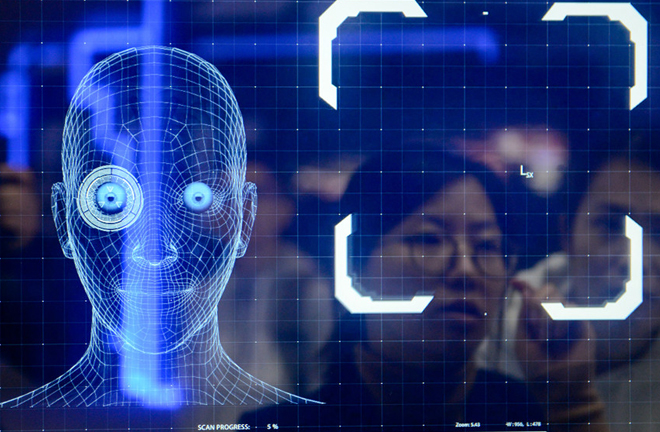 The technology of image recognition is displayed during an internet expo in Wuzhen, Zhejiang province. Innovative vitality, resilience and potential have enabled the Chinese economy to advance steadily. Photo: CHINA DAILY
---
The 19th CPC National Congress drew a major conclusion that China's economy has been transitioning from a phase of rapid growth to a stage of high-quality development. In 2018, China accomplished its main objectives and tasks for socioeconomic development, making great strides in building a moderately prosperous society. On this basis, Premier Li Keqiang mapped out new plans on how to further promote high-quality development this year in the government work report at the second session of the 13th National People's Congress held in early March 2019.
Challenges and opportunities
In 2018, China faced three grim challenges. The first one was posed by the profoundly changing external environment. As economic globalization has been set back, trade friction between China and the United States has invited negative expectations. Second, various contradictions have arisen in the economic transition, bringing uncertainty to China's steady economic growth. Furthermore, the situation has been compounded by increasing problems. There were multiple goals to attain, multiple tasks to fulfill and multiple relations to handle, adding difficulties to policy selection and implementation. Nonetheless, the economy still managed to grow at a high rate and maintain a general equilibrium, advancing steadily in a stable social environment.

The external environment it faces in 2019 remains not optimistic. On Jan. 21, the International Monetary Fund downgraded its global economic growth projection to 3.5 percent for 2019. Meanwhile, protectionism and unilateralism are escalating, and international commodity prices are fluctuating drastically. Unstable and uncertain factors are growing, as are external risks.
Despite mounting downward pressure, China is still in an important period of strategic opportunity. The long-term upward trend has not changed and will not change.

First of all, the Chinese economy is resilient enough. In 2018, the industrial value-added exceeded 30 trillion yuan in spite of considerably squeezed industrial capacity and stringent supervision for environmental protection purposes. Despite structural deleveraging and tightening financing conditions, enterprises' revenues continued to rise.

In 2018, industrial enterprises above the designated size earned a profit of 6.6 trillion yuan, up 10.3 percent from a year earlier. Among others, the profit of state holding enterprises reached nearly 1.9 trillion yuan, an increase of 12.6 percent.

Meanwhile, the service sector maintained equally fast growth due to expanding demand and rising prices. The revenues of service enterprises above the designated size grew 11.4 percent from the previous year, with operating profit rising 6.5 percent.

Moreover, the Chinese economy has tremendous potential. Major change has taken place in the demand structure since consumption has become the primary driver of economic development. In 2018, the final consumption expenditure contributed 76.2 percent to economic growth. In particular, the consumption of 4 million middle-income earners quickly upgraded, progressively expanding the demand for importing high-quality goods and services.

As poverty alleviation enters the critical stage and the popularization of education and skill training continues, the middle-income group will keep growing, so the service consumption market is highly promising. Based on the current development trend, the commodity retail business is expected to exceed 4 trillion yuan in the next few years, making China the largest commodity retail market in the world.

In addition, innovative vitality is being constantly unleashed. In 2018, nearly 2 trillion yuan was spent on R&D, up 11.6 percent from a year earlier. An average of more than 18,000 enterprises were newly established every day, and market entities totaled more than 100 million.

The Fuxing bullet trains, with China owning their complete intellectual property rights, were put into commercial operation, and the urban railway system realized fully automatic operation. Such industries as new-energy automobiles, industrial robots and railway transportation equipment have thrived and topped global rankings, and their development quality and outcomes have improved significantly.

In 2018, the value added of high-tech manufacturing above the designated scale grew 11.7 percent year on year, faster than large-scale industry and accounting for 13.9 percent of the value added of industrial enterprises above the designated size. From January to November, investments in the high-tech manufacturing industry achieved a year-on-year growth of 16.1 percent, 6.6 percentage points higher than total manufacturing investments.

At the same time, online retail revenues of physical commodities grew 25.4 percent, accounting for 18.4 percent of the total retail sales of consumer goods and up 3.4 percentage points from a year earlier.
Shift of driving forces vital
The 2019 Government Work Report detailed 10 major tasks. From the perspective of promoting high-quality economic development, the key is to facilitate the shift of driving forces.

The shift of driving forces should be grounded upon realities, in other words, upon the transformation and improvement of traditional sectors. To this end, the basic approach is to integrate with modern services and heighten the level of service orientation in manufacturing.
There are three fundamental laws to follow. The first law is the horizontal upgrade of the value chain, that is, to extend manufacturing to the upstream, such as R&D, design and creativity.
Second, the vertical upgrade of the value network is essential. Manufacturing enterprises can develop themselves from module suppliers into system integrators, and further into rule designers, as in the high-end shipping and major technical equipment industries. The third is to innovate in value integration, including the knowledge, information, intelligence, green and service orientations of manufacturing.

During the shift of driving forces, it is necessary to lay out emerging industries in advance. Efforts should be made to strengthen R&D and the application of big data, new generations of information technology, and artificial intelligence while developing emerging industrial clusters covering high-end manufacturing, biomedicine, new-energy automobiles and new materials to bolster the digital economy.

Undeniably, the digital economy with data as the key input factor will become an emerging industry and an important driver of growth. According to the World Internet Development Report 2017, 22 percent of the global GDP was closely tied to the digital economy. In October 2016, General Secretary of the CPC Central Committee Xi Jinping stressed in the 36th group study session of the politburo the importance of increasing input to intensify information infrastructure construction, push ahead with the deep integration of the internet and the real economy, and quicken the pace of making traditional industries digital- and intelligence-based, thereby allowing the digital economy to prosper and creating new space for economic development. In March 2017, the government work report first proposed accelerating the development of the digital economy. In October the same year, the digital economy was written into the report to the 19th Party Congress.

Meanwhile, intelligent manufacturing represented a new trend for the high-quality development of the industrial economy, and automated driving was regarded as one of the most commercially promising fields in intelligent manufacturing. Homegrown traditional automobile enterprises such as FAW, Saic Motor, Baic Motor, Chang'an and Dongfeng all invested heavily in intelligence development and automated driving.

The shift of driving forces entails firm reforms. With the evolution of the principal contradiction facing Chinese society, the focus of people's need for a better life is more on the demand for public goods and services. The short supply of high-quality public goods and services is the primary manifestation of current inadequate development, and only the introduction of market mechanisms can solve the problem. In the initial stage of socialism, public goods have the attributes of welfare and commodity to varying degrees. They should be properly categorized and differentiated in policy and pricing to attract social capital and alleviate the shortage of government funds.

Last but not least, the lack of knowledge, experience and capital concentration of some enterprises should be addressed. At present, many small and medium-sized enterprises are anxious and bewildered, but they usually attribute their anxiety and bewilderment to the economic downturn. They achieved remarkable results in the past four decades when development relied on old driving forces. However, in the new situation, new drivers powered by new businesses, commercial models and industries have transcended their knowledge and experience, throwing them out to sea.

New things can foster public entrepreneurship and innovation, continuing to call for large investment- and technology-intensive enterprises. Many small and medium-sized enterprises in such industries fall short of independent investment capacities. Therefore, it is crucial to spur the whole society to learn new knowledge and skills while exploring new models of social capital aggregation to open up new channels for more investors to propel high-quality development.
Pei Changhong is a professor of economics at the University of the Chinese Academy of Social Sciences (CASS) and former director of the Institute of Economics at CASS.
edited by CHEN MIRONG