International definitions of non-standard employment not all applicable to China
WANG YONGJIE
|
2019-01-24
|
Hits:
(Chinese Social Sciences Today)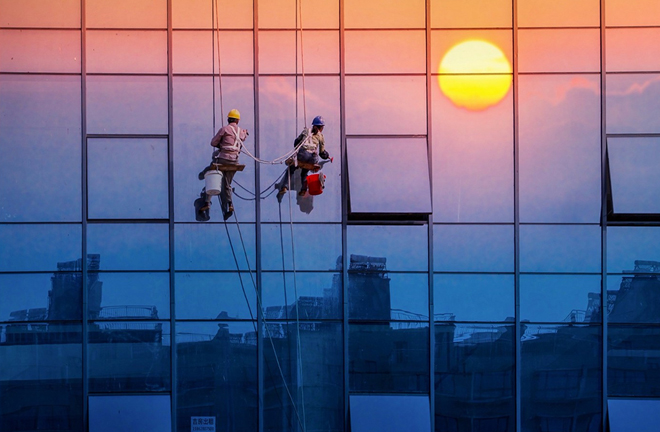 Two workers clean a high-rise building. Photo: FILE
---
Non-standard employment, including temporary employment, part-time work, self-employment, dispatched labor and disguised employment, has become a global phenomenon. In recent years, Western developed countries and international organizations have paid a lot of attention to non-standard forms of employment, but related discussions in China are fewer. Undeniably, the emergence of non-standard employment is global, and China is no exception.

International definitions about non-standard employment have provided references for China in employment evaluation and classification, but they are not universally applicable given diverse socioeconomic development stages, labor market systems and employment features the world over. Therefore it is vital to view the concept of non-standard employment dialectically.
Global perspective
Paying high heed to non-standard work arrangements, such institutions and regional organizations like the International Labor Organization (ILO), the Organization for Economic Cooperation and Development (OECD) and the European Union have defined and categorized non-standard employments in different ways.

In 2016, the ILO released the report "Non-standard Employment Around the World: Understanding Challenges, Shaping Prospects," which defined non-standard employment as "comprising four different employment arrangements: temporary employment, part-time and on-call work, multi-party employment relationships, and disguised employment/dependent self-employment." Non-standard employment "deviates from the standard employment relationship, understood as work that is full-time, indefinite, and part of a subordinate relationship between an employee and an employer."

Specifically, temporary employment is the principal form of non-standard employment, including fixed-term, project or task-based contracts along with seasonal work, casual work and daily work. In part-time employment, the normal hours of work are fewer than those of comparable full-time workers. Many countries have specific legal thresholds that define part-time versus full-time work, thus distinguishing part-time work in legal terms.

According to the Labor Contract Law of China, part-time labor refers to a form of employment where a laborer generally averages not more than four hours of work per day and not more than an aggregate 24 hours of work per week for the same employing unit. Globally, part-time work is usually considered as working fewer than 35 hours per week.

In a multi-party employment relationship, a laborer works for an employer but is not directly employed. Labor dispatch is the most common form, the contract of which involves multiple parties, so there may be limitations imposed on the rights of the laborer or confusion regarding rights.

Recent years have seen a rise in disguised employment and dependent self-employment, mostly in the platform economy. They appear to be employer-employee relationships, yet the laborer and the employer are not based on labor contracts but on commercial contracts instead. The "employer" doesn't have to assume employer-related responsibilities.

The OECD centered on defining non-standard employment as whether a laborer is in an employment relationship with a single employer. According to the definition given by the organization, non-standard employment refers to all employment relationships with a single employer except for full-time and regular employment, including self-employment, temporary full-time employment and part-time work.

As the fundamental characteristic of non-standard employment, laborers don't have standard and legal employment protection. The practice usually involves a third-party employer and places laborers under the management and supervision of the third-party employer. Dispatched labor is the most typical form, in which the laborer is in employment and labor relationships with the employer and the employing unit, respectively, and subject to the restrictions of two contracts.

The EU has summed up a series of new forms of non-standard employment emerging in Europe in recent years, including employee sharing, job sharing, interim management, casual work, ICT-based mobile work, voucher-based work, portfolio work, crowd employment and collaborative employment.

Employment sharing refers to a worker employed by more than two employers concurrently; job sharing means an employer employs more than two workers to perform the same job; ICT-based mobile work involves relatively free laborers relying on information, communication and technology; crowd employment is based on internet platforms on which laborers get paid immediately by providing special services or solutions to a special problem for customers in need; and by collaborative employment, it means that freelancers, self-employed people or micro businesses collaborate to overcome limitations brought by their small scale and occupational segregation.

Non-standard employment has benefits in that it provides laborers flexible work arrangements. Those highly skilled or with special skills can take multiple jobs at the same time through non-standard forms of employment to gain higher and more diversified incomes.

Take part-time work as an example. Some pertinent surveys claim that part-time employment is normally a result of laborers' voluntary choice and based on non-fixed-term contracts in economically developed countries like Austria, Luxemburg, Switzerland, the Netherlands and Belgium. Under most circumstances, however, non-standard employment results from passive choices due to a shortage of human capital, family care needs, high costs of waiting for employment, discrimination from the labor market, and labor supply and demand.
In the context of China
Improving the quality of employment is an important strategic task specified in the Report to the 19th CPC National Congress and crucial to economic and social development in China. With economic restructuring, technological advances, the popularization of the internet and the rise of new economic forms like the platform economy and the sharing economy, the forms of employment have become increasingly diverse and flexible. The increase in non-standard forms of employment, however, has posed challenges to the improvement of employment quality.
The interpretation of non-standard employment should draw upon definitions of international organizations and take China's actual conditions into account, particularly its current stage of socioeconomic development and the institutional framework of its labor market, while following the principles of strictly protecting employment groups and ensuring the relative stability of employment.

According to the ILO, fixed-term labor contracts also fall into the category of non-standard employment, which is obviously inapplicable to China. In light of the Chinese Labor Contract Law, laborers who have signed fixed-term labor contracts are under very strict employment protection, which manifests in the signing and dissolution of labor contracts and the payment of financial compensation by the employing unit. Therefore, fixed-term employment should be a standard work arrangement in China.

Based on China's labor market system, the relative stability of employment and the protection of laborers' rights, alongside definitions offered by international organizations, standard employment is defined as employment in which the laborer and the employing unit have signed open-ended and fixed-term labor contracts, excluding dispatched labor. Public servants and regular employees of public institutions and social organizations are also standard employment groups. Non-standard employment goes beyond that scope, including task-based employment, dispatched labor, part-time work, seasonal work, self-employment, on-call work and disguised employment.

It is worth noting that non-standard employment is different from informal employment. Previous discussions about informal employment were confined to employment in informal sectors that refer to unregistered, low-paying, small-scale, poor-social-security and unstable production or service sectors.

In recent years, the definition of informal employment has extended from employment sectors to concrete work, covering employment in informal sectors and informal employment in formal sectors. Employment unprotected by labor laws and regulations is likewise categorized as informal employment. From the perspective of protecting laborers' rights and interests, informal employment should be regulated stringently.

Non-standard employment has both negative and positive impacts. Such forms as part-time work, dispatched labor and disguised employment are the results of a certain development stage, so they should be treated with the stage taken into consideration.
Suggestions for improvement
In China, the protection of non-standard employment groups is yet to be incorporated into the framework of the current labor law. As a consequence, labor disputes and the protection of the rights of related employment groups lack sufficient legal basis, highlighting the urgent need to build a new type of labor market, fill the void of missing pertinent laws and regulations, and make related policies more inclusive and flexible.

First it is necessary to regulate and guide non-standard employment, reasonably control its scale, and specify applicable fields and jobs. Take dispatched labor as an example. According to the Labor Contract Law (2012 Amendment), dispatched labor should exclusively apply to provisional, auxiliary or substitutive positions, and the employer should strictly control the number and proportion of dispatched workers. Related laws and regulations should regulate other forms of non-standard employment in accordance with those concerning dispatched labor.

Moreover, legislative, judicial and labor supervisory measures should be adopted to strengthen the protection of the labor and rights of non-standard employment groups. An analysis of the quinquennial China Urban Labor Surveys carried out by the Chinese Academy of Social Sciences shows that the employment quality of non-standard work is generally low, characterized by short working hours, low salaries, severe overtime work, low social insurance coverage, few occupational training opportunities, poor protection of salary-related rights and interests, and low work satisfaction. Thus it is vital to allow non-standard employment groups to enjoy the rights protection enjoyed by standard employees.
Wang Yongjie is from the Institute of Population and Labor Economics at the Chinese Academy of Social Sciences.
(edited by CHEN MIRONG)