Efforts attest China's commitment to joint climate governance
CAO HUI
|
2018-11-08
|
Hits:
(Chinese Social Sciences Today)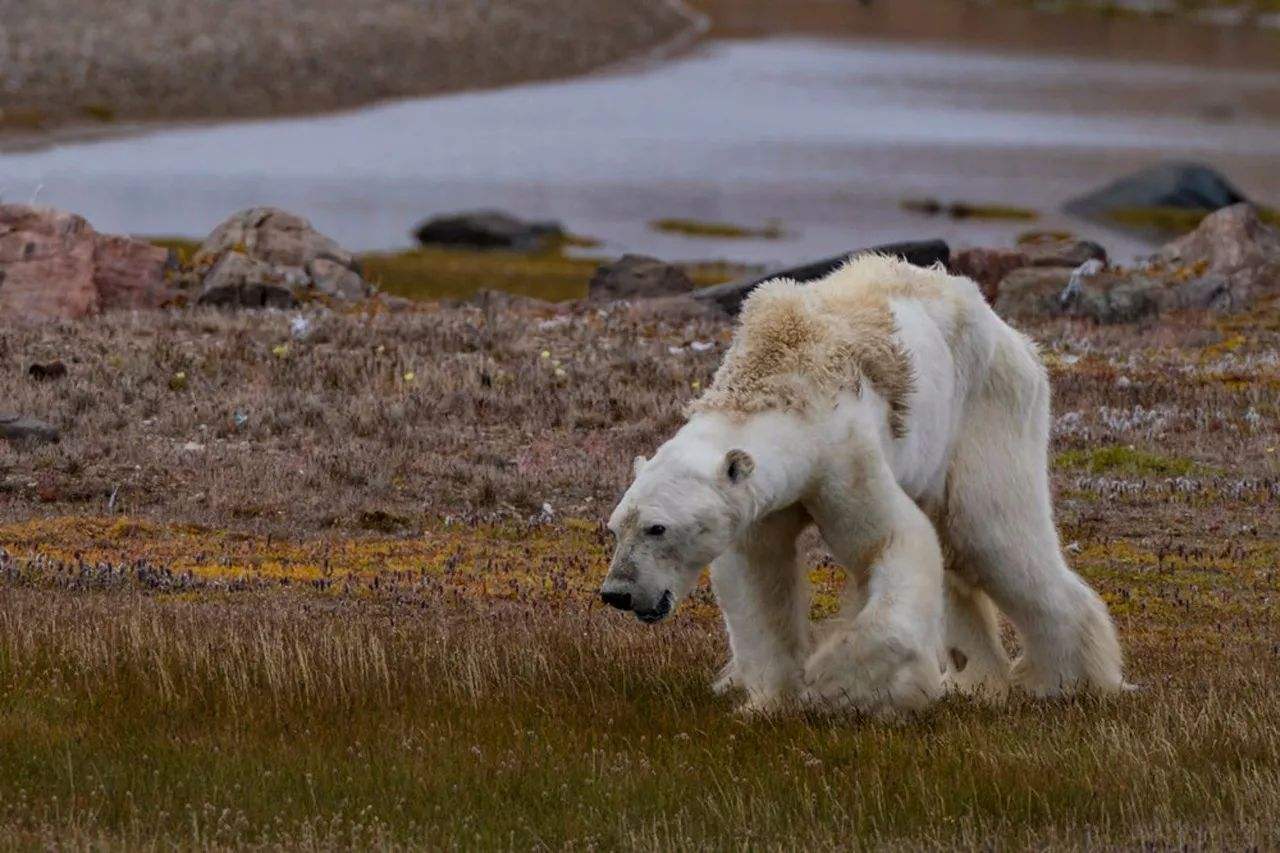 A polar bear searches for food ashore. Climate change is having far-reaching impacts on nature. Photo: FILE
---
Climate change is having far-reaching impacts on humanity and nature. Since 1997 when the Kyoto Protocol was signed, climate change has become a core topic in contemporary international politics. As taking collective action to tackle climate change requires a consensus of the international community, building a community with a shared future for mankind represents a Chinese proposal for global climate governance.
Governance mechanism evolution
There have been three milestones in the development of the global climate governance mechanism under the United Nations Framework Convention on Climate Change (UNFCCC).
The first was the Kyoto Protocol, which made it clear who should participate in climate governance. The protocol includes many countries in the effort to reduce global emissions of greenhouse gases by limiting the emissions from developed countries and encouraging developing nations to take part.

The Bali Road Map was the second milestone. It identifies the question of what to govern in climate governance. The pillars of global climate governance have since been defined as mitigation, adaptation, technology and finance.

The third milestone was marked by the Paris Agreement, which was inked and passed in 2015. It specifies aims, mitigation, adaptation, loss and damage, finance, technology and transparency in the form of legal provisions. By creating a top down, flexible greenhouse gas-emission reduction model with nationally determined contributions at the core, the agreement ushers in a new era of global climate governance.

However, the US's withdrawal from the agreement has posed grim challenges to the global climate governance mechanism. At the 19th CPC National Congress, Chinese President Xi Jinping stressed the importance of following a path of peaceful development and building a community with a shared future for mankind, providing a climate governance scheme with Chinese characteristics.

From the perspective of the shared fate of mankind, the theory paints a blueprint for the building of the global governance system and coincides with the aims of global climate governance. It is China's new attempt to deeply and comprehensively participate in global governance from the height of human destiny.

As its economic strength and political willingness increase, China's active participation in global climate governance conforms not only to its own development needs but also to the trend of low-carbon, sustainable development in the international community.

The climate governance proposal with Chinese characteristics has been highly applauded. In May 2016, the United Nations Environment Programme released a report on China's ecological progress strategy and action, fully acknowledging the measures and achievements China has taken and made in promoting a conservation culture.

In May 2018, China, India, South Africa and Brazil issued a joint declaration at the 26th BASIC Ministerial Meeting of Environment Ministers, and the "building of a community with a shared future for mankind" was for the first time reflected in a multilateral international document for coping with climate change.
From passive to active
Over more than 20 years since the signing of the Kyoto Protocol, China has turned from a passive follower to an active participant in global climate governance.

In 2014, the country announced that carbon emissions would peak around 2030 in the China-US Joint Statement on Climate Change. In 2015, it submitted the aim of nationally determined contributions to the United Nations. Voluntarily quantifying emission reduction per unit of GDP, clarifying the peak of emissions in the nationally determined contribution document, launching the nationwide unified carbon-trading market, and instituting the South-South Cooperation fund for climate change within the framework of the United Nations, China has been deeply involved in global climate governance with concrete actions, honoring its promise with practical proposals.

When it comes to climate diplomacy, China also actively seeks to build multilateral or bilateral cooperative mechanisms for sustainable development. At the G20 Hangzhou Summit of 2016, China as the host state not only listed inclusive and interactive development as one of the four topics but also highlighted development issues under global macro policy. In doing so, it implemented the 2030 Agenda for Sustainable Development, meanwhile formulating the G20 Action Plan on the 2030 Agenda for Sustainable Development and the G20 Initiative on Supporting Industrialization in Africa and Least Developed Countries. Committed to inclusive and joint development, these measures are major contributions China has made to the UN agenda for sustainable development.

In the 69th United Nations General Assembly held in 2014, China's proposal for vigorously developing South-South Cooperation was passed. The South-South Cooperation fund marked the beginning of China's official participation in global climate governance.

In 2016, China and the European Union signed the China-EU Roadmap on Energy Cooperation (2016–2020). The two sides agreed to play a role in low-carbon development, environmental protection, climate change and clean energy development. In 2017, the two sides jointly worked out the 2017–2018 work plan for the roadmap.

The international community expects China to play a bigger guiding role in global governance. At the Second Ministerial on Climate Action in June 2018, China, Canada and the European Union issued a political declaration on building momentum for the implementation of the Paris Agreement and leading the UNFCCC COP24. Representatives of the three parties expressed the willingness to take leadership at COP24 following a rulebook that is comprehensive, balanced, and carefully tailored to address each aspect of the Paris Agreement. The rulebook should foster confidence in implementing the Paris Agreement, be flexible enough to reflect relevant differences in parties' capacities and be dynamic enough to ensure that all parties are improving their performance over time.

Regarding finance and technology, China has continued financial cooperation with and technology transfer to developing countries, stressing that developed nations should provide funds and technology.

Since 2011, China has cumulatively invested 270 million yuan in South-South Cooperation for tackling climate change, inked MOUs on materials donations with 12 countries, and aided developing countries in the construction of 200 clean energy and environmental protection programs.

Starting from 2016, under the South-South Cooperation fund mechanism, China has carried out the building of 10 low-carbon demonstration areas, 100 mitigation and adaptation climate change programs, and a cooperation program to offer 1,000 training places for tackling climate change.
China's efforts
Despite continued economic growth over more than 40 years of reform and opening up, China is confronted with unprecedented problems such as ecological resource depletion, environmental degradation and air pollution. In May 2014, it set up carbon emission trading markets in seven pilot cities and provinces, imposing emission caps, building key market architecture, and instituting supervision, reporting, verification and certification systems. This is another solid move China has taken to cope with climate change and cut emissions of greenhouse gases.

In late 2017, China announced the launch of a nationwide carbon-trading market. At a national conference on environmental protection held in May 2018, President Xi spoke of ensuring ecological and environmental security and tackling climate change in the national strategy.
Building a clean, low-carbon, safe and efficient modern energy system is a necessary choice to realize sustainable development. During the 12th Five-Year Plan (2011–2015), China's carbon emissions dropped by 20 percent cumulatively, exceeding the planning target. In the field of renewable energy, China has been the leader in rule making and market share.

By the end of 2017, China has realized its 2020 goal of a 105 GW solar capacity three years ahead of schedule. China's installed power-generating capacity of renewable energy accounts for 36.5 percent of the country's total installed electric power capacity; the generating capacity roughly occupies more than 25 percent. China has been number one in the world for several years consecutively in wind power generation, solar photovoltaic power generation and solar collector area.

The Chinese path of green development is one on which human society can coexist harmoniously and interact benignly with nature. Advancing ecological progress by building a community with a shared future for mankind is a significant contribution to and effective guidance for global climate governance and sustainable development.
Cao Hui is from the Institute of European Studies at the Chinese Academy of Social Sciences.
(edited by CHEN MIRONG)